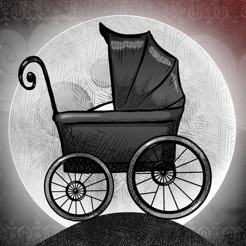 Description
PLEASE READ THE DEVICE REQUIREMENTS BELOW. Thanks!

"New and Noteworthy" - Apple "iGame of the Day" - Kotaku

Featured by Apple in the "Great Platformers" section!

Mother has lost her baby! It is up to you, kindly gamer, to safely navigate the baby's carriage through over 10 worlds of twisted Victorian delights, delivering the lost child home. Avoid the specter of Mr. Grimm, a shadowy figure intent on stopping you at every turn. Grimm: Ride of the Perambulator is a unique side-scrolling adventure set in a dark and stylized world.

GAMEPLAY FEATURES:
- Use the accelerometer to guide the carriage through over 10 worlds and 8 mini-levels of twisted and macabre delights.
- Launch the baby from the carriage to solve puzzles and combat villainous enemies
- Survive the fiendish intentions of Mr. Grimm as he doggedly pursues you, presenting new challenges along the way.
- Enjoy the unique and handmade art of the Grimm world.

Faithful gamer, the fate of a small child is in your hands. Bravery and courage are needed. Go forth, dauntless perambulator!

DEVICE REQUIREMENTS:
GRIMM RUNS ON THE FOLLOWING DEVICES
- iPhone 5
- iPhone 4S
- iPhone 4
- iPhone 3GS
- iPod touch 4
- iPod touch 3 (16 GB and up)

"Exceptionally well made game with a hint of dark humor and original content. Grimm dares to go in a new direction with physics based platformers, and comes out with a winner. Super addictive and engaging game that's worth every penny." - App Safari

Please follow the link below to visit our website for more information and to see: game trailers, teasers, screenshots, and more.

As always, thank you for your support! Stay tuned for updates and new features, coming soon, thanks to you!
DEVICE REQUIREMENTS: Grimm runs on the following devices: iPhone 5, iPhone 4S, iPhone 4, iPhone 3GS, iPod touch 4, iPod touch 3 (16 GB and up)

Hark! What goodness lies ahead?
• Multitasking: Switch between apps without losing your place!
• Baby Strike! Hitting an enemy with the baby now kills them with a single hit.
• Easier Baby-Launching: Simply grab the carriage with your finger and aim. No need to brake.
• Faster baby-scooping by the carriage.
• Faster carriage jumping.
• Speed! Faster carriage speed and game speed in general.
• Better Checkpoints: The game now saves at the last point reached in a level. No need to replay what you've already completed.
• Retina Display home screen icon (more Retina graphics coming!)
• Level tweaks and improvements

A sincere thank you for your support of Grimm! You've helped to make this update and future ones possible. Onward, brave pram!
Ratings and Reviews
Clever, intelligent, and wicked in so many ways
When I finally got an iPhone 4, this was the first game I downloaded, and I was not disappointed. Game play is exciting and challenging and keeps you on your toes. The storyline and visualization of that story are brilliant; you're a runaway baby carriage let loose in a Victorian-styled world that is wonderfully illustrated, rendered and sharp. And you have the ability to spring the happy-to-be-airborne tyke out of the pram to attack anyone who stands in your path as you race to find your mum. Putting an infant in harms way has never been so much fun!
So SWEET!
Honestly, I don't know how you could expect more than this from an iPhone game: It's ridiculously cute, drawn and executed beautifully, and endlessly entertaining. I throw the baby around the screen just to hear it make those little noises.

I didn't even know an update was coming, but it solved the only issue that bugged me: Now I can pause it (when my real baby starts screaming or to take a phone call) and come back to the same spot later on.

You won't be disappointed, best game on my phone by FAR.
Beautiful
As others have wrote, the Gorey-esque style is really the highlight of the game and what made me want to buy this when it was first released. But I hesitated due to poor reviews on control. The controls are decent for me but it may have been improved long before my purchase. I think the tilting is fine but I would've preferred arrows to move the perambulator back and forth; I may just be old-fashioned though. Overall, great style and decent music and intriguing gameplay/plot makes this a keeper.
Information
Seller

Robox Studios, LLC

Size

54.3 MB

Category

Compatibility

Requires iOS 3.0 or later. Compatible with iPhone 3GS, iPhone 4, iPhone 4s, iPhone 5, iPhone 5c, iPhone 5s, iPhone 6, iPhone 6 Plus, iPhone 6s, iPhone 6s Plus, iPhone SE, iPhone 7, iPhone 7 Plus, iPhone 8, iPhone 8 Plus, iPhone X, iPhone XS, iPhone XS Max, iPhone XR, iPad, iPod touch (3rd generation), iPod touch (4th generation), iPod touch (5th generation), and iPod touch (6th generation).

Age Rating

Rated 12+ for the following:

Infrequent/Mild Alcohol, Tobacco, or Drug Use or References

Infrequent/Mild Cartoon or Fantasy Violence

Copyright

© 2010 ROBOX Studios

Price

$0.99
Supports
Family Sharing

With Family Sharing set up, up to six family members can use this app.