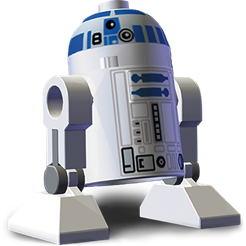 Description
Play through a fun Star Wars galaxy that combines the endless customization of LEGO with the epic story from all six episodes of Star Wars.

Before you buy, please expand this description and check the system requirements below.

This is the definitive LEGO Star Wars comprising the first two games and expanding them with new characters, enhanced visuals, and more bonus levels than you can shake a lightsaber at.

LEGO Star Wars: The Complete Saga is a family-friendly game, which is both funny and challenging. Pick and choose your characters wisely to engage in combat, solve puzzles and work together as a team to defeat the dark side.

• True co-operative multiplayer lets two players enjoy the fun together!

• Unlock more than 160 characters from the Star Wars movies, including 10 characters never seen before in the LEGO Star Wars games.

• Updated graphics mean LEGO Star Wars has never looked so good!

• Lots of surprises and funny moments, trademarks of developer TT Games' LEGO titles.

• Upgraded Character Customizer lets you create cross-Trilogy "mashup" characters like Han Windu or Lando Amidala.

• Enhanced Force powers for both Jedi and Sith characters, including "Force Throw" and "Force Push".

• New power-ups scattered throughout all levels of the game.

• Brand new Bounty Hunter missions.


Important information regarding LEGO Star Wars The Complete Saga:

• If you require assistance, please contact our support team at support@feralinteractive.com

• In order to run the game with satisfactory performance, your Mac must meet these minimum system requirements: 1.4GHz CPU / 1GB RAM / 128MB graphics card.

• Intel GMA graphics cards are not supported.

• This game is not currently supported on volumes formatted as Mac OS Extended (Case Sensitive).

• Full system requirements are available on the LEGO Star Wars The Complete Saga mini-site at feralinteractive.com/legostarwarssaga.


LucasArts and the LucasArts logo are registered trademarks of Lucasfilm Ltd. © 2005-2010 Lucasfilm Entertainment Company Ltd. or Lucasfilm Ltd. and ® or TM as indicated. LEGO, the LEGO Logo and the Minifigure are trademarks of the LEGO Group. © 2005-2010 The LEGO Group. All rights reserved. The ratings icon is a registered trademark of the Entertainment Software Association. Mac and the Mac logo are trademarks of Apple Inc. registered in the U.S. and other countries. Feral and the Feral logo are trademarks of Feral Interactive Ltd.
Initial App Store release
Ratings and Reviews
How to Play in Single Player Mode!
Yesterday I gave this a one-star rating because there was no apparent way to play as a single player, and there were numerous problems. Today, I've figured it out. When you start up, you'll see avatars of two characters and get a prompt to "press F2 to start." DON'T. What the instructions should have said was "press F2 to enter two player mode." By avoiding two player mode, everything suddenly works fine. You can switch between characters using the "K" key, and the rest of the time the other characters will tag along and be helpful by themselves. The controls are a bit klutzy when using a keyboard, which is why I'm glad my character immediately regenerates every time he gets blown to pieces by imperial blasters. Additionally, your goals are frequently unclear in the levels. Finally, there are bugs (surprising in a game this age) in which characters suddenly walk through walls, bumping into invisible barriers, or run through mid air. Fun moments, nice visuals, and the classic Star Wars sounds - but all in all a disappointment.
Great LEGO game for people of all ages
Kids from 5 and up have loved playing this game and have begged to play it nearly every day for the last four months. The great variety of levels, secrets, and bonuses have been a lot of fun to discover.

The game has worked nearly flawlessly (sound has dropped out a few times) on a late-2011 iMac running current OS versions. If you have a full-sized keyboard, I would recommend sliding the player 1 controls over to a-s-d-w and g-h-j-y and then use arrows and the keypad for player 2. This allows two people to play well without getting in each others' way. I am very pleased with this purchase.
Forced two character play mode to fight Darth Maul
This has all the potential of being a great game, but just isn't. First, you cannot use the mouse—if you don't have a controller, it runs on keyboard alone. Second, it has endless sequences in which it messes with perspective, making what should be an easy jump force the player into using the controls almost backward. Third, in the first episode, when you finally get to fight Darth Maul, the game suddenly will NOT allow you to play as a single player—you must control two characters at once. All in all, this game is highly dissapointing and feels like a complete waste of money. My only solace is having purchased the game on sale.
Developer Response
We are sorry that you have not enjoyed the game.

LEGO games do not support mouse control. Gameplay is via keyboard, and the game also supports a wide range of controllers. Mouse control would not be suitable for this type of game as it would prohibit decent gameplay.

In reference to the Darth Maul battle, there is not point where you should be forced to control two players at a time. If you are having difficulty defeating this Sith, please contact us directly via support@feralinteractive.com, quoting "App Store Review" in the subject of your email, and we'll be happy to asisst further.

Thanks,

Feral Support
Information
Seller

Feral Interactive Ltd

Size

4.6 GB

Category

Languages

English, Danish, French, German, Italian, Spanish

Age Rating

Rated 9+ for the following:

Infrequent/Mild Cartoon or Fantasy Violence

Copyright

© 2005-2010 Lucasfilm Entertainment Company Ltd. © 2005-2010 The LEGO Group. Developed for and published on the Mac by Feral Interactive Ltd.

Price

$19.99
Supports
Family Sharing

With Family Sharing set up, up to six family members can use this app.