Movie Draft SE
By iikon Limited
Open the Mac App Store to buy and download apps.
Description
*** Compatible with Mac OS X 10.8. HURRY: The introductory price runs out soon! ***

Movie Draft SE is new and unique to the Mac App Store. Probably the biggest advance in screenplay writing since the advent of the typewriter. Its streamlined, clean and uncluttered interface gives you everything you need to write that next blockbuster. Without doubt it is the best tool available for writing screenplays. From concept, outline and finished draft.

◆ Follow us on twitter/moviedraft for latest news and updates.

*** NOTE: People have commented that they cannot save to PDF. You can. OS X allows you to save ANY document as PDF. To do this, press Print from the File menu then choose "Save as PDF" from the PDF drop-down menu button. ***

Why is Movie Draft SE different?

Unlike other screenplay software, Movie Draft SE is not a word processor with added bells and whistles that requires you to write your screenplay from the top down. It's unique Single Scene mode allows you to write non-linearly, that is, in any order you like! Want to write the ending first? No problem. How about the middle? Again, with Movie Draft SE it's a piece of cake. The built-in Scene List acts like an outliner and you can even view your scenes as index cards that you can rearrange to your heart's desire.

Started writing your screenplay in another program? No problem. Movie Draft SE supports the following formats for importing your existing work:

◆ Movie Draft Format (default)
◆ Final Draft v8 (.fdx)
◆ Final Draft v5 - v7 (.fdr)
◆ Microsoft Word (.docx)
◆ Microsoft Word (.doc)
◆ SceneWriter Pro (.swp)
◆ SceneWriter Pro (.osfx)
◆ Rich Text (.rtf)
◆ Plain Text (.txt)

And Movie Draft SE can save to the following formats, so you can exchange your script with Final Draft users too:

◆ Movie Draft Format (default)
◆ Final Draft v8 (.fdx)
◆ Plain Text (.txt)

Features:

✓ Compatible with Mac OS X 10.7 Lion.
✓ Clean, uncluttered design.
✓ Industry standard formatting.
✓ Non-linear writing of your scenes.
✓ Index Card view.
✓ Print to PDF (File > Print, choose "Save as PDF")
✓ Know exactly how long your scenes and acts are with SceneTime™
✓ Different page themes to fit with the way you work.
✓ Print out Character and Location profiles, including photos.
✓ Create as many scenes as you like and hide the ones you're not sure of.
✓ Add Icons and Notes to your scenes.
✓ Color-code your script when typing for ease of reading.
✓ Full-screen mode for an uncluttered writing experience.
✓ Group your scenes into acts. Collapsed acts appear greyed-out.
✓ American and British spell check.
✓ Template-based. Includes screenplay and stage play templates.
✓ Automatic (MORE) and (CONT'D).
✓ Easily caters for US Letter and European A4 paper.
✓ Add notes to any paragraph you like.
✓ Supports Final Draft and Movie Magic Screenwriter TAB and ENTER key strokes.
✓ Friendly "Getting Started" guide with an example project.

*** HURRY: The introductory price runs out soon! ***
What's New in Version 1.0.2
The following bugs have been fixed for this release:

1. Pasting weird characters bug.
2. Character window crash bug.
3. Overlapping when printing bug.
5. Clear Characters and Locations window bug
6. Window goes beyond top of the screen bug.
Screenshots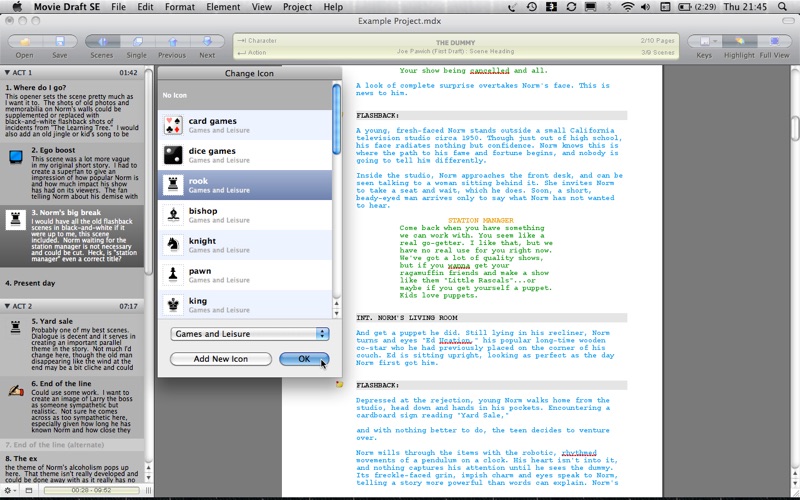 Customer Reviews
A few irksome bugs mar an otherwise astounding app
Really great app, highly recommended if you're just starting out with screenplay writing. The app does most things really well, but occassionally has screen draw issues in Lion (it will put the scroll bars in the wrong place, making the outline view hard to use.) But if you're like me, you do everything in full-screen mode anyway.

One big complaint, though, is the font. Final Draft's version of Courier is professional-grade stuff; MovieDraft just uses Courier New. That's a terrible font, it makes your printed product look amateur. Copy editors make their living with their eyeyballs, it's really important to give them legible text. OS X comes with a decent Courier (just Courier instead of Courier New), I really wish MovieDraft defaulted to that, or at least let me choose.

Otherwise, though, an absolutely fantastic product, especially given the price. Four stars!
works with Fountain too
I'm a long time user of Movie Magic Screenwriter and Final Draft and I have to say that I really like Movie Draft. Seems very stable and handles what I suspect 99% of screenwriters want to do -- just write scripts with proper formatting. I have also been experimenting with writing scripts on my laptop, iPad -- even my IPhone -- in plain text format using (in my case) Fountain syntax in Byword. I discovered today that I can open Fountain syntax documents in Movie Draft and they will look like properly formatted scripts. In fairness, Final Draft and Screenwriter can also handle this but since the Movie Draft has this ability I thought it was worth mentioning. Pretty good for a version 1.0 app.
Nice App for writing!
My experience has been a positive one with Movie Draft, unlike some other users I have yet to experience anything that makes me dislike the functionality of the program. It's easy to get your idea going and the app is good at letting you make notes along the way during the writing process. I would however agree with one of the other reviews that since I've owned this program (almost a year) there has been NO updates, that's a little bit concerning? And I would love to see this app on my iPad like several other writing programs I own, currently it's only available in the MAC store. That being said overall I WOULD recomend if your on a shoe string budget and own a Mac or Macbook Air.
View in Mac App Store
$37.99

Category:

Productivity

Updated:

Feb 07, 2012

Version:

1.0.2

Size:

10.2 MB

Language:

English

Seller:

iikon Limited
Compatibility: OS X 10.6.6 or later