Postmates - Food Delivery
By Postmates Inc.
This app is only available on the App Store for iOS devices.
Description
Postmates makes local delivery fast and easy! Order from any restaurant or store and a member of our fleet will pick it up and bring it straight to you!

Order Anything: We deliver from virtually any store or restaurant in your city. Order late night meals, last-minutes birthday gifts, cleaning supplies—anything!

Delivery Anywhere: We'll deliver to your home, dorm, office, a park for a meeting, a fancy dinner party —wherever you're at!

Postmates Unlimited: Subscribe to our new Postmates Unlimited program for $9.99/ month and you'll get free delivery on all orders over $20!

Real-Time Tracking: Keep tabs on your delivery progress on a live map!

Speed: Our system takes into account time and distance to ensure your order is assigned to the best possible Postmate, for the fastest possible delivery

We're Always Open: Postmates is a 365 days a year, 24/7 service.

Customer Service: Need help? Our world-class customer service team is available 24/7.

Postmates is active in most US cities, including:
Atlanta
Austin
Baltimore
Bellevue
Boston
Brooklyn
Charlotte
Chicago
Columbus
Dallas
Denver
East Bay
Evanston
Fort Lauderdale
Honolulu
Houston
Indianapolis
Jersey City
Kansas City
Las Vegas
Long Beach
Los Angeles
Louisville
Miami
Milwaukee
Minneapolis
Nashville
New Orleans
New York City
Oklahoma City
Orange County
Orlando
Palm Springs
Philadelphia
Phoenix
Pittsburgh
Portland
Raleigh
Sacramento
San Antonio
San Bernadino
San Diego
San Francisco
Seattle
SF Peninsula
St. Louis
Tampa
Tuscon
Virginia Beach
Washington DC

International:
Mexico City

At Postmates, we aim to transform the way goods move around cities by providing a delivery service on-demand. We thrive to empower communities to shop local.
What's New in Version 4.0.4
Have you ditched your summer fling yet?

I'm feeling the need to really snuggle up with someone I can commit to. You know, for like a year or something with an Unlimited annual plan. Crazy right? It's like my digital hormone splines are reticulating. Something about the falling leaves and the impending opportunity to show off some arm candy to the fam is really turning my server fans.

Do you ever feel like you just want to share a cozy, cabin-in-the-berkshires rental perfect to Netflix and chill? I do. I even deleted my black book of been-there-done-that. It totally doesn't matter if you've already taken me on for a trial, I'll tap it again.

Call me desperate. Call me crazy. But just call me maybe.

Here it is, your moment of zen, 1 code good for 1 free delivery for the first 100 new customers: ANNUAL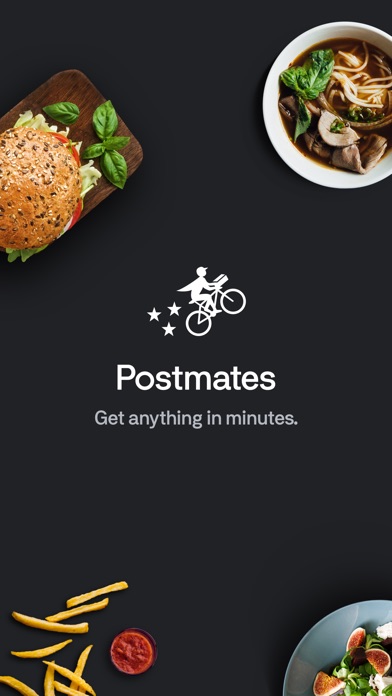 Customer Reviews
Terrible service - do not use!
My first (and only) experience with Postmates was when I placed an order for bubble tea from Sharetea. My Postmate then arrived (late) with the completely wrong order from the wrong merchant, handing me hot food that was clearly from a restaurant. She said that she was sent to pick up that food and deliver it to me. I immediately contacted customer support and they just refunded my order without even offering to replace my order. I replied back requesting them to please send my original order as I had already waited over an hour. I then didn't hear back for another 2 hours, by which time Sharetea had closed. They explained the situation by blaming the merchant and saying they rely on the merchant to provide the correct order. Sharetea does not have food and doesn't even have a kitchen so could not have provided that order. It would have been either my Postmate mixing up my order (although that was the only order she had) or a Postmates system issue where they matched the wrong order with the wrong person.

The sole purpose of Postmates is to serve as a delivery system and it not only failed at its core offering but was also dishonest in trying to shift blame to the merchant. And did not even bother trying to rectify the situation by resending my correct order. All in all, a terrible experience. Don't use this incompetent service, use ubereats or doordash instead.
High fees, poor customer experience
I was a frequent postmates customer, although my order was messed up more than a couple times. I have celiac, so when the order was messed up it meant that I couldn't even eat whatever was brought, and basically paid money for food I had to give away. The service fees were very high. For example, Chick fil a would cost around $30, for one person to eat lunch. But the convenience of it won out. Then I ordered from a restaurant 5 minutes from my location, chipotle, and after the promised time it was still not delivered, did not show as being on its way, and the delivery time predicted was almost an hour and a half later than my order time. I was required to pay for the meal and a cancellation fee, even after customer support acknowledged that I canceled after the promised time had passed. They told me the food was on its way, which was not what the app told me. If I'm a frequent customer, willing to paying exorbitant fees, and customer service isn't willing to do rectify the situation or even provide a good reason why they can't rectify the situation (other than by using preset responses), this isn't a company that I will be using any longer. Poor customer support, poor customer experience.
HATEEEEE IT! WILL NEVER USE AGAIN
Postmates used to be my favorite food delivery apps. It blew GrubHub away by miles now it does nothing but continuously accept my order, place large holds on debit card to then tell me they can't authorize my card and no longer even respond via Twitter. They left me with almost no money left on my acct over a holiday weekend with a houseful of kids and they just told me it's only a couple of days the gold will release and maybe delete method of payment and re add. It's sad that this was sort of a necessity for some meals and deliveries considering this is a disabled household but the lack of concern by the company when bugs and issues were reported is enough for me to delete the app and never try again. I gave it a last try today and placed and order at 7-Eleven a few grocery items order no more than $20 to see if by some miracle it would work it literally placed $100 on hold on my debit card. It's been real but seriously UberEats is limited but at least it works and if I have an issues it is immediately handled or at least they pretend to care.
View in iTunes
Offers Apple Watch App for iPhone
Free

Category:

Food & Drink

Updated:

Dec 06, 2017

Version:

4.0.4

Size:

112 MB

Apple Watch:

Yes

Languages:

English, Spanish

Seller:

Postmates Inc
Compatibility: Requires iOS 9.0 or later. Compatible with iPhone, iPad, and iPod touch.