Auria - Mobile Music Production
By WaveMachine Labs, Inc.
This app is only available on the App Store for iOS devices.
Description
Auria - Mobile Music Production. Redefined.

"This is the first mobile mixing (AND recording AND post production) app that I've ever used that is truly professional. Just Wow !" - David Kahne (Grammy winning producer/engineer for Paul McCartney, Tony Bennett, Stevie Nicks, Sublime, The Bangles, Ingrid Michaelson, Regina Spektor)

•TEC Awards 2012 Nominee•
•Computer Music Innovation Award•
•Computer Music Performance Award•
•Sound on Sound 2013 Awards Nominee•
•Electronic Musician Editor's Choice Award•

The mobile DAW you've been dreaming of has arrived. Auria is a mobile music production system designed from the ground up for the iPad. With professional-level features like AAF import/export, and optional third-party plug-in support from names like PSPaudioware, Overloud, Fab Filter and Drumagog, Auria clearly sets a new standard for mobile recording.

"Prepare to be amazed." – Computer Music Magazine

"...I was immediately convinced that this is the hottest musical app to make it to the iPad so far..." – Recording Magazine

FEATURES:
• Unlimited audio tracks
• Up to 24 tracks of simultaneous recording when used with compatible USB audio interfaces (Camera Connection Kit required)
• 24-bit recording
• Vintage-inspired ChannelStrip on every channel by PSPAudioware includes Expander, Multiband EQ and Compressor
• MasterStrip on all subgroup and master channels featuring PSPAudioware BussPressor, EQ and Mastering Limiter
• 64 bit double-precision floating point mixing engine
• Third party plugin support available via in-app purchase
• MIDI Sync support with MTC Chase, MIDI Clock and MMC
• MIDI Remote Control (Mackie MCU and HUI protocol)
• Supports sample rates of 44.1KHz, 48KHz and 96KHz, at 24 bits (iPad 1 only 44.1KHz and 48KHz)
• AAF import and export allows transferring complete sessions between popular DAWs like Logic, Pro Tools, Nuendo, Samplitude and others
• Convolution reverb plugin with included IR library by MoReVoX
• ClassicVerb reverb plugin included
• StereoDelay and StereoChorus plugins included
• 8 assignable subgroups and 2 aux sends
• Time Stretching using ZTX technology
• Real-time audio scrubbing
• Ripple Edit mode
• Tempo sync and side chain support for plug-ins
• Powerful waveform editor with features like cut/copy/paste, crossfade, duplicate, separate, gain, normalize, dc offset, reverse, and more
• Flexible snapping tools allow snapping to events, cursor, bars, beats and more
• DropBox, SoundCloud and Audio Copy/Paste support
• AudioUnit (AUx) and Inter-app Audio support (IAA)
• Audiobus support
• Track freeze for minimizing CPU usage
• Full automation support on all controls with graphical editing
• True 100mm faders when used in Portrait Mode
• Adjustable pan law
• Optional video import feature allows sample accurate sync of video to an Auria project
• Timeline ruler options include minutes:seconds, bars:beats, samples and SMPTE time
• Auto-punch mode
• WIST support for wireless syncing of other compatible music apps
• AuriaLink allows two iPads running Auria to play and record in sync, allowing for 96 tracks of playback and 48 tracks of recording
• Full delay compensation on all tracks, subgroups, and aux sends
• Adjustable metering modes, including pre or post fader, RMS and peak
• Sample accurate loop function
• Automatic sample rate conversion
• Built-in metronome

REQUIREMENTS:
iPad 4 or later recommended
Compatible with all iPad models
iOS 7 or later
USB audio interfaces require Camera Connection Kit

Pro Tools is a trademark of Avid, Inc.
Logic is a trademark of Apple, Inc.
Nuendo and is a trademark of Steinberg, GmBH
Samplitude is a trademark of MAGIX.
AudioCopy and AudioPaste are trademarks of Sonoma Wire Works.
Mackie is a trademark of LOUD Technologies, Inc.
What's New in Version 2.11
Please see our official forum for patch notes: http://auriaapp.com/forum/viewtopic.php?f=20&t=9458
iPad Screenshots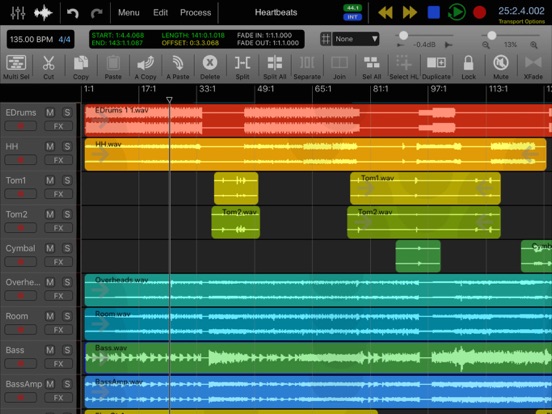 Customer Reviews
Best daw I've seen on ipad
I use this as a daw alongside BeatMaker 2 and 3, Model 15, im1 and a few others. Im thinking about purchasing the pro version but there isn't a ton of information that I'm aware of that describes the differences between Auria Mobile and Auria Pro. One thing I will say is there isn't a lot of viable options for guitar and bass amps/effects. A few more tweaks and this app will literally be better than carrying Logic Pro around.
More than disappointed.
I am running the program on an iPad Air 1 with a Focusrite Scarlett 6i6. I would have written this on the pro reviews but it appears that purchasing the pro version through the Auria store does not register that it has been purchased on the App Store. I have waited so many months for this to come out so that it could be used with my Akai MPK 249 and how happy I was to see that it finally had. Once I plugged it in I found that even simple actions on Auria would somehow I guess overload the audio interface and I would have to continuously turn the interface off and on while setting up a track for record so that the audio would even get through. When I finally did switch it off and on enough to have the audio coming through to the right tracks, the audio itself has popping noises that are in no way related to clipping of any sort. Once my basic test of running two simultaneous track records EVENTUALLY recorded without causing an error or crashing, simply clicking to return to the beginning of the tracks and shutting off track record would cause yet another error to occur. Forcing me to once again shut the interface off and then back on simply to hear the recording through my interface. I would either like a refund or something to be done about this because my hardware is all within a year and a half off and has literally no issues with any other program. I am severely disappointed. And here running it a year later I discover that my upgrade to pro never even fully registered even though I was charged when purchasing through the app itself. Sadness
THE Best iPad DAW--no contest!
UPDATE; 7/26/17: to the reviewer Shrikke: you can (and have to) re-download your Auria IAPs. A sorta time-consuming pain? Yes. But not a scam.

How to: from inside Auria, go to the Plugins Store. Try Restore Purchases. Even with that, I recall having to dl at least some by hand (even though there's a price listed, you do not get charged again when you hit it). Hope this helps.

Review:

I've super-happily used Auria on my Air 2--then Pro on my iPad Pro--for over 3 years. I happily paid for the Pro upgrade (still a huge value) and all of the IAP plugs.* (see note below.)

I just want to hip potential users out to THE definitive iPad music creation/production DAW that will *totally* benefit your creative output.

Beyond all the great bells, whistles, and depth--my favorite thing about Auria/Pro is that everything I use on a second-by-second basis is simple, intuitive, and fast: the transport, editing, splicing, copying, pasting, locators, etc. Auria is WAY faster to nav than any of the other big iOS DAWS like, ahem, Cubasis (which I own, too).

Sounds great, pro, user-friendly, deep, and def worth the price.

Nick
fine artist, 3D modeler, musician

* A note about the plugins: Auria ships with awesome PSP-designed reverb, delay and compressors/EQs/Expanders-Limiters. They sound and work great. But if you want some IAP plugs, say from Fab Filter...they're amazing. The most expensive PC desktop versions of their plugs are $199. The Auria versions (which are nearly identical) only cost $40. Some are less. Bargain...hello?
View in iTunes
$24.99

Category:

Music

Updated:

May 23, 2017

Version:

2.11

Size:

987 MB

Language:

English

Seller:

WaveMachine Labs, Inc.
Compatibility: Requires iOS 6.1 or later. Compatible with iPad.
Top In-App Purchases
Upgrade to Auria Pro$24.99
Micro Warmer Effect Plug-in$19.99
Pro-Q Effect Plug-in$29.99
ReTune Effect Add-on$5.99
Drumagog Add-on$19.99
THM Effect Plug-in$19.99
Video Import Add-On$4.99
C7 Grand PianoFree
Rock Drum KitFree
Echo Effect Plug-in$14.99
More iPad Apps by WaveMachine Labs, Inc.