Diet Doc HD
By Appilicious
Open iTunes to buy and download apps.
Description
Two hCG diet powerhouses have come together; Appilicious (the creators of the first hCG Diet App) and Diet Doc Weight-loss, to create a brand new app called Diet Doc 800. Diet Doc Weight-loss revolutionized the original 500-calorie Dr. Simeons protocol by creating an 800-calorie version. Diet Doc 800 App is a total hCG weight-loss solution allowing you to follow the diet each step of the way (from day 1 Phase 1 all the way through your maintenance/life Phase). The reason people are flocking to this new system is because of Diet Doc's modern and encompassing food allowances while still enabling you to reach your weight-loss goals. Diet Doc 800 is a great value; it is jam packed with unique user tested features.


•Daily home screen; check off proteins, supplements, vegetables, activity level, water, and fruit.
•All of your meals and snacks can be planed.
•Calculates the estimated time it will take to reach your goal weight.
•Calculates the amount of water you should be drinking each day based on your weight.
•Set-up daily supplements. Allows for both general and timed morning, day, and evening supplement schedules.
•Automatic pop up timer for both meals and Snacks. Counts down when your next meal or snack will be each day.
•Non-Vegetarian and Vegetarian food meal options.
•"Calories Used" feature that allows you to input burned calories so you know how many you need to make up to reach 800 for each day.
•Calorie tracking: you will see your planned total calories on the home screen, and in P2 through life meal planning
•Included in your app purchase is the ability to have your app automatically back up to our server.
•Male or female body mannequin to graph and track your measurements every day.
•Set up notifications to remind you to; drink water, eat lunch etc. . .
•Choose up to 6 hCG icons that represent the number of times a day you take your hCG.
•We have partnered with the Withings Scale Company and have integrated their wireless scale into our app.
•Your food item weights and measurements can be displayed in either Metric or English units.
•We have an extensive 5,000 item food database that pulls all of the items that you are allowed to have in each phase to the top of the list.
•In Phase 3, 4 you are able to use our food database to plan breakfast, lunch, dinner and snacks. You can also change the portion size.
•Today's Menu screen that lists all your daily lunch and dinner selections. You can also use this Menu screen to see past and upcoming planned meals.
•The shopping list is broken down into weeks and by Phase. You are able to check off each item. Also, when you plan multiples of the same item(s), their amounts are added together so you know exactly how much to buy.
•Weight and Measurement graphs. On each of the graphs you can change previous weights or measurements
•Photo journal section; add photos to phase related folders by taking photos or uploading from your photo gallery each day. You can also select/tag photos to be in a slide show.
•Journal Notes: Phase 2; your journal notes section is used to enter information about your progress and daily thoughts. Here you can also see past and supplements that you have set up.
•Success tracking color blocks that show you on your notes calendar what days you have-, lost weight, maintained or gained weight.
•Journal Notes: Phases 3 & 4: your journal notes merges with your calendar and becomes your Home screen. You are still able to keep track of your water, calories and daily food items.
•Brief outline of each phase's main/important points
•Included in your purchase are all of our help videos and technical issues help.
What's New in Version 1.5
We've added the ability to track blood pressure and blood glucose
iPad Screenshots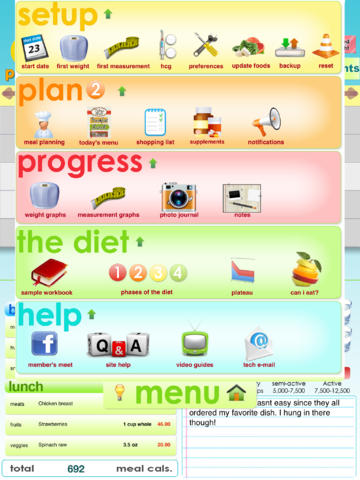 Customer Reviews
Poor meal planning
This COULD be a great app but it needs more work. The meal planning is a big issue for me. The foods you can select in meal planning don't match up with the "can I eat?" section. Example: you are allowed 1 egg according to the "can I eat?" list but the only way to add egg to your meal plan is to sign up as a vegetarian, but then you can't list the lean beef you had for dinner. You can't list fruit as a snack only protein shakes or bars. Also no where to list the tiny amount of dairy you might take in with coffee etc. I see greatly potential for future versions but this one just isn't up to the normally hight standards of these developers. I love their other apps and will use them until this one is fixed. SAVE YOUR MONEY. I will be asking for mine back.
Needs work
I agree with the other post.. Also needs to cloud with iPhone like the other app. Why the push on these other products for snacks and extras ect. Needs a lot of work....... I have the other app and will use it until they fix the quirks on this expensive app.
Just adding all features on the other apps should be there for this one like the p2 recipes. Egg whites really need to be added and to be able to choice if you want the Melba ect......
Plain and simple doesn't function
I downloaded this tapped on the app to open, crashed immediately, tapped again it opened but would not let me register kept saying error, now i am not totally stupid..this app does not even let you use it if you dont register, but yet it wont let you register. I even deleted it and re-i stalled it to no avail..And for 7.99? Seriously? I will definitely get my money back. If i could give this a negative star i certainly would.
View In iTunes
$7.99

Category:

Health & Fitness

Updated:

Sep 20, 2012

Version:

1.5

Size:

26.5 MB

Language:

English

Seller:

Appilicious
Compatibility: Requires iOS 4.0 or later. Compatible with iPad.