Oxford Advanced Learner's Dict
By Oxford University Press
Open the Mac App Store to buy and download apps.
Description
120 SAMPLE ENTRIES ONLY. This free download gives you 120 sample entries from the new OALD 9th edition. You will not be able to cross-refer from these entries to other words that are in the full dictionary. To have access to the full dictionary with all features you will need to buy it via in-app purchase. *All existing users of the OALD8 app can also re-download OALD8 from the Catalogue of Dictionaries to continue using it for free.*

IMPORTANT: the price you will pay for the OALD9 in-app purchase will depend on whether you are a new user of OALD or whether you are an existing user (someone who previously bought the OALD8 app).
If you are a new user, you will pay the full price for OALD9.
If you are an existing user, you can upgrade to OALD9 for a discount.

Please contact us at eltdict.help@oup.com if you have any queries or require any assistance with the OALD app.

Over 100 million English language learners have used Oxford Advanced Learner's Dictionary (OALD) to develop their English skills for work and study.

Use OALD to understand what words mean, learn how to say them, and know how to use them.
With the OALD app you can:
• find over 185,000 words, phrases, and meanings - including 900 new words and meanings.
• trust the clear explanations and example sentences from the authoritative Oxford English Corpus.

Improve your pronunciation and get added listening practice

• Listen to real voice audio for words and example sentences, in both British and American English accents
• Access the high-quality audio online, or download over 116,000 sentences to listen offline
• Practise your pronunciation by listening to the audio, recording your own voice and playing it back to compare

Expand your vocabulary and produce more natural sounding English
• Learn synonyms, collocations (words which go together) and everyday expressions
• Learn the Oxford 3000 - the most important words to know in English
• Use colour illustrations to enrich your vocabulary
• Search for and study phrasal verbs and idioms
• Learn lists of related vocabulary with pre-loaded Favourites folders

Navigate quickly to find exactly what you want
• Use Full Text Search to find your word in any idiom, phrasal verb, or example sentence in the dictionary
• Click any word in an entry to instantly look it up
•

Organise and personalize your favourite entries
• Create lists of your Favourites, and create folders and subfolders to store them
• Export your Favourite lists
What's New in Version 8.7.308
The 9th edition of OALD has come to Mac OS!
The free preview entries are now from OALD9 rather than OALD8, and OALD9 is added as an in-app purchase.
Please re-download OALD8 for free at any time from the Catalogue of Dictionaries. Your Favourites will be preserved.
You do not have to upgrade to OALD9, but if you choose to do so now or later, you will be offered OALD9 at a discounted rate. Your OALD8 Favourites will also be transferred to OALD9.

If you decide to upgrade to OALD9, you will get:
· New words and meanings
· New Practice your Pronunciation feature
· New folders in Favourites
Screenshots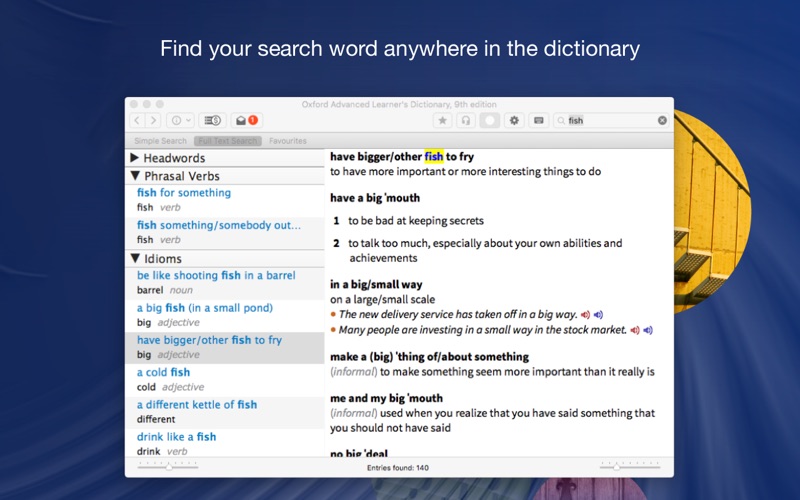 Customer Reviews
Potentially Great Dictionary
Thank you for bringing Oxford 9 to Mac App Store. I have been waiting for it.
Some complains about why they have to pay on their iPhones as well as on their Mac! Well, They are comparing apples and oranges! we paid for each separately from the begining.
Thank you for giving your pre-existing customers a satisfactory discount to upgrade!
I managed to purchase and download within the app swiftly! Maybe you should post a tutorial for us to help people to do that.

Update: whenever Oxford app is open and I use cmd+ctrl+F to make other apps full screen, Oxford app pops up and becomes full screen instead!!! That's weird and bothersome! I have to "quit" the app in order to be able to use my mac routinely. Even in here, Mac App Store, if I use cmd+ctrl+F to make full screen, Oxford app will pop up and become full screen! haha
I would give 5 star if the app didn't interrupt me like that!
I can't download all the vocabulary!
I installed the Oxford Advanced Learner's Dictionary software onto my Mac and I just payed for the entire 9th Edition English Leaner vocabulary but I can't download all the new words. I tried uninstalling and reinstalling the program but that didn't solve the problem. I hope that someone can fix this issue.
hassan rasooli
After purchase, it is somehow impossible to download the source. Come on! I paid 32 bucks for this software. can anyone solve my problem?
View in Mac App Store
Free

Category:

Reference

Updated:

Oct 09, 2017

Version:

8.7.308

Size:

211 MB

Language:

English

Seller:

Oxford University Press ELT
Compatibility: OS X 10.9 or later
Top In-App Purchases
OALD8 re-downloadFree
OALD8 NAmE spoken sentencesFree
OALD9 discounted upgrade$9.99
OALD8 BrE spoken sentencesFree
OALD9 NAmE spoken sentencesFree
OALD9 BrE spoken sentencesFree
OALD9 full price$31.99