Phantom Leader
By Dan Verssen
This app is only available on the App Store for iOS devices.
Description
NOTICE:
You must have iPad version 2 or later to play this game.

The renowned solitaire strategy game, now on iPad!

Praise for the Leader series of games:

"This is a very, very, very good game." - DiceTower.com

"Phantom Leader is solidly one of the best solitaire games I have ever played!" - DriveThruReview

"... a superb solitaire wargame." - Boardgamegeek.com

Welcome to the Vietnam Air War!

Phantom Leader places you in command of a US Air Force or US Navy Tactical Fighter squadron in Vietnam between 1964 and 1972. You must not only destroy the targets but you must also balance the delicate political repercussions of your attacks. If you strike too hard, your air offensive might be put on hold, strike too light, and you'll be blamed for losing the war.

Each of the campaigns can be played with either an Air Force or Navy squadron. The targets assigned to each service are different and change the complexion of the campaigns. Each campaign can be played with three different durations of: Skirmish, Conflict, or War.

Each of your pilots has their own skills. Selecting the right pilots and weapons for a mission is vital to its success. As you fly missions, your pilots will gain experience and fatigue. With experience, their skills improve, but as their fatigue increases, their skills decrease and they might not be able to fly for several missions.

Do you have what it takes?

**Features**:

- All the campaigns and pilots from the original board game.
- Tutorial and in-game help system.
- Beautiful graphics inspired by the board game.
- Real physics-based dice.
- No setup time. No fumbling with tiny pieces.
What's New in Version 1.0.6
USAF 1972 leaderboards are now active!
iPad Screenshots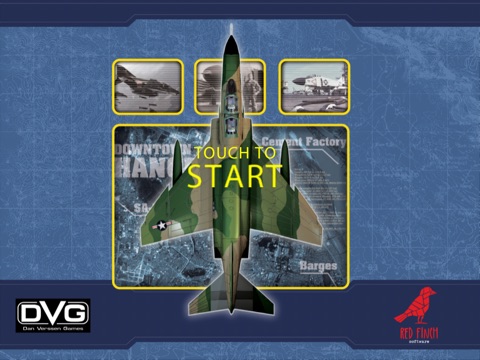 Customer Reviews
Smooth, frustrating play.
I bought this game based on reviews on a website as well as those here. I agree with some of the negative reviews - the dice rolls almost always go the AI's way. With one exception, I have never been able to neutralize a ground target, even with A-6s and F-4s loaded with bombs and rockets. I've mostly played short (2 day) campaigns, and it's hard to come back to a game you consistently lose due to the "luck" of the die. I've always felt that rigged die results detract from many a wargame, and I feel it is meant to make up for poor AI. The app runs smoothly, and I've yet to experience any kind of crash, it's just the die rolls that kill this game for me - if you're using a 10-sided die, every number should have a roughly 10% chance of coming out! but my die rolls are almost consistently low rolls while the AI gets lots of high results. Do something to make this game a little more playable for those of us who never played the board game. Please.

Follow-up: I've had this game a few weeks, and I'm extremely disappointed. I can't seem to catch a break because the die rolls go against me more than 3/4 of the times I play. I've been war gaming for over 30 years and I can't manage to even get a reasonable score in a scenario. The AI rolls high numbers just about in proportion to the amount of low rolls I get. I've come to the conclusion it's just not enjoyable.
Stay away
Bought this based on recommendations of friends with the table top version. Biggest waste of money I have ever done on my iPad. Dice rolls are hinkey at best. I find it baffling I can lose almost my entire squadron in three missions and fail to destroy a single target. Dice rolls are SEVERELY slanted to the AI. When you suffer four jets shot down in two turns while failing to hit a single target. I also find it quite stupid that when a plane gets damaged the pilot jettisons all his munitions... Yeah survivability isn't that important when you take a hit. Why would your pilots want to defend themselves?? Well at least I know what the real troops in Vietnam felt like now getting constantly f*~#@$ by their superiors.
Great game
This port is of phantom leader and not PL deluxe. I wish it had the deluxe ruleset.

The game is indeed difficult but I'm not sure there is ai die rolling advantages. You have to use suppression and ECM pods to truly eek out your wins. Even so, I'm not winning every time. I wish they would do hornet leader.
View in iTunes
$14.99

Category:

Entertainment

Updated:

Feb 15, 2013

Version:

1.0.6

Size:

84.9 MB

Language:

English

Seller:

Dan Verssen
Compatibility: Requires iOS 4.3 or later. Compatible with iPad.
More iPad Apps by Dan Verssen