Interactive Geometry - Learn math one touch at a time
By Interactive Mindware LLC
Open iTunes to buy and download apps.
Description
Interactive Geometry is a friendly, intuitive and easy-to-use math application for teaching and understanding basic and advanced geometry skills and lessons. This application contains howto's for step-by-step learning and understanding of many key geometry concepts, a skills checker to test understanding, shape recognition indicators when special geometric shapes are created, and an interactive workspace sharing mode linking two or more iPads.

This application is used in the classroom and at home to learn and understand basic and complex math equations and skills associated with points, lines, rays, segments, single and pair of angles, triangles, quadrilaterals, ellipses, circles and more. These geometric shapes can be manipulated by dragging points/shapes or by manually entering parameters associated with the given shape.

The interactive nature of the program allows the student to see and better understand math concepts, relationships, and properties of a geometric shape when they drag points in a geometric shape. You can interactively work with reflections of points and shapes, move points freely, rotate points about a reference point, and move points linearly (translate) parallel to a reference line.

This program is used as a tool to compare and measure the length, slope, angles, and areas of shapes on the screen or relative to reference images displayed on the background. Load images for display on the background or take a snapshot (iPad 2 or newer) of an item around you for display on the background. You can then select the line segment, angle or other shapes to measure lengths, angles, and areas of the items in the background image. Shape stats such as angles, lengths, slopes, and more can be viewed using the stats screen or by touching on the labels associated with the points and lines of each shape.

FEATURES

Student-Teacher Mode - Interactive workspace sharing between two systems and viewing of multiple systems
Toggle coordinate, angle, side and area labels
Selectable length, slope and y-intercept values for segment labels
Step-by-step how-to instructions for many key concepts
Overlay visuals on geometric shapes for how-to support
Skills check for tracking understanding
Drop-down geometric shape definitions
Light-up geometric shape recognition for immediate feedback
Save/Load and Import/Export shapes.
Loadable background images for visual reference and measurement
Use iPad's camera for direct capture and relative measure of objects around you

LESSONS and CONTENT

Understanding the XY axis, origin, coordinates and quadrants
Find point location and distance from origin
Creating Lines, Ray and Segments
Positive, Negative Slope
Horizontal, Vertical Lines
Slope Intercept Form
Point Slope Form
Calculating Slope
Calculating Y-Intercept
Finding parallel and perpendicular lines
Finding distance between point and line
Equations for Lines, Rays and Segments
Finding segment mid-points and lengths
Measuring length and size of objects on background images
Acute, Right, Obtuse, Straight, Reflex Angles
Creating and measuring angles
Finding Angle Bisect
Conversion between Degrees and Radians
Adjacent, Complementary, Supplementary, Linear Pair, Vertical Angles
Legs of Angle
Interior, Exterior Angles
Acute, Obtuse, Right, Oblique, Equilateral, Isosceles, Scalene Triangles
45-45-90, 30-60-90, 3-4-5 Triangles
Finding Triangle Height using any side as base
Area of Right Triangles
Area of Any Triangle using Base-Height Method and Box Method
Finding Triangle Perimeter, Centroid, Circumcenter, Incenter
Pythagorean Theorem
Defining Triangles using angles and side lengths
Quadrilaterals, Squares, and Rectangles
Parallelograms and Rhombus
Trapezoids and Kites
Area of Convex Quadrilaterals
Finding bi-median lines of a quadrilaterals
Finding the Varignon Parallelogram
Finding Circle and Ellipse Circumference, Area, and Focus Points
Creating Chords, Radius, Diameters, Tangents and Secants
Reflections, Rotations, Translations
What's New in Version 3.6
Improved HowTo content and formatting for all shape categories.
Fixed known errors.
iPad Screenshots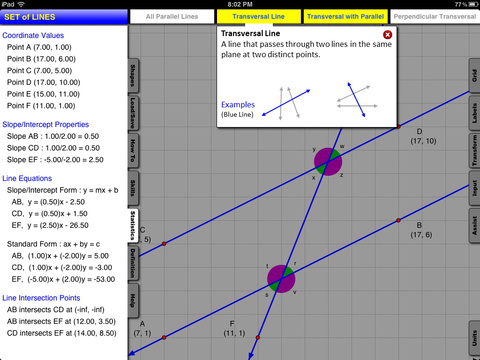 View In iTunes
$2.99

Category:

Education

Updated:

Jan 07, 2015

Version:

3.6

Size:

5.2 MB

Language:

English

Seller:

Interactive Mindware LLC
Compatibility: Requires iOS 5.1.1 or later. Compatible with iPad.
More iPad Apps by Interactive Mindware LLC