Swipes - To do list & Task manager to Plan, Schedule and Achieve your goals.
By Swipes Incorporated
Open iTunes to buy and download apps.
Description
Swipes is one of top new tools in the productivity space, awarded 'Best New Startup Of The Year' by Evernote and nominated for a Webby Award.
Swipes to-do app is fully-integrated with email (Gmail) and notes (Evernote), allowing you to automatically collect tasks from the places where you receive them. Swipes is used by high achieving individuals and companies in over 110 countries around the world.

"You'll soon find yourself spending less time organizing your schedule and more time working on it." - MakeUseOf

Based on gestures and smart integrations, Swipes let's you plan your day, schedule things ahead and work on the priorities. At Swipes, we are creating a powerful productivity concept - The Swipes Way, and we're utilising the best of technology and design to naturally guide you through improving your habits and workflow.

Smart integrations:
1. Swipes is powered up by Evernote. With the tight integration you can turn any personal, shared or business notes from Evernote into an action plan in Swipes.
2. Swipes is also powered up by Gmail. With the tight integration you can de-clutter your inbox by removing emails into tasks.

This app is for the fans of powerful tools, the GTD enthusiasts, the slick design appreciators, the ones who want to beat procrastination and it is for YOU to become a High Achiever!

Key features:
* Plan your day on a timeline
* Easily snooze tasks for later
* Enter action steps to get you going
* Track your progress during the day

Powerful action plan:
* Attach notes from Evernote to a Swipes task
* Automatic sync of notes from Evernote as a task in Swipes
* Two-way sync of checkmarks from Evernote into Swipes
* Support for personal, shared and business Evernote notes

Other features:
* Schedule things ahead
* Check a history of your accomplishments
* Plan recurring tasks and events
* Use tags and work in context
* Assign reminders and notes
* Set priorities
* Get reminded with notifications
* Share tasks via email
* Enjoy Dark and Light theme
* Your data is save and backed-up to the cloud
* URL Scheme support to use Swipes with Launch Center Pro, Drafts etc.
https://github.com/swipesapp/documentation
* iOS 8 widget for the Notification Centre
* Gmail integration

Use the app on the go or at the office:
Web app - http://web.swipesapp.com
iPad app - in iTunes

Swipes is free to download and use.

UPCOMING:
Unlock Swipes Premium for $4.99/month or $49.99/year:
Upgrading to Swipes Premium will add yet to be announced features and will be available through an auto-renewing subscription.
Stay tuned :-)

Subscriptions will be charged to your credit card through your iTunes account. Your subscription will automatically renew unless cancelled at least 24 hours before the end of the current period. You will not be able to cancel a subscription during the active period. You can change your subscriptions from the "Manage" button in the Settings of the app.

Note to the users who use location-reminders: The continuous use of GPS running in the background can dramatically decrease battery life.

Here's our Terms of Use: http://swipesapp.com/termsofuse.pdf
Here's our Privacy Policy: http://swipesapp.com/privacypolicy.pdf
What's New in Version 2.3
The BIG update of Swipes for 2015!
Welcoming the Apple Watch and Share Extension!
* We've built for you the most requested feature of all - collecting tasks from email. Swipes also speaks 5 new languages.

The all new Swipes comes with:
- Email integration
De-clutter your inbox and turn your email into task with just a swipe. Works with all Gmail-based clients but with an optimised workflow for Mailbox and CloudMagic.

- Opening URLs and Direct dial from notes
In the note section of Swipes we've included the options to open urls and dial phone numbers.

- Translations
Enjoy Swipes in your own language. Now Swipes speaks Spanish, Dutch, German, Korean and Danish. Many thanks to our contributors: Joan Carles Gil, Enrique Trenado, Javier Miranda Cepeda, Bob Radstaak, Stefan Niemeyer, Klaus Stockamp, Daehoon Lim.


- Bug fixes
The custom notification sound for Swipes is back. We've fixed the problem with wrong number of notifications and the disappearing recurring tasks. We've improved and stabilised the Evernote integration and fixed issues related to duplication, re-authorization, lack of syncing. We've also fixed bugs related to the snooze & schedule.
Apple Watch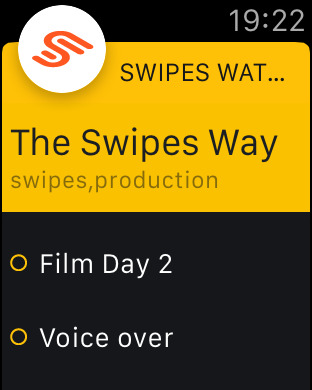 Customer Reviews
Wow! Great Organizer
At 46, I've spent my life trying many different ways to be organized: planners, notebooks, CRM, spreadsheets, etc. With the development of the cloud, this has become an easy thing: Evernote for, well, everything, especially contact logging; Calendars sync'd in Exchange and iCloud, and, now Swipes to manage tasks. I was using the reminder features of Evernote, and still do for many things, but that interface is a little clumsy. I got Wunderlist as part of Productivity Pack, but it's got an old fashioned feel and just doesn't quite cut it in the snoozing, partial completion, and completion departments, nor in the simple creation of a quick reminder. Enter Swipe. The interface is simple, the app works the way I think, and task management is simple and fast, really fast. Creating a quick reminder on the fly as soon as you think of it has never been easier than it is in swipe. Integration with Evernote is awesome, and I'm sure some improvements can be made, but I honestly can't think of many suggestions for improvement here. One I would suggest is the ability for the Swipes and Evernote to synchronize reminder times. When an item in Swipes is checked off, the check mark is sync'd in Evernote, and vice versa. Swipes and Evernote should also be able to update each other's reminder times or completion status of a task/note. Overall, I'm loving this app!!
The absolute best ( for me)
Like someone looking for the meaning of life I have relentlessly pursued the discovery of a task mgmt app that works for me. Tried everything, just about. Many are too structured and I wound up spending more time managing tasks in the app than actually working on the task. I have adopted Evernote and Workflowy, and they almost got me to the top of the mountain. Swipes has pushed me over the top! For how I work (tons of tasks, big and small, short term and long term, urgent and mundane) it is the ideal solution and keeping it updated IS A BREEZE. Or should I say a swipe! The thing about it that I find so valuable is that it allows me to keep the important stuff at the top of the list but I see everything and re-arranging dates, times, and priorities is FAST AND EASY (and almost fun). Integration with Evernote is great but not critical (yet) as I have found tremendous value without getting too far into that feature. Try it, push through the first few awkward days and maybe this can be the dream come true for you that it is to me.
Great App Even Though Evernote Integration Is Shakey
This is a really great app. It is easy to add new tasks to work on immediately and schedule tasks for later. The later tasks are in another tab so as not to give you that overwhelmed feeling you get when you have to much to do. Also you can tag tasks and only look at those tasks. Great for when you want to use the app for both work and home. I also like the sound you get when you complete a task - it's like a little bit of encouragement to keep going and I must say that when I finish all my tasks and swipes says I am done for the day, I feel pretty good.

The only thing that bothers me is that I work closely with Evernote and the integration is not as reliable as I would want it to be and having to re authorize swipes a couple of times a week is starting to be nerve wrecking! Once they get that fixed this app will be even more awesome than it already is!
View In iTunes
This app is designed for both iPhone and iPad
Works on Apple Watch with an iPhone
Free

Category:

Productivity

Updated:

Apr 15, 2015

Version:

2.3

Size:

35.7 MB

Apple Watch:

Yes

Languages:

English, Danish, Dutch, German, Korean, Spanish

Seller:

Swipes Incorporated
Compatibility: Requires iOS 7.0 or later. Compatible with iPhone, iPad, and iPod touch. This app is optimized for iPhone 5, iPhone 6, and iPhone 6 Plus.