Magic Window 4K - Timelapse Wallpaper
By Jetson Creative LLC
Open the Mac App Store to buy and download apps.
Description
Magic Window 4K will make your 3K/4K/5K display shine with beautiful slow moving timelapse views for your wallpaper and screen saver. Includes 105 amazing city and nature views. This edition is only for certain hardware configurations - please read the description before purchasing.

Magic Window is the absolute best and most beautiful motion wallpaper and screen saver available for your Mac. It includes complete timelapse views of coasts, beaches, cities, mountains, lakes, and more. Watch as time and light slowly paint the skies beautiful colors and the cities transform from day to night.

Created by the same team that brought you Magic Window for iPad and iPhone, this is a new style of desktop wallpaper made using timelapse photography. The wallpapers slowly blend over time revealing magical changes in scenery and color. The goal is to create slow and subtle movement that does not distract from work.

The speed of the app can be changed from slowest where movement is not visible to fastest where movement is subtle and noticeable. Depending on if you prefer more static wallpaper or "live" wallpaper you can adjust this setting to conform to your tastes. Most views were filmed over hours and capture complete sky transitions.

DETAILS:

This edition of Magic Window contains 105 views mastered at Cinema 4K resolution (4096x2160). It looks beautiful on 3K, 4K, and 5K displays of all sizes. The higher resolution means much greater detail on displays that support it. People with lower resolution displays will prefer one of our other applications including Magic Window - Timelapse Desktop.

- Get Magic Window 4K if you have an iMac with Retina 5K or 4K display, a 15" MacBook Pro with Retina display, or a Mac Pro with 4K or higher resolution display attached. For the MacBook Pro 15" this is not dramatically better than standard Magic Window but if you want the best this is it.

- ALL OTHER CASES: Get the standard Magic Window - Timelapse Desktop available here in the Mac App Store. It has 2X more scenes and is the ideal choice for most Macs.

4K video files are large. Magic Window 4K includes 4 scenes built into the app download. The remaining 71 scenes are downloaded separately through the app. There is no charge for downloading scenes and you can delete ones that you try and do not like. The app includes nearly 20GB of timelapse views, 19GB of which is downloaded separately.

Please note: due to changes in OS X the app now takes longer to open. You will experience a delay between opening the app and it executing as OS X validates that the app. It will appear as if nothing is happening - please be patient with it. Thank you for understanding.

Enjoy Magic Window 4K. If you have questions especially about compatibility with your display setup feel free to contact us at support@magicwindowapp.com.

PLEASE NOTE:
This is not a system screen saver - it works independently of the system screen saver.
What's New in Version 2.1
- macOS Sierra Compatible
- 30 new scenes including views from New Zealand and the Grand Canyon
- Major reduction in CPU usage especially on slow and slowest speeds
- Smoother transitions between scenes
- Bug fixes and other small improvements
- Any issues please contact us at support@magicwindowapp.com
Screenshots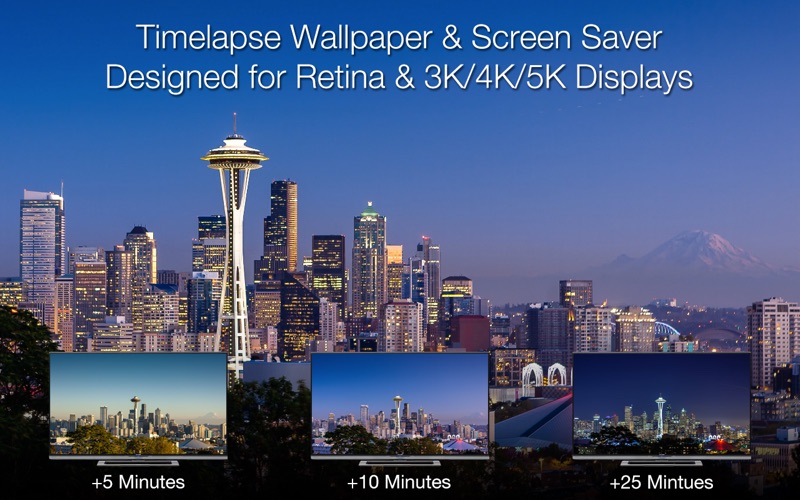 Customer Reviews
Beautiful … but laptops run hot
The photography here is 5 stars.

I would have rated the overall application a solid 5 stars except that even on the slowest play setting it makes both of my MacbookPro's (13" and 15") run hot. True to the documentation, the Activity Monitor only shows around 5% CPU on the slowest setting, but I think there must be additional GPU processing… at any rate something is causing my machines to run so hot that I chose to disable this application.

How they can fix it: I tested vs. native wallpaper (OS X System Preferences -> Desktop) with "Change picture" set to 5 seconds with very similar CPU and temperature results. So I don't think this software is doing anything wrong other than updating the image rather frequently. I simply advise the developers to add an additional "really slow" playback speed. Have it update at 1 minute intervals. It's still a really cool effect, and I wouldn't hesitate to leave it running even when I'm on battery power.

In the meantime here's my workaround to still enjoy Magic Windows: I wrote a terminal loop to screencapture my favorite scene in a sequence of 50 or so images, put them into their own folder, then use the native Desktop pointed to that folder and set Change picture to 1 minute interval. Works and looks great!
Works Smoothly
I enjoy most aspects of MW4K. It works great on my 2013 iMac, and there are only a couple of elements which need improvement, but which do not detract from a five star rating. The scene browser could be larger; it uses the same scene browser from the orginal Magic Window, but which now looks expecially small on the larger displays 4K is meant for. Also, There are a bunch of favorite scenes from the original Magic Window that are missing from the 4K lineup, because (understandably) they were not filmed in higher resolution. But I still miss then all the same. I wish there was an option to download the lower resolution older scenes, even if I'm only seeing them in standard definition. They are still pretty to look at after all.
Beautiful and works great
I've always wanted a "live" desktop. Something that's not too distracting… say a steady shot of a lake, with just the ripples moving through the water. This isn't quite that since it's timelapse and not video… but it's darn close, and in some ways better, since timelapse allows for colors to change as the sun rises and sets. Honestly, I'm so happy I can make use of my iMac's 5K monitor with these beautiful living images. I don't notice it affecting performance either. Please support these developers and download this app, so that they can keep creating amazing content. It will bring more beauty to your day.
View in Mac App Store
$9.99

Category:

Entertainment

Updated:

Oct 05, 2016

Version:

2.1

Size:

1.46 GB

Language:

English

Seller:

Jetson Creative LLC
Compatibility: OS X 10.9 or later, 64-bit processor