Notability
By Ginger Labs
Editors' Choice
Open the Mac App Store to buy and download apps.
Description
Welcome to Notability: powerful, yet wonderfully simple note-taking and annotation.
Apple's Mac App of The Year! Apple Editors' Choice on iPad, iPhone, and Mac! Recognized by Apple as the Best Selling Paid Productivity app in 2016, 2015, 2014, and 2013!

Students, teachers, and business professionals use Notability daily to take notes, sketch ideas, annotate PDFs, mark-up photos, record lectures, provide audio feedback and more. It is uniquely designed for each device to provide the best note taking experience at school, at home, and at work. And with iCloud, your notes are always up to date.

Notability is designed for Mac
- Quickly create notes by dragging documents, photos, or audio recordings from the desktop and dropping onto the library.
- Enhance notes by dragging photos, audio recordings, and PDFs from the desktop and dropping onto a note.
- Get more done with smart keyboard shortcuts.
- Handwriting and sketches can be scaled, transformed, free and constrained rotated, nudged (with arrow keys), and restyled.

Capture memorable notes with these essential features
- Type reports and outlines in a variety of fonts, sizes, colors and styles.
- Text automatically reflows around images.
- Highlight typed text.
- Handwriting has been fine-tuned to be smooth and expressive using a trackpad or mouse.
- Sketch and write using a variety of colors, line widths, and styles.
- Draw perfectly straight lines by holding the Shift key.
- Record audio during lectures and meetings to capture more detail.
- Import audio recordings from other sources.

Audio Recordings: Review and Give Feedback
- Get more out of your lectures and meetings when you record them.
- Notes automatically link to recordings, so during playback, you can watch your notes animate along with the recording, or tap them to get to the spot that needs clarifying.
- Teachers can also use these features to provide audio feedback to students.

Import and Annotate PDFs
- Highlight text and Copy & Paste text in PDFs using the Typing tool.
- Search PDF text.
- Mark up lecture slides and meeting agendas or complete class assignments.
- Fill-out, sign, and send forms.
- Import doc and ppt files with the help of Google Drive.

All Electronic Workflow
- Create a paperless classroom -- handout and collect assignments via the cloud.
- Speed-up feedback to students and colleagues using Notability.
- Complete, sign, and share documents in Notability.

Organize and Share Notes
- Create subjects and simply drag notes into them.
- Share your notes via email, AirDrop, printer, Dropbox, Google Drive, and more.
- Retrieve recently deleted notes from the Mac OS X Trash.

iCloud Sync
- iCloud automatically syncs all of your notes to iPad, iPhone, and Mac.

Auto-backup
- Dropbox, Google Drive, and OneDrive can be used to backup your notes and are great for archiving or recovery.

We hope you enjoy using Notability, and we look forward to hearing from you.

Notability is a registered trademark of Ginger Labs, Inc.
What's New in Version 2.6.2
*** Improvements & fixes in 2.6.2 ***
(√) OneDrive: Added support for business and education accounts
(√) Bug fix: Some notes could take a long time to load
(√) Bug fix: Incorrect text layout in older notes
(√) Bug fix: Changing list style now uses the correct list numbering
(√) Bug fix: Emojis now show up properly in playback mode

*** Bug fixes in 2.6.1 ***
(√) Fixed a crash on startup that affected some users
(√) Fixed a crash when exporting/importing from Google Drive
(√) Other minor bug fixes

*** What's New in 2.6 ***
(√) OneDrive support
--- Like Google Drive and Dropbox, OneDrive is now supported for Auto-backup
(√) Checklists
--- Keep track of your tasks and grocery lists in Notability
--- Click the circle to the left of an item to mark the item as complete
--- Like numbered and bulleted lists, checklists can be any color, can be indented, and will wrap around images
(√) GIF support
--- Add some fun and self expression to your notes with GIFs
(√) Performance improvements for large, heavily-annotated PDFs
(√) Accessibility improvements
(√) Bug fixes
--- Fixed a bug that caused excessive background activity and battery usage after recording audio
--- Fixed a bug that kept the file import/export menus from showing all items in Dropbox folders with more than 2,000 items
--- Pressing "enter" twice while in the middle of a list now separates the list into two lists

If you're enjoying Notability, we'd appreciate it if you took the time to leave us a review, thanks!
Screenshots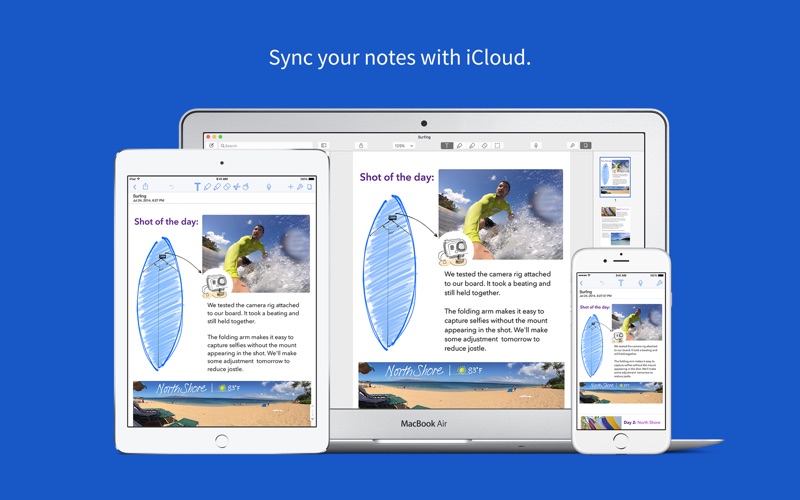 Customer Reviews
Generally good, but running into some glitches
I've been using Notability for over four years now, and am only recently running into A LOT of glitches.
1) It regularly unconnects from iCloud, forcing me to restart my computer to retrieve notes. Then, a lot of the notes don't download, and therefore won't open.
As a note, the problem where notes don't download occurs fairly often for me, even if I haven't had an explicit problem with iCloud
2) Colors don't show in the color selector. For example, if I use the highlighter and want to change the color, all of the colored circles just show up as grey.
3) When using the pages right sidebar (the one that shows all of the pages), the pages don't show up at all regularly, leaving me with just a grey bar.
4) The app no longer allows you to import powerpoints or some other formats of files. I don't think that this used to be the case, as I used to just be able to drag and drop whatever I wanted into the app. Now, I have to wait for powerpoint to open (which can take a while), export it to a pdf, and then import it.

I don't write this review to discourage anyone from using Notability. I do really like the platform, and as I said, I've been using it for years. These glitches are starting to make the app non-functional though, as it makes me restart my computer (not just the app, that doesn't work) sometimes twice or three times a day, in the middle of class, while I'm trying to take notes.
Annoying features
I really liked this app when I first got it, but there are two things about it that make it very inconvenient at times. One is the fact that they changed the zoom in feature so you have to tap the magnifying glass to write in the "zoomed in" mode (which is basically a necessity if you don't want your notes to look like a child wrote them). Before, you could just hold the stylus down on the area you wanted to write for a second and it would automatically zoom in to that area. Now, you have to hit the magnifying glass and it zooms to the top left of the screen and you must drag the box where you want it. It sounds minor, but when you're taking notes on a slideshow or article, it really starts to become annoying. The second thing that's not so great about this app is that it's time consuming to delete multiple notes and dividers. Also, if you have the app synced with another device, it's virtually impossilbe to get rid of them. I would not recommend this app to anyone with its current issues.
Everything is great except...
I love this app and use daily for my medical school notes. The only problem I really seem to have with the app is that the typing feature isn't the smoothest. It takes me a while to get my text boxes where I want them and how large I want them, because the interface for changing size and position is glitchy and slow. I generally have to click on a box several times to even select it, and then when I try to resize the text box, it does some crazy thing that messes up the sizing. If that were fixed, this app would by far beat out every other note taking app out there! I also wish that I could bookmark pages in different colors. I often have pages bookmarked for different things so having different colors (like red bookmarks to bring up during tutoring, green bookmarks to ask the professor about, orange bookmarks to make sure to review again) would be an amazing feature to have.
View in Mac App Store
$9.99

Category:

Productivity

Updated:

Aug 14, 2017

Version:

2.6.2

Size:

32.7 MB

Languages:

English, Dutch, French, German, Italian, Japanese, Korean, Norwegian Bokmål, Portuguese, Russian, Simplified Chinese, Spanish, Traditional Chinese, Turkish

Seller:

Ginger Labs, Inc.
Compatibility: OS X 10.10 or later, 64-bit processor