NOAA Radar Pro – Weather Alerts & Forecast
By Apalon Apps
This app is only available on the App Store for iOS devices.
Description
LIMITED TIME SALE! - 30% OFF! - DOWNLOAD NOW!

Watch out for severe weather! Track active tropical storms & hurricanes, stay up to date with warnings & alerts sent directly to your wrist, iPhone & iPad, and react immediately. Take just a glance for a quick weather check and get a 24-hour forecast with just a swipe.

NOAA Radar Pro is a powerful yet easy-to-use weather station right on your device. Real-time animated weather radar images on a highly interactive map enhanced with severe weather warnings and alerts won't let bad weather take you by surprise!

Core Functionality:

* Get a push notification whenever an alert is issued (tornadoes, flood warnings, snow storms, and more) without opening the app!

* Radar and Satellite overlays show real-time rain, snow, mixed precipitation, and cloud cover in high resolution and vivid colors.

* Rain map provides rain forecast for the range of next 24 hours right on the terrain map.

* Snow depth map. Get local and global view of current snow layer.

* All National Weather Service watches, warnings, and other alerts are shown on the map as interactive polygons covering the territories they're active for. Tap one to get the full alert text.

* Detailed Weather info for locations includes current conditions, 24-hour and 7-day forecasts, plus active alerts for practically any location in the USA.

* Hurricane Tracker displays past and current positions of tropical storms along with their forecasted path.

Features:
- Notification Center Widget. Get access to the current temperature, today's Min and Max, weather forecast for the coming hours, with a single swipe
- Tropical storms & hurricane tracks with forecast right on the map
- Choose the number of frames, animation speed, set opacity for radar and satellite overlays
- Easy location search. Search by name, or just long tap any spot on the map to get detailed weather for it
- Bookmarks. Quickly switch between your favorite spots to see the weather there
- Background maps: standard, hybrid, satellite
- Precise weather data from the nearest weather station
- 24-hour and 7-day weather forecast for any location you choose
- Current and "Feels Like" temperature. Today's Min and Max
- Chance of precipitation, humidity
- Pressure, wind speed, and visibility details, dewpoint info
- Sunrise & sunset time

Take your weather watching to the next level. Track the latest weather activity in smooth high-definition. See what weather is coming your way, and keep you and your family safe.

Coverage Info:
Radar images are available for the United States (Continental US, Alaska, Hawaii, and Puerto Rico), Canada, Australia, European Union (the United Kingdom, Ireland, Germany, France, the Netherlands, Belgium, Luxembourg, Liechtenstein, Switzerland, Italy (western), Denmark (southeast), Poland (western), Czech Republic, Austria (northwestern), Japan.
Rain map, satellite images and detailed weather info is available worldwide.
Hurricane tracker provides Pacific and Atlantic coverage.
NWS watches, warnings, advisories – the USA only.

Privacy Policy: http://apalon.com/privacy_policy.html
EULA: http://www.apalon.com/terms_of_use.html
AdChoices: http://www.apalon.com/privacy_policy.html#4
What's New in Version 3.16
- Introducing weather reporting. The app now allows anyone to be a weather reporter. Confirm the weather or report your weather conditions and take part in improving our data and forecasts.
- Performance improvements you won't necessarily notice but definitely enhancing your experience with the app.

Thank you for your continuous support and comments! Do not hesitate to share your feedback with us via support@apalon.com.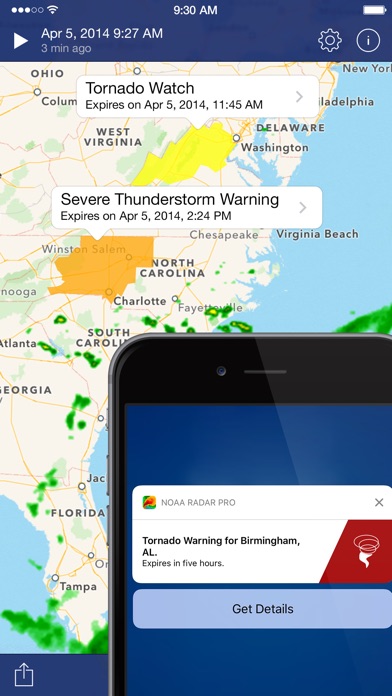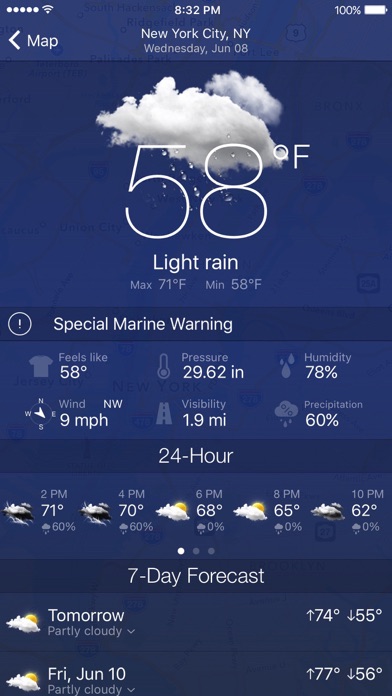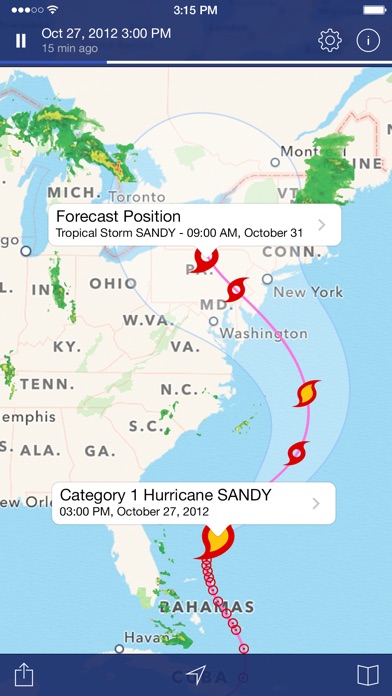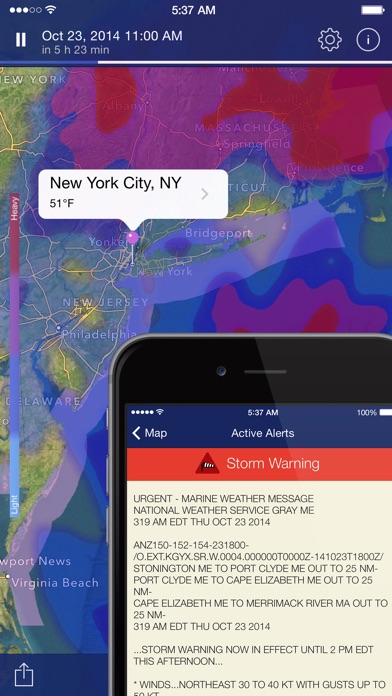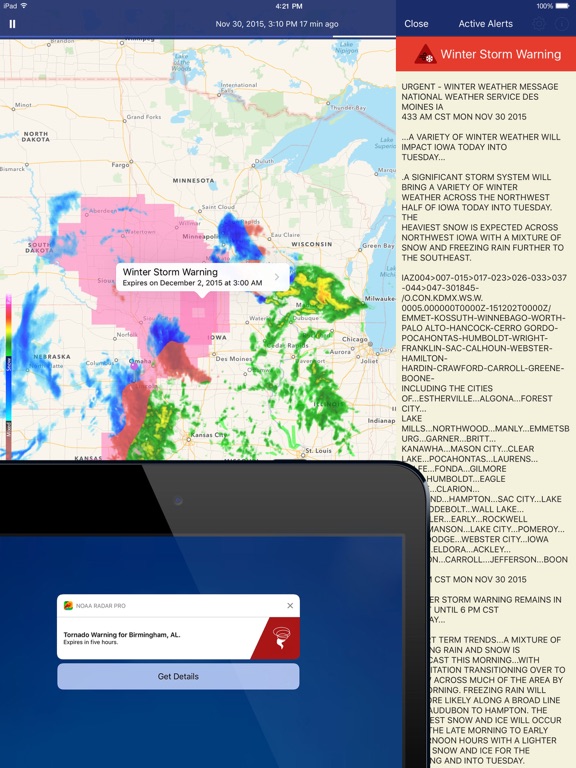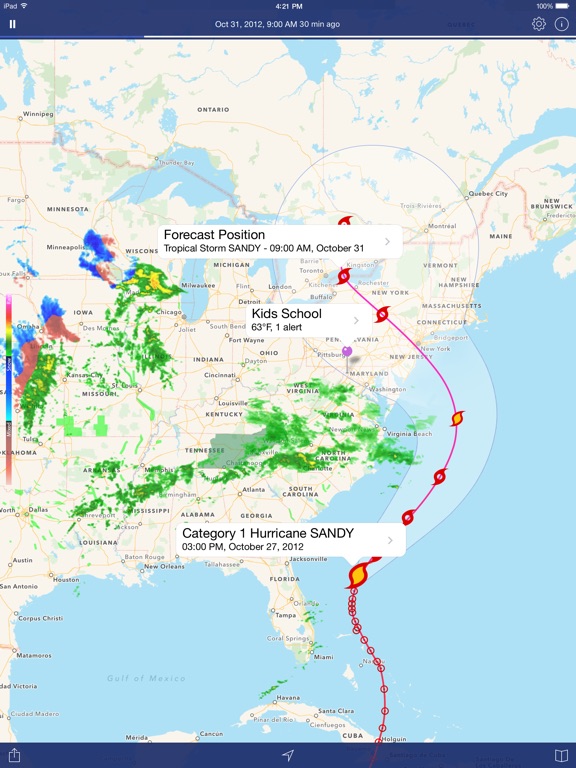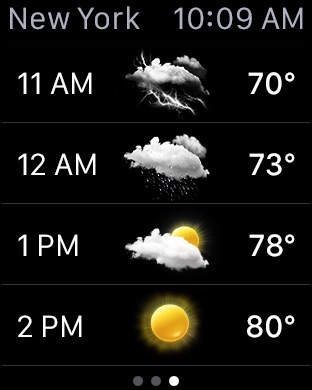 Customer Reviews
Tracking weather
I have always liked tracking weather whether it be seeing incoming rain when I'm walking my dog or keeping track of a hurricane as it heads toward land (or not) or up the coast. I like that I can see predictions of a hurricane's progress. What I don't like is that as I tap on a forecast point I have to go through two levels. First the white rectangle that tells me little more than the storm's name and its intensity. Then I can get a full-page report of its name, intensity, projected wind speeds, and mapping coordinates. Then if I want to get a sense of how it's moving, I have to go back to the map and repeat the whole process. Tedious and not very efficient. How about the white rectangle actually giving useful tracking info rather than long spelled out labels? Category 3 = Cat3. The date and time of the forecast so I can very efficiently track along the path and get a sense of how fast it's moving and how it's gaining or losing strength. I like being able to bookmark locations so I can quickly check places where my kids live or to which I frequently travel. Last thing, even though I deleted the bookmark, the map defaults to a place (Gould, RI) that doesn't exist. How about I be able to designate one of my bookmarks (like my home) as the map default. It's coming close but it's missing the mark.
Good idea, poor delivery
I have to say that after using this app compared to the multitude of other weather notification apps that I have, I am not impressed at all. I live in Savannah, GA where we get some pretty bad weather from time to time and I like to know when that weather is on my back door. Just recently we had a mild tornado outbreak, as well as a slew of severe thunderstorms. Of all of the apps that I have for weather with the notifications turned on, NOAA was the very last app to give me a notification that the storm was happening, and at times that notification was almost an hour after the storm had passed. If this was the only app that I had giving me notifications, my family and myself could have wound up seriously injured or worse if just one of those tornado producing storms had hit my house and I was relying on this app. The sad thing is that this is a paid app, that I purchased for a little bit of reassurance during bad weather to give me some piece of mind and the only thing it has done is make me more weary about severe weather in my area. And for anyone that reads this and is wondering, this has not been the only time that the app has been extremely delayed in letting me know that there was bad weather approaching. It happened in April, as well as January, during the tornado outbreak across GA. So basically, it's not a fluke.
Works great!
People were complaining about large location icons, fast radar time lapse, etc. Well guess what? There's options to change those in Settings! Just because you're not App Savvy doesn't mean you should give bad ratings and complain. I'm a 47 year-old single mother and if I can figure out what the circular gear icon symbol means and tap it to find the settings you can too!
You can also choose map or satellite imagery, the degree of clarity on the coverage of the "clouds" so you can still see what city it is. Change the speed of the playback. How long do you want that red pin with the nice, visible print for the location to stay there? 10 seconds or 1 minute? I think there were 4 options.
Those are just the ones I looked at before the "please rate the app" popped up.
I really like it and find it functional, accurate (so far), and not too difficult for a grandmother to use. If you can't figure it out, get your kids to help. 😊
View in iTunes
This app is designed for both iPhone and iPad
Offers Apple Watch App for iPhone
$4.99

Category:

Weather

Updated:

Dec 20, 2016

Version:

3.16

Size:

82.8 MB

Apple Watch:

Yes

Languages:

English, French, German, Italian, Japanese, Korean, Portuguese, Russian, Simplified Chinese, Spanish, Traditional Chinese, Turkish

Seller:

IAC Search & Media Europe Ltd.
Compatibility: Requires iOS 8.0 or later. Compatible with iPhone, iPad, and iPod touch.