War Robots
By Pixonic Games LTD
This app is only available on the App Store for iOS devices.
Description
War Robots is an action-packed multiplayer game with 6 vs. 6 team battles in real-time! Join the ranks of the Mighty Warriors!

"Saddle up, pilot! It's time for some mechanized, armor plated, missile firing, machine gun shooting, nuclear powered fun."
- Technologytell

"War Robots is a fun online multiplayer zone capture game with energetic robot battles."
-Engadget

"This one could break big, so educate yourself now."
- AppSpy

"A mechanized MMO battler with some teeth."
- 148apps.com

"If you like Robots and real-time PvP battles, the game will be your best choice."
- 2P.com

It's a time of war, pilot! Are you ready for surprise attacks, intricate tactical maneuvers and the many sneaky tricks your rivals have in store for you? Destroy enemy robots, capture all the beacons, and upgrade your weapons to increase combat strength, speed, and durability of your battle robot. Prove yourself in each map and use different strategies and tactics to emerge victorious from battle!

MAIN FEATURES:
– 28 battle robots with different strengths;
– more than 20 weapon types, including ballistic missiles, energy and plasma guns. What will you choose?
– many possible combinations of robots and weapons. Create a war machine to fit your own play style;
– create your own clan and lead it to glorious victories;
– join epic PvP battles against rivals from all over the world;
– complete military tasks for bonuses and earn the Best Pilot title.

Onward, soldier! Victory is yours!

You want to talk about the game or find allies?
Then join us on Facebook: https://www.facebook.com/warrobots/
or follow us on Twitter: @WWR_by_Pixonic
and YouTube: https://www.youtube.com/user/WALKINGWARROBOTS

Important note: This application requires a stable internet connection. In case of any problems, please contact us at wwr_support@pixonic.com so we can work on a fast resolution. Enjoy the game!
What's New in Version 3.2.0
Custom Games (available from level 10): now you can challenge other players to run 1vs1 or train with your clanmates! ATTENTION! This feature will be enabled a few days after the update — follow the news!
New weapon Ember: a heavy flamethrower to melt down some metal
New robot Inquisitor: death from above
Components: collect them and exchange for new weapons and robots!
What else:
Black Market changes: Components are added to the pool, items with a small drop chance are removed
ATTENTION! From now on all balance changes will be announced in the in-game News in advance.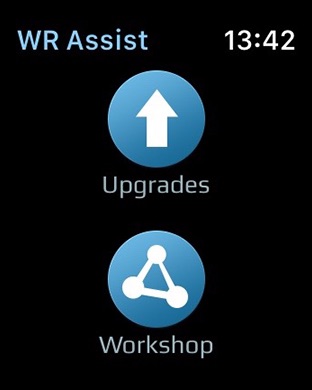 Customer Reviews
Good PAY-to-WIN game
Good game overall. Skill level is predominantly determined by your robots and high power weapons - not your personal ability. Game is more about upgrading your weapons and robots to get better. True skill is a factor but only a small factor by comparison.

The Good: The combination of robots, robot speed, damage, weapons, and shield options, and special abilities like jumping or stealth provide a wide range of robot configurations and abilities. It's a fun robot/mech game to play - until you level up and begin playing against people they have spent big money on their robot. This is where The Bad comes in.

The Bad: Once you enter the Silver league level and up it becomes very evident that some players have purchased their way (with real money) to a rugged and powerful set of robots. They have essentially decided to "Pay to Win". This is easy obvious by looking at a given player's profile and seeing they have a relatively low number of games, wins, and ranking. Also, I have found there are periods of time when the team matching seem ridiculously uneven. Online forums suggest I am not alone in having this impression. Seems like another way those who pay to win get an advantage over those who haven't spent real cash money to get an advantage over others. My enjoyment of the game has deteriorated since leveling up to the Diamond leagues.
Pay to win game
There is no balance to the game. Their match making system purposely pushes you in to uneven matched games. If your hanger is configured to short range battle, they will dump you in a long range missile, gekko, treb fight map. If you are setup for long, then they will dump you into a short range map. At the same time they push into games the you only win 60% of the time. Making you feel like you need to spend money to compete with the credit card clans. Their new Korean bots they are selling are $300 each! If you want to play and win, you must pay and buy the new bots. Everything you had upgrade before is a POS! Your Gepard is POS. Your Leo, Natasha, and four legged bots are POS. Your Gareth and Galahad is a POS. Your maxed out western bots you bought last event are POS now! You will constantly lose and also feel like POS. Let's face it, Pixonic don't GOS about us POS veterans that have dump alot money into their game. Pixonic public relations constantly lies about fixes. You can read about all their bs lies in the WR forum. For those players claiming they are still having a great time or say they are doing great in the game, it's because they are skill less player not worth mentioning and not in top 100 clan. If you are in the top 100 clan and still doing great, good for you! You took out 3rd mortgage and given up your first born child to have a full hanger of Dash bots! F you P I X O N I C!
The Greed of Pixonic
I have played this game for over 2+ years now. To this date, I continue to play but a lot less now. Soon I will delete the game because of the direction of Pixonic. The game has become a pay2win. And even though it has always been this way for the past few years, before it was still possible to be competitive through heavy grinding of gold and silver. Now, this LOTTO system that is random has become the death of the game. I have spent hundreds of dollars on this game throughout the years with the intention of getting what I wanted for the price paid. Now it's a joke. You pay for a "chance" to win the item. And with the system, you can spend over 300+ dollars and never receive what you want. It's a scam and never have I've encountered this so called business strategy. The game is DEAD. People have stopped and the community is smaller than it was a month ago thanks to this change. No recovering your money. All you have is this so called "chance" of winning. If I could call it anything, I would call it stealing from customers. It's rigged and if I could, I would ask for a refund for all the money I spent to support the game. What it was a few months back was what we players came to love. Now it's a love and hate relationship and only ones loving is the ones spending thousands everything month. Sorry Pixonic, two thumbs down.
View in iTunes
This app is designed for both iPhone and iPad
Offers Apple Watch App for iPhone
Free

Category:

Games

Updated:

Oct 23, 2017

Version:

3.2.0

Size:

699 MB

Apple Watch:

Yes

Languages:

English, Dutch, French, German, Indonesian, Italian, Japanese, Korean, Polish, Portuguese, Russian, Simplified Chinese, Spanish, Thai, Traditional Chinese, Turkish, Vietnamese

Seller:

PIXONIC GAMES LTD
Compatibility: Requires iOS 7.1 or later. Compatible with iPhone, iPad, and iPod touch.
Top In-App Purchases
1200 pieces of gold bullions$9.99
500 pieces of gold bullions$4.99
2500 pieces of gold bullions$19.99
Small box of flakes$0.99
Small box of keys$0.99
Medium box of keys$9.99
One month of VIP$9.99
Small box of pumpkins$0.99
Resources starter-pack$4.99
Small box of coins$0.99
More by Pixonic Games LTD