לוטו שלי - הגרלות מפעל הפיס : צאנס, 777, 123 LottoSheli - Pais Loto Games
By LottoSheli
This app is only available on the App Store for iOS devices.
Description
מהפכה בלוטו הישראלי! לוטו שלי מביאה את לוטו מפעל הפיס עד אליך! השתתף בהגרלות לוטו והגרלות נוספות של מפעל הפיס, כגון: 777, צאנס, 123 ועוד.

מעכשיו לא צריך לצאת מהבית כדי להשתתף בהגרלות מפעל הפיס או לברר תוצאות לוטו. כן, כן, משהסתיימה הגרלת לוטו יישלח אליך בהודעת מייל האם זכית.

עם לוטו שלי, אינך תלוי בשעות הפעילות של תחנת מפעל הפיס. התחנה נמצאת ממש בהישג יד וזמינה 24 שעות ביממה! זה פלוס רציני! תוכל למלא טופס הגרלת לוטו צאנס או לוטו 777 בלי לצאת מהבית. החידוש הגדול ביותר במשחקי מפעל הפיס מאז הדאבל לוטו! גם אם התרגלת למלא בתחנת מפעל הפיס דווקא Winner (ווינר), keno או טוטו –הנוחות של לוטושלי ודאי תשכנע אותך לנסות גם משחקים אחרים של מפעיל הפיס.


עם לוטושלי תוכל:

* לקבל תזכורות לפני כל הגרלת לוטו כדי להספיק למלא את הטופס המנצח בזמן.
* לאחר שתמלא את טופס הלוטו, לוטו שלי תשלח את הטופס לתחנה מורשית של מפעל הפיס והכרטיס המקורי ייסרק ויישלח אליך במייל.
* זכית? מזל טוב! סכומי זכיה נמוכים מ-50 אלף ש"ח יועברו לחשבונך באופן מיידי, כאשר שמדובר בסכומים גבוהים יותר, כל טופס לוטו פיס שתמלא יועבר אליך אישית לאחר ההגרלה. עם לוטו שלי לא תבין איך טרחת ללכת למלא בתחנת מפעל הפיס עד היום. כשמתקיימת במשחק לוטו הגרלה - אתה בפנים בקליק אחד.
*** לוטו שלי מציעה שירות מנויים ייחודי ובו המספרים הקבועים שלך ישתתפו בכל הגרלה לפרק זמן קבוע מראש על פי בחירתך. כל שעליך לעשות הוא לקבוע באילו ימים או שעות תרצה להשתתף בהגרלה ואנחנו נדאג לכל היתר!

מהיום תוכל לשלוח טופס לוטו פיס באופן ישיר מהטלפון ולשחק במשחקי הימורים של מפעל הפיס 777 וצאנס עד שתזכה בגדול! כל שעליך לעשות הוא להירשם לשירות ולמלא טופס לוטו, ידני או אוטומטי, לפי בחירתך. תוכל לבחור באפשרויות נוספות כגון: Extra, דאבל לוטו, מילוי טופס שיטתי חזק ועוד. אז למה אתם מחכים?! הורידו עוד היום – ההורדה חינם!

לוטו שלי מאחלת לך משחק מהנה וזכייה בפרס הגדול בדאבל לוטו! מחזיקים לך אצבעות!


נשמח לעמוד לשירותכם במייל service@lottosheli.co.il ובטלפון 072-2721540

Lottosheli offers a revolutionary service in Israel of sending Lotto, Chance, 777 and 123 tickets without leaving your seat, 24 hours a day, 7 days a week, all through your mobile phone or computer.

All you have to do is register for the Application, select the type of loto ticket and confirm its delivery and payment. This can all be done in only three clicks!

After approving the ticket, Lotto Sheli will send the form for you at the licensed selling outlet of Miphal Hapayis, and the original ticket will be scanned to the Application and sent to you by e-mail.
The service provided allows you to mark your selection on the ticket manually or to choose the option of automatic selection.

The original loto ticket will be kept, securely, at the Lottosheli offices and will be personally provided to you in case the ticket's winnings exceed NIS 50,000. In case your Lotto winnings are lower than NIS 50,000, your credit card will immediately be credited.

Lotto Sheli is pleased to provide you with this revolutionary Lottery service which up until now was only available in the USA and Europe!

We wish you lots of fun and of course tons of luck!
What's New in Version 1.7.6
Bug fixes
UI improvements
Password recovery updated
iPhone Screenshots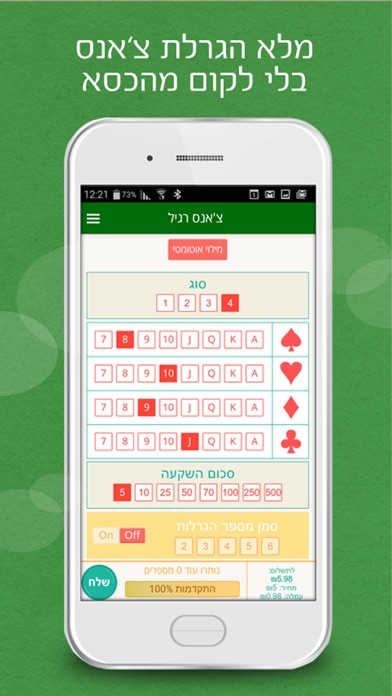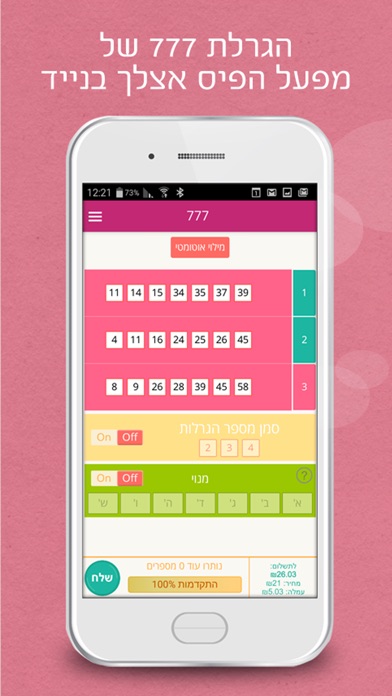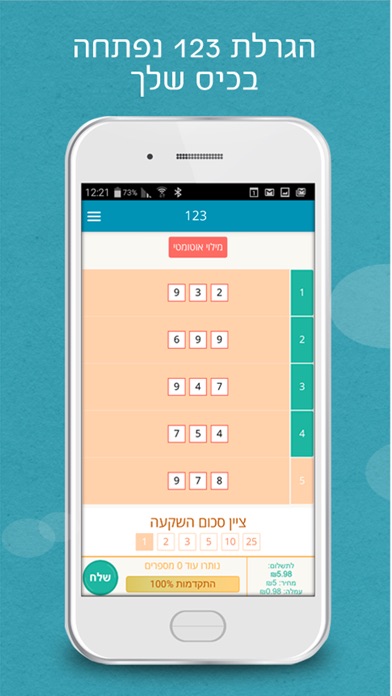 View in iTunes
Free

Category:

Games

Updated:

Apr 19, 2016

Version:

1.7.6

Size:

20.5 MB

Languages:

English, Hebrew

Seller:

Lottosend LTD
Compatibility: Requires iOS 7.1 or later. Compatible with iPhone, iPad, and iPod touch.