iDoceo - teacher's assistant gradebook and planner
By Bert Sanchis
Open iTunes to buy and download apps.
Description
iDoceo is a powerful teaching assistant for the iPad.
You can add an unlimited number of students and classes.

iDoceo is paid only once and you get the full app and updates.
There are no additional subscriptions or in app purchases.

iDoceo respects your privacy and confidentiality. Works completely offline. No internet connection required.
All your data is only stored locally in your iPad, not in cloud or external servers.

An all-in-one tool that consists of:

- Fully fledged grade book, configurable, with custom calculations, attendance and can be linked with Google Classroom.
- Lesson planner: Week/Day views
- Diary: Day/Week/Month/Timeline views of a single class
- Timetable
- Seating plans
- Resource manager that will help you keep track of PDFs, audio,files,links,images, etc.
- Notepads with handwritten notes, drawings and timestamped text
- Configurable reports in PDF, XLS and TXT


Below the list of its main features. More details at www.idoceo.net

• PLANNER, DIARY AND SCHEDULE

- Configure simple week(s) schedules or complex rotating cycles with holidays. Unlimited combinations for each term
- Individual diary for each class. Single day view, week, month and timeline. Add&Edit iCal events
- Timeline view with all your lessons on sight. Bump, lock and yank lessons.
- Add files from any source, video, audio, handwritten notes, links and resources to your lessons
- Create PDF/XLS reports of your planner and diary.

• GRADEBOOK

- Use rubrics, categories, icons, colors, text or number based grades. You can configure your own grading system
- Evidence tracking features. Take pictures, record video and audio and attach it to any cell and student.
- Calculate simple weighted averages, additions or create your own Excel like formulas with conditions and complex functions.
- Add unlimited columns, categories, rows and pages to organize your information at will
- Use configurable editors on each column for ultrafast edition and adapt the grade book to your needs
- Send personalized information and reports to your students by e-mail automatically with their grades, annotations or files
- Filter information of students or groups on screen
- Share your gradebook configurations with other users
- Import your current data from any XLS, CSV or iDoceo template file
- Import your students photos from a single image with face detection or in bulk with separate files
- Export everything to native PDF, XLS or CSV (for any major spreadsheet software)

• SEATING PLANS

- Add columns and edit your data as if you were in the gradebook.
- Up to ten seating plans per class with five different modes and backgrounds
- Random group generator

• TO-DOs, TEXT AND HANDWRITTEN NOTES

- Create unlimited standalone notepads or linked to a class. Configurable sheets
- Full PDF report of your notepads.
- To-dos with alarm events
- Timestamped text notes for meetings, linked to a class or a student

• RESOURCE MANAGER

- Record audio and video, add handwritten notes, signatures, files ,images, links, add text or annotations
anywhere: gradebook cells, students, class, diary, planner.
- Full PDF reader with bookmarks and thumbnails
- Play Keynote presentations, view XLS files, audio and videos.

• SYSTEM TOOLS

- Multiple backup options: Dropbox, Google Drive, iCloud or your own WebDAV server.
- Works in landscape, portrait and full screen mode (gradebook)
- Password protect your contents
- Random picker and spinning wheel on summary,gradebook and seating plan
- Class' summary with configurable widgets.
- Bulletin board with resources and notes.
- Recycle bin with recently erased students, columns and classes


Thanks for all your support and great comments in the App store!
Visit our website's forum at www.idoceo.net or send us an e-mail from the app > Help > Support&Suggestions
if you have any questions or suggestions for our next updates.
What's New in Version 4.5.0
iOS10 ready
• Touch ID is now supported in password settings
• Improved iPad Pro 12' compatibility

Google Classroom
• Import classes from Google Classroom
• Link your current classes with Google Classroom
• Download grades from any assignment
• Upload grades from any column
• Upload rubrics, resources and any kind of attachment\n• Works with any grade type, text based or numeric\n• Create new Classroom assignments from iDoceo

Rubric additions
• Add full rubrics in your reports
• Export full rubrics individually to PDF
• New 'Skip empty rows' option
• New rubric calculation: Simple addition
• Decimal point values are now supported
• Rubrics now support quick conversions in gradebook
• New shortcut, edit and copy rubric configurations from gradebook

Seating plan
• Multiple student selection
• Drag and drop multiple students at once
• Edit in bulk, align and change frame color
• numberDrop available and edits multiple students at once

Gradebook improvements
• 5 additional summary column calculations
• Improved student sort options. Sort by personal fields
• Improved students filter. Filter by personal fields and icons
• New icon counter calculation in columns summary and widgets
• Easily import CSV/XLS files into a column
• Rubric results can now be manually overriden
• Text alignment option, affects all gradebooks

Time related features
• New Chrono editor in gradebook and seating plan
• Individual timers, lap control, bulk operations
• New timeDrop tool
• New virtual grade 'Time result' to calculate time
• New time related formula functions
• Column summary calculates average, highest and lowest times

Key skills and standards
• New key skills and standards manager
• Columns and rubrics can be linked to key skills and standards
• Additional key skills and standards widgets
• Create key skills groups

Multiple columns
• Create attendance columns in bulk between dates
• Favorite columns, repeat a combination
• Easily import iDoceo templates in gradebook
• Create key skills and standards calculations


Your reviews and ratings in the App store help us a lot!
Please post yours for this update when you have a chance
iPad Screenshots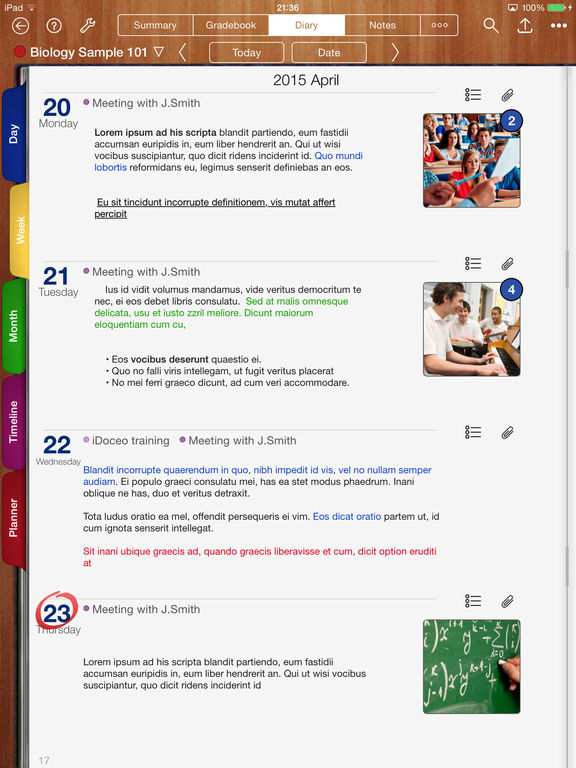 Customer Reviews
I can't do my work effectively or efficiently without iDoceo!
I have been use this app for years now and it drastically changed my music classes and the ways I can document progress. The fact that I can set up 30+ classes, place them on a custom schedule automatically in the calendar and document individual student progress is worth pure gold to me!

Seating charts, accommodations, hints for specific students, behavior, progress by categories is so much easier this way! Very music teacher I show, goes out purchases an iPad and the app! Their comments are similar, "Where has this been all may life?" Which was also my response when someone showed it to me for the first time. If you teach any subject, this is a need, not simply a want. If you teach multiple classes each day or teach elementary art, music, PE, etc., it is more than a necessity! It is a time saver in its efficient use of time. I was simply able to airdrop all of our classes into other teachers' iPads and we didn't even have to duplicate efforts!
FANTASTIC APP!
This is the iPad app I have been waiting for!
I am a middle school band director and this is the first gradebook app I have found that meets ALL my needs.

The seating chart options are wonderful (love the option to add your own background).
There are literally thousands of customization options for column and grade types in the grade book view, along with lots of color choices, icons, and student fields.
I can email parents directly from the app, video tape my band for future reference, have a student record their playing test, and import/export just about any data I want.

When I had a question for the developer, he literally got back to me with a valuable and detailed response within 30 minutes!

Love it and looking forward to the next update!

Some ideas:
- Give us the option to add our own icons to the list (ie: so I can have little pictures of flutes/clarinets/etc... as an additional choice)
- add some sort of functionality for an iPhone app (not easy, I know, but maybe at least an app that can connect to the iPad version for attendance on the go . . . . Don't know if that would be possible, just an idea)
- as a connected option, have a way to sync with another teacher (two band directors could share the same classes and both update the sections they work with, and seeing each-other's changes at the same time. Again, not sure how this would work, but just a thought)

I am recommending this to all the teachers in my district.
Thanks again for a great app!
Customizable and Very User-Friendly
I'm a college professor and this app meets my needs and then some. I use the "diary" aspect to jot down concepts and key ideas I want to explore in each class and the grade book and attendance for quick daily writings and attendance. I love how I can integrate images and handouts by placing them in either the pin board or summary, which allows me to smoothly go from one screen to another as I lecture or facilitate workshops and group work. I put each class's syllabus in their respective classes, which, in turn, lets me go back to the syllabus for quick check ins. I can also see student attendance at a glance and, if necessary, email individual students or the entire class directly from the app. And, if necessary, I can email students handouts that are attached to a day's lesson plan! Frankly, I honestly feel I'm just scratching the surface of what this app can do. iDoceo is helping me go paperless even more--which, with my being an English professor, can be almost a miraculous feat.
View in iTunes
$11.99

Category:

Education

Updated:

Nov 30, 2016

Version:

4.5.0

Size:

101 MB

Languages:

English, Basque, Catalan, Dutch, French, Galician, German, Italian, Norwegian Bokmål, Portuguese, Spanish, Swiss German

Seller:

Bert Sanchis
Compatibility: Requires iOS 8.2 or later. Compatible with iPad.