iFactor Farsi ثبت سفارش رستوران ها
By elyas naranjee sani
This app is only available on the App Store for iOS devices.
Description
با این نرم افزار شما قادر خواهید بود سفارش مشتری خود را با آیپد گرفته و با ارسال پرینت بدون سیم (وایرلس) سفارش مشتری به حسابدار رستوران ، سفارش مورد نظر را مدیریت کنید
امکانات برنامه:
-ثبت منو رستوران در نوع های پیش غذا،غذای اصلی،دسر و نوشیدنی
-نمایش منو ثبت شده به تفکیک نوع غذا
- امکان ایجاد هرگونه تغییر در منو و یا حذف
-امکان ثبت سفارش مشتری با انتخاب از منو
-امکان پرینت وایرلس سفارش گرفته شده جهت ارسال به حسابدار رستوران
-نمایش لیست سفارشات
-امکان مشاهده جزییات هر سفارش ثبت شده
-امکان ایجاد هرگونه تغییر در جزییات سفارش ثبت شده
-امکان محاسبه مجموع مبلغ کل تعداد دلخواهی سفارش ثبت شده
-امکان پرینت مجدد هر سفارش پس از ثبت فاکتور
-طراحی زیبا و ساده جهت راحتی کاربران
(.باشد"Air Print" توجه داشته باشید پرینتر شما بایستی دارای ویژگی )
(.جهت مشاهده لیست پرینتر های تایید شده به سایت شرکت اپل مراجعه فرمایید)
(. نصف شده از عرض میباشد A4 ،سایز در نظر گرفته شده برای کاغذ پرینت )
(در صورت بروز هرگونه مشکل در راه اندازی پرینتز از طریق نرم افزار ، در قسمت درباره ما با ما تماس حاصل فرمایید)
What's New in Version 1.1.1
-Fix app icon for retina display
iPad Screenshots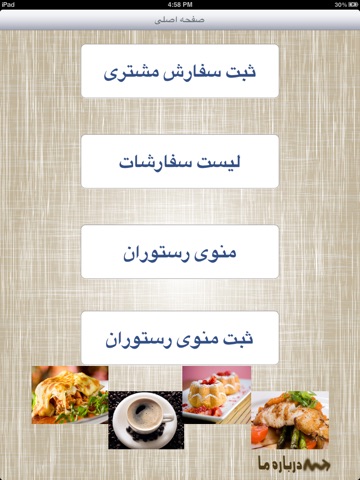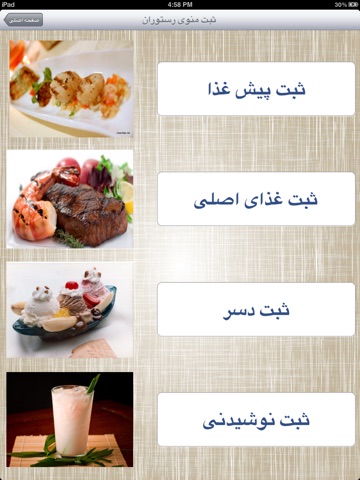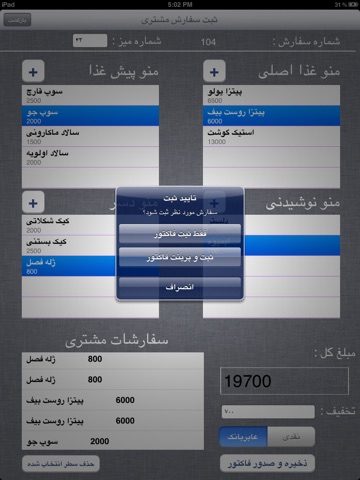 Customer Reviews
Mamnoooon
Kheili mamnoonam ghabeliatayi mesle noshidanie garm. Shake,cake, bastani...ezafe konid alee mishe man baraye coffeshop estefade mikonam
خوب
کاربردی وجالب ًـ توانایی فروش بصورت روزانه و ذخیره جهت فروش ماهانه رو هم اگه اضافه کنید بهتر میشه
تشکر
ممنون از برنامه خوبتون واقعا عالی بود در عین سادگی
من نه رستوران دارم نه چیزی شبیه اون و فقط بخاطر توانمندی شما بهتون تبریک میگم امیدوارم برنامه های بهتری نیز از شما ببینم
View in iTunes
Free

Category:

Business

Updated:

Jun 20, 2012

Version:

1.1.1

Size:

10.3 MB

Language:

English

Seller:

elyas naranjee sani
Compatibility: Requires iOS 5.0 or later. Compatible with iPad.