iFontMaker
By Eiji Nishidai
Open iTunes to buy and download apps.
Description
iFontMaker™ is the first font editor exclusive for iPad. With the touch interface, your 100% original hand typeface can be done in 5 minutes¹. You can email the typography or convert it into a TTF file² available in all applications such as Adobe® CreativeSuite™, Microsoft® Office™, and also in your web site as a web font³!

## Now you can install your own font on iOS7 device!! ##
http://tmblr.co/ZVJT8y1GwBw2x

¹ Tested with 62 alphabet & numeric characters with our test users.
² TTF conversion is powered by 2ttf.com (free of charge). Needs the internet connection to download or to share the TTF file.
³ Web font is supported by FireFox3.5+, Safari, Chrome, Internet Explorer 7+.
What's New in Version 2.09
Ver. 2.09
◆ Fixed bugs prevent the App from launching.

Ver. 2.0
◆ iOS8 compliant user interface
◆ New brushes & shapes
◆ Custom photo background
◆ Canvas zoom & pan with gestures
◆ Document gallery
◆ Bezier path edit
◆ Image & GIF animation export
◆ Install your fonts on iOS devices as well as Mac and Windows
◆ Rewritten from scratch with bug fixes & optimizations
◆ FREE UPGRADE for all our lovely users
iPad Screenshots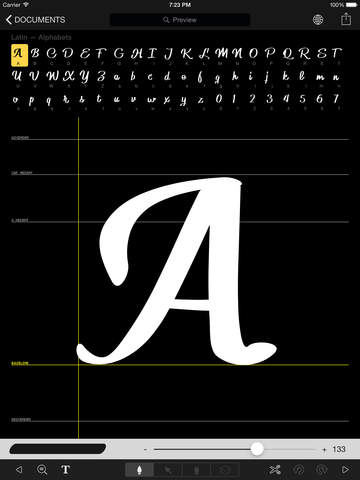 Customer Reviews
Worth every penny.
This app is what all font apps should be like. I was unpleasantly surprised when I tried to make a font on my Mac- I'm an artist and I distinctly remember a time when making a font was simple and easy to do. It seems to be that all good apps are now charging $400+ or bogging down their software with buggy "features." I can't imagine a smoother or more beautiful, simple, intuitive way to craft a font. I have no doubt that if the effort was put in, a designer could go through the entire process just in this app.

I would like to see support for other kinds of fonts, and perhaps also some cursive guides. Other Han that, this is perfection.
Outstanding Update To An Incredible App.
Whenever I see an update for an application that I own, I always like to wait until some new reviews are in before I update. With this new update there were no new reviews to let me know if it was a good idea or not to upgrade the app. But, I just have to say that I am overjoyed that I took the chance and upgraded!

Everything that worked wonderfully about the application still works, at least on my device it does. So, that is good news in my opinion. But, the new stuff that was added is just awesome. Playing around with the new Bezier Tool, oh my gosh, something I never knew I wanted but now that I have it I wish it had always been an option. It helps you to design font letters, numbers, characters, etcetera, in a way you previously couldn't, at least not without a lot of tiresome effort.

Also, there are new shapes available like stars and hearts and a few others. I haven't tried those out yet, but they look like they will be a lot of fun to help you design your fonts. You also get new line brushes which I just love the newest editions. You get one brush that has an uneven stroke and I think it can help you create some really cool font designs. I didn't count how many new brushes, but I think it is like four or five new ones along with those fun shapes.

I haven't found or figured out yet how to do the image and animated GIF export, but just the prospect of that is super exciting to me. I'm sure they are in there, though. I just got so excited and wanted to leave my new review, that I haven't had much time to check out the entire list of new features. Also, just the app in general looks really good I think, I really could tell they reworked the design but still kept it familiar.

Well, I am off back into the app to explore the new features and design a new font. If you were like me and hesitant to update, I would say don't be because I think the new features are just killer. My sincere thanks and gratitude to the developer for all of the time, effort and hard work that you no doubt put into refining, polishing and reworking things for this superb update. I do wish, though, that this wonderful application could please be Universal so that I could use it on my iPhone as well please, thank you. Thanks again for this stellar update and God bless.

iPad Air 2/ iOS 8.3

Edit: 06-21-15

I just figured out how the new Export image and Export animated GIF function works! I love it! When you have created fonts and you are using the Preview function where you type in characters to see what your font looks like. In that window in the bottom right corner, there is that share icon that you see throughout Apple devices. It is that icon with the square and the upward arrow pointing out the top of it. Anyways, when you click that you get the option to export a static image and also export an animated GIF file (though, I wish there was a "Save Image" option in that share menu and not just the "Email" and social network share options.).

But, once you have typed more than one letter in the Preview window and if you then share it as an animated GIF. It will then create a GIF with every letter that you've typed so far in the Preview window and animate them one after another. I think it's really awesome and a superb way to showcase what your created font looks like to other people. So, thanks a lot for these wonderful new options.
View In iTunes
$6.99

Category:

Entertainment

Updated:

Jun 18, 2015

Version:

2.09

Size:

1.5 MB

Language:

English

Seller:

Eiji Nishidai
Compatibility: Requires iOS 8.0 or later. Compatible with iPad.