iFontMaker
By Eiji Nishidai
Open iTunes to buy and download apps.
Description
Invent your fonts by hand

iFontMaker is the first and second-to-none font app dedicated for iPad. Anyone can create a unique typeface just in minutes. It's a real font that you can install on Mac, PC, iOS, or use as a webfont.

The long awaited version 2 is now available. It brings more fun to your font creation with new brushes and multitouch support, as well as pro features such as Bezier editing and kerning customization. More over, the update is free for the version 1 users.

## Now you can install your own font on iOS7~9 devices!! ##
http://tmblr.co/ZVJT8y1GwBw2x
What's New in Version 2.70
◆ Fixed several random crash bugs

Ver. 2.5
◆ Kerning feature
◆ Move/scale/rotate an entire glyph tool
◆ Stroke-width features

Ver. 2.0
◆ iOS8 compliant user interface
◆ New brushes & shapes
◆ Custom photo background
◆ Canvas zoom & pan with gestures
◆ Document gallery
◆ Bezier path edit
◆ Image & GIF animation export
◆ Install your fonts on iOS devices as well as Mac and Windows
◆ Rewritten from scratch with bug fixes & optimizations
◆ FREE UPGRADE for all our lovely users
iPad Screenshots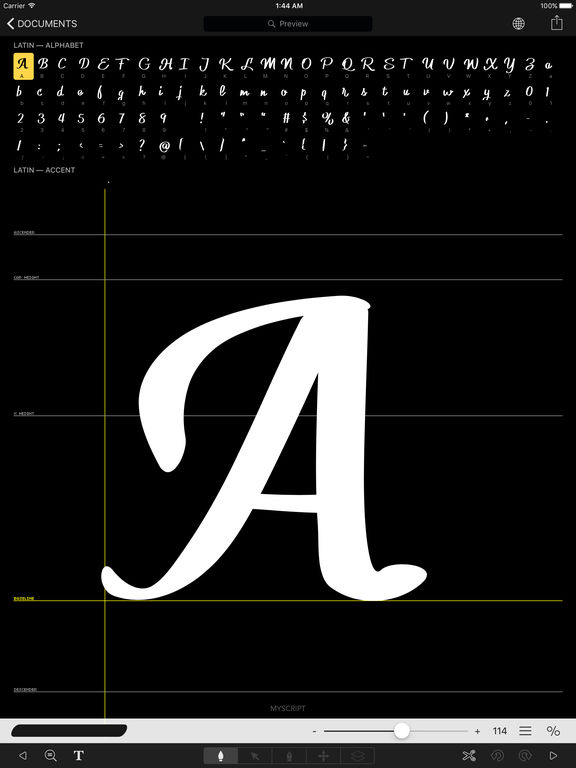 Customer Reviews
Does what it does well...could use some refinements
Just read a review that covered the lack of rotation and on screen scaling...I'd just like to echo those refinements. I do nearly everything on the iPad in landscape. As for the scaling, not a huge deal as you can import a background/template image to make adjustments to. But I did notice in scaling back up to workspace size, the stroke weight scaled too and needed further adjustment.

My main issue though is working across multiple devices, a personal and a work ipad. There is no synchronization built in. You can export a file to email or Dropbox (and probably more) but it's oldschool and all too easy to forget to upload the latest changes. This also creates multiple server side copies of you font to keep track of...with different links to access them. So...in case it's not clear (I never thought to look) your font projects are uploaded to the server to be rendered. If the server goes down I'm guessing the app loses functionality. So much reliance on the server yet no sync? Oh well, like I said, it seems to do what it does well.
Clever design, simple to use, need some refinement for the price
When I write threes, the lines (that show up perfect until I lift my finger) often warp and contort.
Zooming in I have yet to find a way to move the center of focus?
When transforming a character I would also like to be able to reverse it (so that d and b are mirror images, etc)

And my biggest complaints are thus:
Every time I am fine tuning a point, changing the angle or placement, the entire interface gets ruined by both the automatic magnifying glass function that is zoomed in too close for use and hides everything around where I am working, and when I release the point that I am manipulating, the delete point/add new point option box covers up everything around the point I was working with, so I have to click elsewhere just to see what I've done!

This program is great for a great many things, but is infuriating for fine detail work, making it overpriced by at least three dollars.

Also, so many symbols are are identical and that's a serious waste of effort on the users part.
Nice App, but Needs More Features
I just got this app, so I could create a unique font for a project I'm working on. I like the app overall, but have two "pain-points" that I wish the developers would address.

First - It only works in Portrait Mode on the iPad. I work almost exclusively in Landscape Mode. Making *me* change how I like to use my iPad seems like a bit of laziness on the part of the developers.

Second - While you can scale your working size, I would like it to scale down much more. My font is a handwriting font that I'm trying to create. I don't typically write letters six inches high, and so my "handwriting font" isn't exactly "accurate" to the level I would prefer.

I think if the developers could correct these two things, I'd easily give them four stars, and might even consider a 5-star rating. As it stands now, though, it's "acceptable", and good to create unique fonts with, but it doesn't really help me what the sole purpose that I purchased the app for.
View in iTunes
$7.99

Category:

Entertainment

Updated:

Mar 29, 2016

Version:

2.70

Size:

2.5 MB

Language:

English

Seller:

Eiji Nishidai
Compatibility: Requires iOS 8.0 or later. Compatible with iPad.