iHealthTrax (formerly Illness Tracker)
By Winkpass Creations, Inc.
This app is only available on the App Store for iOS devices.
Description
iHealthTrax introduces a new way to record, monitor and recall your health throughout the year.

BUSINESS WEEK - "It helps you track your symptoms on a calendar so you can tell the doctor exactly how many days you've had that cough and fever."

NEWEST FEATURES: heart rate and blood pressure tracking, person picker at startup, export selected timeframe, data backup and restore

iHealthTrax makes doctor's appointments more efficient and effective!

With our busy schedules, it is difficult to remember when we first got sick and all the details. iHealthTrax simplifies this task by allowing you to touch a day on the calendar to record various notes. Your data then appears as icons on the calendar, allowing you to see your records at a glance. Keep track of yourself and an unlimited number of people.

Features:
✔ Remembers your health history so you don't have to!
✔ Keep separate calendars for various people (great for keeping track of illness / health in your family)
✔ Record basic information for each person being tracked (name, photo, physician, physician's phone number, notes)
* RECORD notes and symptoms as often as every day
* SUMMARY screen displays all entries
* EXPORT data as email
* Useful for doctor's appointments... consult with iHealthTrax to report when you began feeling sick, when you had a fever, and what your temperature was, symptoms, etc.
* Password protection (go to settings to activate)
* Data BACKUP and restore

On each calendar day, you may record the following:
* Symptoms with time stamp
* Freeform notes
* Pain scale (1-10)
* Medication (name, time of day, dosage)
* Fever and temperature (celsius or fahrenheit)
* Doctor's appointment
* Indicate the you are sick
* Heart Rate / Blood Pressure

It's simple to use!
Just ADD a person to begin.
Then TOUCH any day on the calender to add a note or record.
Use the blue arrows below to SWITCH between people.

Check out a visual tutorial at:
http://www.ihealthtrax.com
for help getting started.

Also check out iPeriod (Period Calendar)!

Keywords: health, illness, sick, doctor, pain, medication, medicine, fever, temperature, notes, tracker, track, ill, calendar, family, diary, log, journal, wellness, symptoms, data, ailments, flu, cold, disease, swine flu, blood pressure, children, kids

From the Creators of: Running Log, Knot Guide, iPeriod, Friend Mapper

What's New in Version 1.9
-changed icon + splash screen
-fixed bug with fever entry (if you accidentally touch fever indicator, fever was being recorded even when you pressed delete)

iPhone Screenshots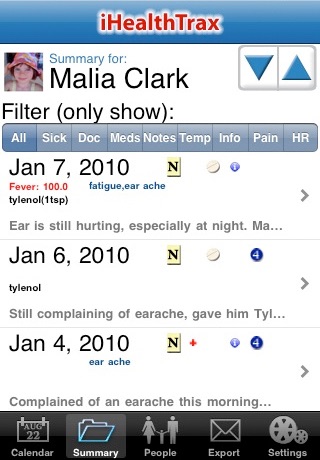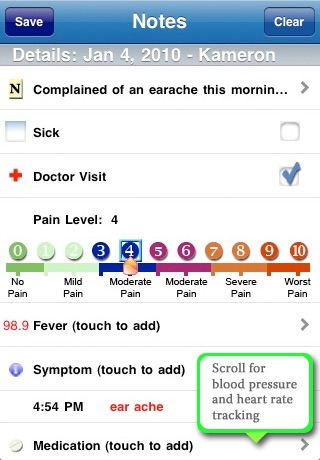 Customer Reviews
Needs major improvement
This was the most perfect medical/illness diary app I have found in close to four years. I could easily create a list of my pills, as I took a painkiller as needed I could select it, it would add a time stamp and go on "today's" date, same with my symptoms. I could add any of my personal symptoms and select them from the list as they occurred and it would be added to "today" on the calendar. I've used this for over three years to take to my weekly doctor appts and could easily scroll through the calendar and read off things in order. Or, when I took a painkiller, I would know how long to wait to see if when it kicked in it worked or I needed another. OR before I had this, sometimes I forgot I took a pill, would take another and realize later (through a haze) that I doubled up by accident. This was never optimized for the iphone 5 but it functioned. Now it doesn't work at all on iphone 6 plus. So far I've bought two similar apps only to find out they don't do what this app does at all. I'm so upset. This program is irreplaceable and I'm wondering how easy it would be to learn to create apps myself to duplicate this lifesaver.
Great, then disappointing
Worked wonderfully at first, to the point that I was able to rely on it to keep accurate records of my daily symptoms and medications, but after a couple weeks of usage it deletes records, specifically medication, times and dosages I'm entering! Very frustrating that I am no longer able to use this PAID FOR app in the manner it is marketed... This issue needs to be addressed and corrected immediately when dealing with people's health and safety the technology should be more reliable and up to date!
Exactly what I was looking for!!!
Exactly the type of app I was looking for. I would really like to see other types of scales, like the pain scale, but for overall well-being and/or a scale for depression and anxiety levels, and/or customizable scales. And would like to also see a feature to enter your weight daily, and also be able to choose how many times you experience a symptom throughout the day, such as how many times you go diarrhea.
View in iTunes
$4.99

Category:

Medical

Updated:

Feb 18, 2010

Version:

1.9

Size:

1.5 MB

Language:

English

Seller:

Winkpass Creations, Inc.
Compatibility: Requires iOS 3.0 or later. Compatible with iPhone, iPad, and iPod touch.
More iPhone Apps by Winkpass Creations, Inc.