Image Vectorizer
By Icosasoft Software Inc.
Open the Mac App Store to buy and download apps.
Description
CONVERT BITMAPS TO VECTOR GRAPHICS AT THE TOUCH OF A BUTTON

How many times have you needed a vector graphic version of a logo or icon for a design you've been working on? Image Vectorizer is here to make the process as fast and painless as possible! Simply drag an image in to the app and click to convert. Image Vectorizer creates beautiful black-and-white vector images. You can then copy the vector graphic to the clipboard or export it in a variety of different formats to use with your favorite vector drawing app.

Image Vectorizer works best for black-and-white line art, such as pencil drawings, outlines, logos, and blueprints. Photos can be converted using one of the built-in halftoning effects. Color vectorization is not supported, but you can select custom foreground and background colors, or color the vectorized image in a vector drawing application.

PEN AND PAPER, STRAIGHT TO VECTOR? NO PROBLEM!

Image Vectorizer lets you import directly from your scanner and convert the results to vector. Great for hand-drawn graphics or even document scanning. (Note: Image Vectorizer does not perform OCR on text.)

A WHOLE HOST OF FEATURES TO STREAMLINE THE PROCESS

Image Vectorizer doesn't limit you to straight conversions, it also lets you filter the bitmap image to create a variety of interesting effects and it lets you control the vectorisation process too.

VECTOR FILE FORMATS:

Image Vectorizer outputs in a variety of different formats for maximum usability.

‣ EPS - works great with apps like Sketch, iDraw or Illustrator
‣ PDF - ideal for scanned documents
‣ SVG - perfect for web-based projects
‣ DXF - for use with CAD packages

BITMAP EFFECTS INCLUDE:

‣ flip
‣ rotate
‣ brightness
‣ saturation
‣ gamma
‣ invert
‣ sharpness
‣ blur
‣ median
‣ outline
‣ halftone: dots, lines or hatched (great for use on photos)

VECTORIZATION SETTINGS INCLUDE:

‣ corner threshold
‣ curve optimization
‣ suppress speckles (useful for tidying up images)
‣ rotation
‣ color controls
‣ output size
What's New in Version 1.6
Fixed a bug where an imported image first shows up as blank in OS X 10.11. Fixed issues with retina displays that could cause staircase patterns in some vectorized images. Fixed compatibility with OS X 10.8. Improved error checking and stability. More sensible ranges and defaults for some bitmap and vectorization parameters.
Screenshots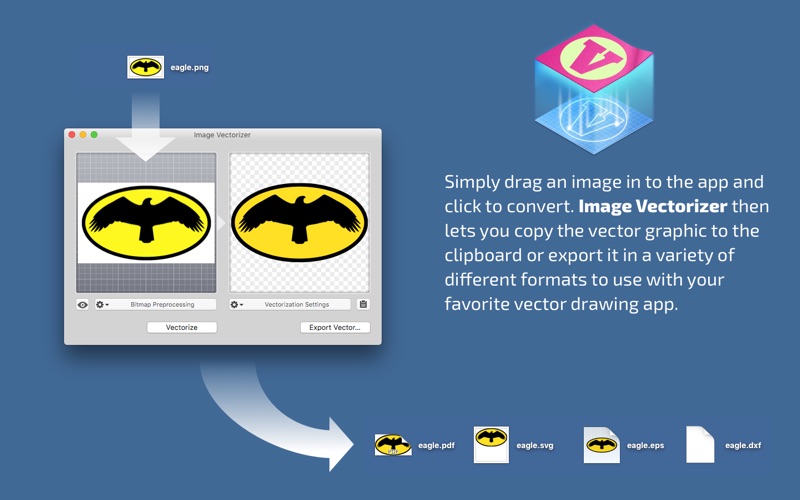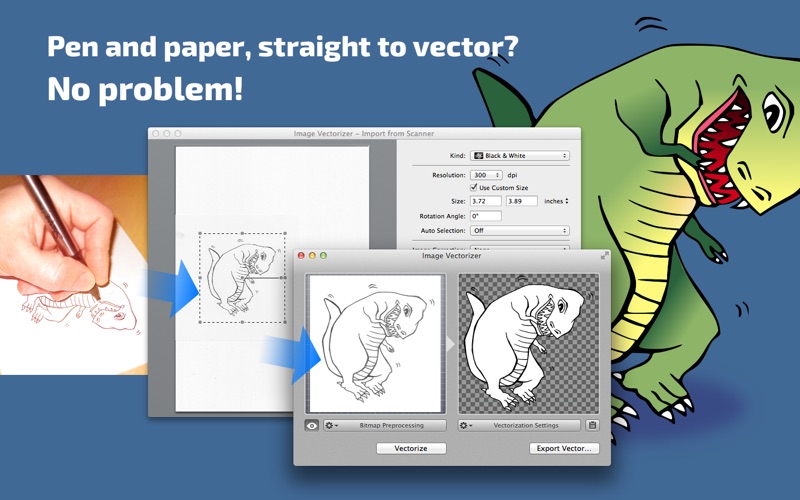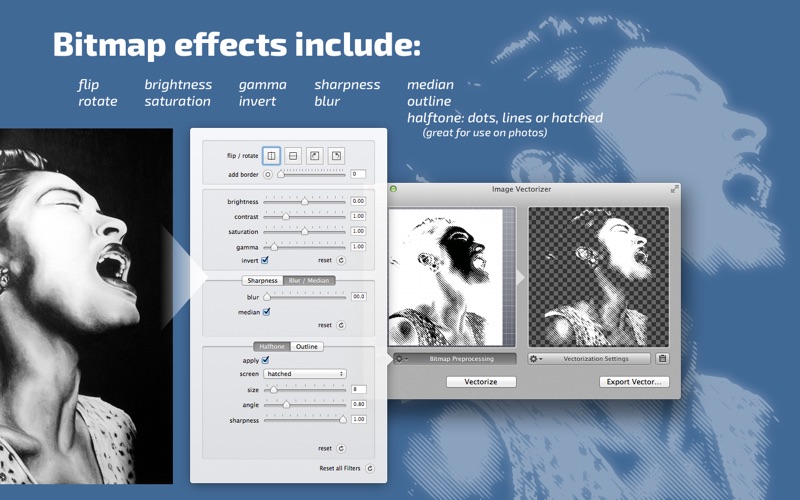 Customer Reviews
Much better than I expected
I had an icon in both pdf and tiff formats which I wanted to use as a pattern for laser cutting silver earrings. I tried several other applications including file converters, CAD programs, and image processing programs without success for various reasons. I also tried Super Vectorizer, which proved useless for me as it provided double traces of all the artwork with a number of defects in each trace. I wasted much time trying to correct and scale the results. Finally as a last resort I decided to try Image Vectorizer despite its poor rating. I have been very pleased with the results which have been very clean, accurate, compatible, and scalable. I very much recommend this App for bitmap to dxf conversions.
Really great app! Very tweakable.
I hunted and scoured and tried pretty much all the other free online and downloadable apps to do this job, and the only one that is actually is any good on a professional level is this app.

So I got rid of Adobe Illustrator and now use Affinity Designer (brilliant choice, such a better experience, I totally recommend you switch too). The only problem with this upgraded vector experience is that Affinity Designer does not currently have a raster-to-vector engine in it (but it is in their up coming features list, FYI).

So yeah $5 to fill in the gap of a single feature is kinda lame, but don't be cheap, if you need to make vectors that actually look any good, then this is it (or keep using Illustrator).
Blew away Adobe Illustrator CC 2017
We are creating animations from hand drawings on paper, the scans can get noisey, aliased lines after we create black and white hi contrast on the source plates to be feed into our color pipeline. Illustrator used to do a fantastic job of cleaning up these lines but the algorithm's have changed, more limited now (check adobe threads, it's a thing).

Threw the dice thinking: here I go wasting another $5 on a long shot, IV nailed it overall. We make multiple passes for the problem areas then do paint reveals in photoshop to make a pristine drawing, color, animate, Bob's your Uncle ;) Highly recommend this application.
View in Mac App Store
$4.99

Category:

Graphics & Design

Updated:

Nov 24, 2015

Version:

1.6

Size:

2.1 MB

Languages:

English, French, German, Italian, Japanese, Spanish

Seller:

Icosasoft Software Inc.
Compatibility: OS X 10.8 or later, 64-bit processor