iMovie
By Apple
Essentials
Open the Mac App Store to buy and download apps.
Description
With a streamlined design and intuitive editing features, iMovie lets you enjoy your videos and tell stories like never before. Browse your video library, share favorite moments, and create beautiful HD movies and Hollywood-style trailers. And with iCloud, you can enjoy them on all your devices in iMovie Theater.

Browse and share video
• See all your video organized in one place
• Quickly share a clip or a portion of a clip
• Background import lets you begin watching and sharing video instantly

Make Hollywood-style trailers
• Choose from 29 trailer templates with stunning graphics and original scores by some of the world's top film composers
• Customize movie studio logos, cast names, and credits
• Select the best videos and photos for your trailer with the help of animated drop zones

Create beautiful HD movies
• Choose from 15 unique themes with matching titles and transitions
• Enhance your movie by adding titles, transitions, and 3D globes and travel maps
• Speed up and slow down the action with fast-forward and slow-motion effects
• Drag one clip above another to create sophisticated picture-in-picture, side-by-side, and green screen effects
• Use color-coded audio waveforms to find the right volume
• Create a soundtrack using built-in music and sound effects, songs from your iTunes library, songs you've recorded in GarageBand, and your own narration

Fine-tune every clip
• Instantly improve the look and sound of your video using one-click Enhance
• Give your video a boost with easy-to-use color controls
• Stabilize shaky video for a smoother picture that's easier to watch
• Automatically zoom in on faces and glide across panorama photos with the Ken Burns Effect
• Choose from 38 fun video and audio effects

Watch anywhere with iMovie Theater
• Fill iMovie Theater with posters as you share clips, movies, and trailers
• Access iMovie Theater on all your devices with iCloud
• Enjoy iMovie Theater on your HDTV with Apple TV

Share with friends and family
• Email HD video with Mail Drop when signed in to iCloud
• Publish to YouTube, Facebook, Vimeo, and CNN iReport
• Export files using Custom H.264, ProRes, and Audio Only settings
• Share any video frame as an image

iOS Developers: Create app previews for the App Store
• Import iPhone and iPad screen recording videos captured with QuickTime Player
• Highlight features with 11 animated titles designed to showcase apps in action
• Export finished videos using the App Preview share option
What's New in Version 10.0.6
• Updated look for OS X Yosemite
• New file export options including Custom H.264, ProRes, and Audio Only
• Share any video frame as an image
• Email HD video with Mail Drop when signed in to iCloud
• Select a portion of a clip in the timeline by dragging across the bottom of the clip
• Adjustments Bar is always open for easy access to audio and video tools
• Improves performance on older Mac computers
• Addresses reliability issues with copying and pasting certain adjustments 
• Support for Indonesian, Malaysian, and Vietnamese

This update lets developers create app previews for the App Store, including:
• Support for iPhone and iPad screen recording videos captured with QuickTime Player
• 11 animated titles designed to showcase apps in action
• Share option to easily export for the App Store
Screenshots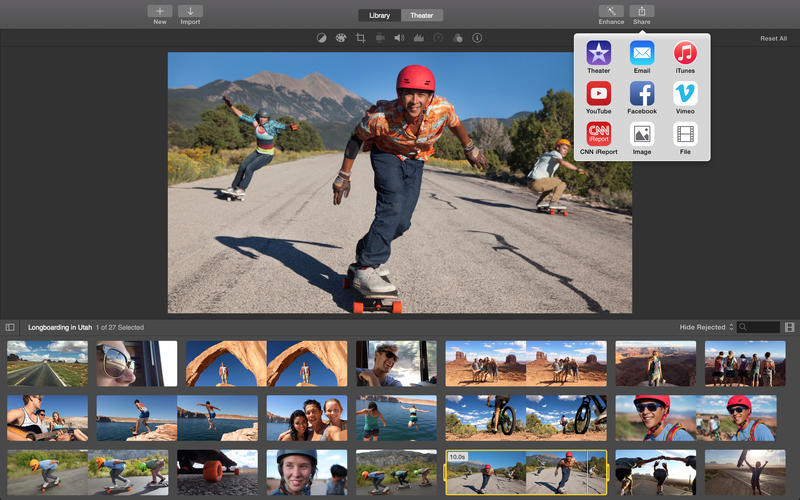 Customer Reviews
They destroyed a formerly great product
I've used iMovie for at least five years and created many great movies that are big hits with my friends and family. Then this worthless release came out and I haven't been able to make another movie since. I went to a class at the Apple Store with ten other people who were all familiar with iMovie. Literally dozens of times, he would show us how to do something, ask if we all got it, and we all responded, "NO!". It's so confusing even the instructor couldn't begin to describe the difference between the main concepts (theater, library, project, workshop, event). Don't even bother reading the documentation - the writer didn't know the difference, either. And, it now can't handle 15-minute movies, which is the perfect length for a slideshow. I can't even load up old movies to modify them. They changed the focus from stringing together photos to working with videos. Really? I will guarantee you that the average person takes well over 1000 photos for every movie clip, and frankly, I don't want to see other people's videos strung together. Nobody knows how to take a decent video with a phone camera or point-and-click camera. But I know a lot of people who take interesting photos, but the folks at Apple think that all the cool kids are now taking videos and have an attention span shorter than a minute.

Apple, you don't understand your customers any more.
Nice and easy to use product
I'm baffled at how many people rate this app as a 5 star or a 1 star. I recently bought my first Mac, although I've owned an iPhone and iPad for many years. I've used various movie making apps for those devices so I wanted one for my mac. I'm still a novice to movie making, but I created my first video show for my wife's school project. I was able to easily incorporate photos, videos, music, and a voice over with little to no experience on something of this magnitude. I'm honestly impressed with iMovie, and I can't complain whatsoever. It was smart enough to know to lower the music volume on its own, when we did the voice over. I had to adjust NOTHING. So for those that have complained about this app, I have no clue what they are looking for…..Hollywood video maker?? Anyway, a big thanks to the developers of this app. I appreciate you keeping it simple yet powerful to fulfil multiple projects.
Redesigned to Oblivion
Generally, I do not write reviews, and I certainly don't troll. But the latest iMovie has pushed me over the edge.

I used to love iMovie. For a short project, I couldn't believe how easy it was to use. It had navigable tools, precisely the right number of options, and a streamlined design. There was no reason to change this program. Like all tech companies, Apple seems to have gotten antsy, and they revamped the entire program. Nothing makes sense now. It looks confusing and hideous. I had to relearn every aspect of iMovie, and features that I loved were butchered. Apple insisted that I should download Yosemite, an update I dreaded and avoided for months. Then I relented, and naturally it infuriates me. Being unable to use the old version of iMovie is like losing an old friend. It has slowed down my workflow and made simple tasks (like moving audio and cutting the middles out of a clip) incredibly toilsome. I hope they take the team that redesigned this software and exile them to an island where they can do no further harm. At the very least, could the last version of iMovie be made easily available? Just looking at the new interface is giving me a migraine.
View in Mac App Store
$14.99

Category:

Video

Updated:

Oct 16, 2014

Version:

10.0.6

Size:

1.99 GB

Languages:

English, Catalan, Chinese, Croatian, Czech, Danish, Dutch, Finnish, French, German, Greek, Hungarian, Indonesian, Italian, Japanese, Korean, Malay, Norwegian, Polish, Portuguese, Romanian, Russian, Slovak, Spanish, Swedish, Thai, Turkish, Ukrainian, Vietnamese

Seller:

Apple Inc.
Compatibility: OS X 10.10 or later