iMovie
By Apple
Essentials
Open the Mac App Store to buy and download apps.
Description
With a streamlined design and intuitive editing features, iMovie lets you enjoy your videos and tell stories like never before. Browse your video library, share favorite moments, and create beautiful movies that you can edit at resolutions up to 4K. You can even start editing movies on an iPhone or iPad, and finish them on a Mac. And when your movie is ready for its big premiere, you can enjoy it on all your devices in iMovie Theater.

Browse and share video
• See all your video clips and photos organized in one place
• Quickly share a clip or a portion of a clip
• Background import lets you begin watching and sharing video instantly

Make Hollywood-style trailers
• Choose from 29 trailer templates with stunning graphics and original scores by some of the world's top film composers
• Customize movie studio logos, cast names, and credits
• Select the best videos and photos for your trailer with the help of animated drop zones

Create beautiful 4K and HD movies
• Edit movies at up to 4K resolution with video from iPhone 6s, GoPro, and other Ultra HD cameras on compatible Macs (1)
• Support for 1080p HD video at 60 frames per second for smoother, more life-like action shots
• Import movies and trailers created using iMovie on iPhone or iPad to finish them on your Mac
• Enhance your movie by adding titles, transitions, and 3D globes and travel maps
• Speed up and slow down the action with fast-forward and slow-motion effects
• Create sophisticated picture-in-picture, side-by-side, and green screen effects
• Create a soundtrack using built-in music and sound effects, songs from your iTunes library, songs you've recorded in GarageBand, and your own narration

Fine-tune every clip
• Instantly improve the look and sound of your video using one-click Enhance
• Give your video a boost with easy-to-use color controls
• Stabilize shaky video for a smoother picture that's easier to watch
• Automatically zoom in on faces and glide across panorama photos with the Ken Burns Effect
• Choose from 48 fun video and audio effects

Watch anywhere with iMovie Theater
• Fill iMovie Theater with posters as you share clips, movies, and trailers
• Access iMovie Theater on all your devices with iCloud
• Enjoy iMovie Theater on your HDTV with Apple TV

Share with friends and family
• Email videos with Mail Drop when signed in to iCloud
• Share directly to YouTube at up to 4K resolution
• Publish movies directly to Facebook and Vimeo
• Share any video frame as an image

iOS Developers: Create App Previews for the App Store
• Import iPhone and iPad screen recording videos captured with QuickTime Player
• Highlight features with 11 animated titles designed to showcase apps in action
• Export finished videos using the App Preview share option


(1) 4K export requires a Mac from 2011 or later with at least 4 GB RAM. Full-resolution 4K playback is supported on iMac with Retina display and Mac Pro (2013 or later) when connected to a 4K display.
What's New in Version 10.1.6
• Improves stability when updating libraries created with earlier versions of iMovie
• Addresses an issue which could lower the volume of clips after transitions

Introduced in Version 10.1.3
• Support for Touch Bar on MacBook Pro lets you quickly add video clips to your movie, or use them to create picture in picture, green screen, and split screen effects
• Tap the Touch Bar to play your movie, split a clip, or easily adjust the volume of any clip
• Ability to delete render files to recover drive space
Screenshots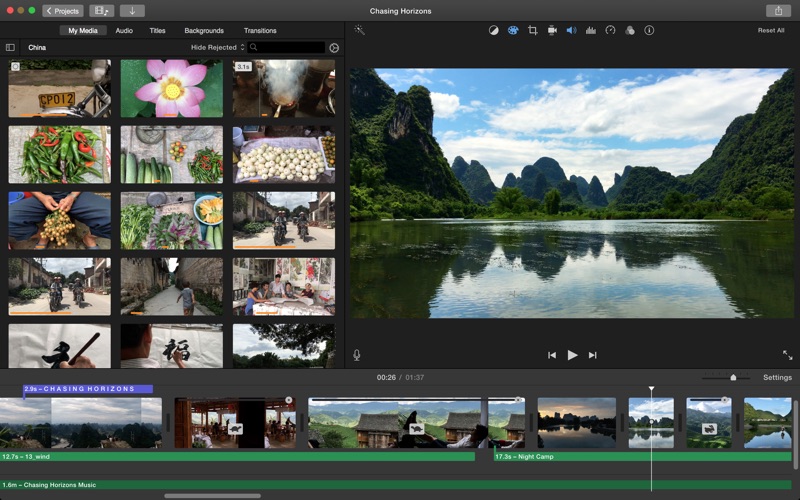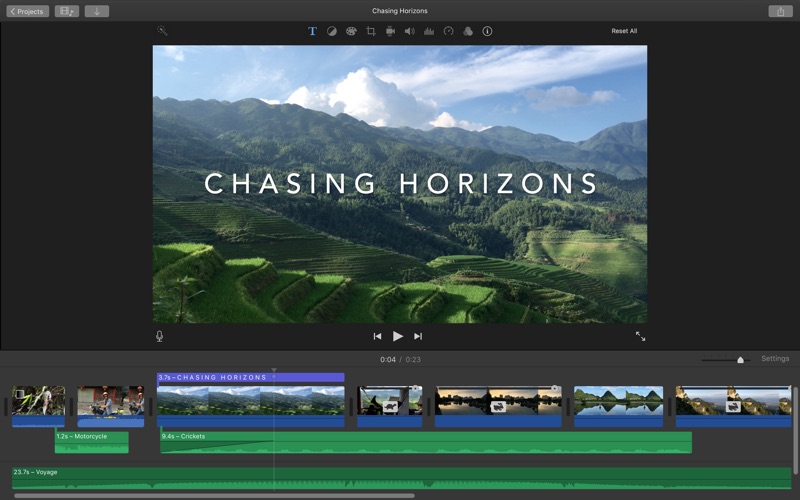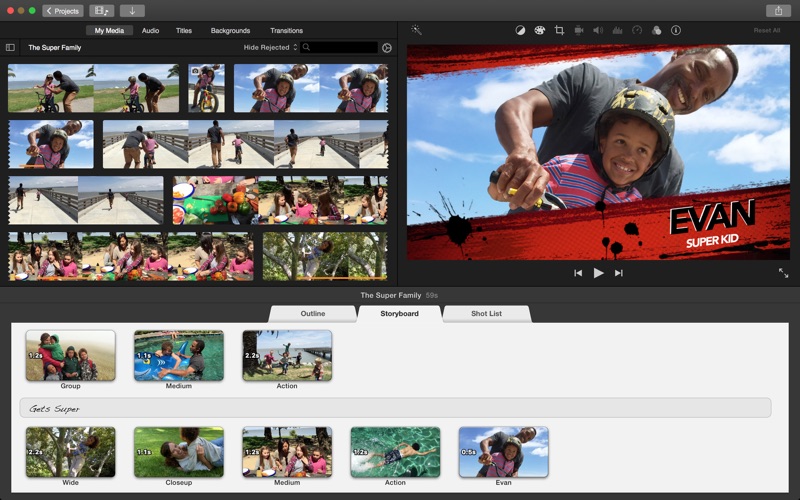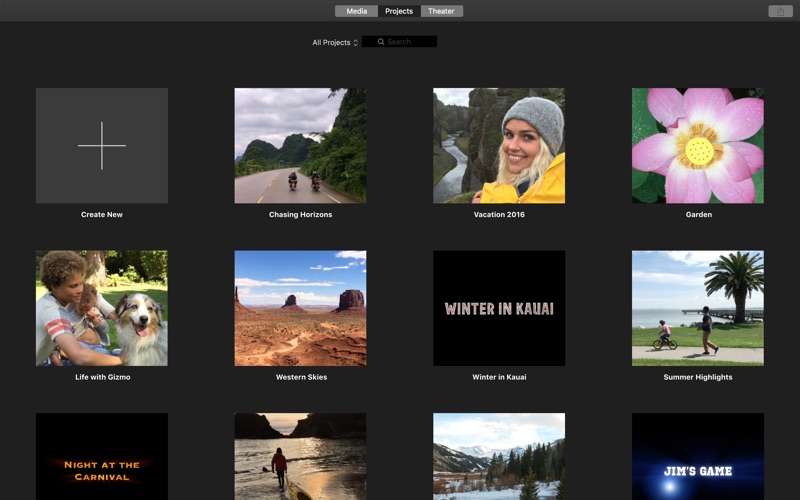 Customer Reviews
Absolutely awful
Apple just refuses to leave well enough alone when it comes to their software. I used to create band promo videos with EASE with the previous version, imported audio & video, synced everything up, edited clips, and came out with a good final product… NOW?? they have discontinued some of the features and created an entirely new interface. 3 calls to tech support to try and figure it out only to find out it will no longer do what I need it to do. WHY DISCONTINUE USEFUL FEATURES?? Why make an interface LESS user friendly??? Not only that, when I upgraded from the previous version, I lost a good deal of my existing projects… Poof!!! gone, not recoverable. And one of the imovie 'specialists' at tech support actually told me he doesn't use imovie so doesn't really know all the features…. omigod!! Apple, I am absolutely furious that, having learned how to use the previous version of iMovie, I now have to search for and purchase a different software program and learn how to use it simply to accomplish the same thing . They'v done it with iTunes also, every time there's a major update it becomes less user friendly. If I could just break off from Apple completely after this I would, I am that upset.
What buffoon is in charge of this crap?
I could make a pretty decent list of all the functionality that has been removed in this version - as well as functions that should have been put in 5 years ago, but still haven't been incorporated. I've learned to go without them either by working around it, or just accepting that the quality might not be exactly what I want. However, today as I was trying to simply upload a video to Instagram, I noticed that this version removed the option to adjust aspect ratio for absolutely no reason at all. This doesn't improve anything!!!! Wanna use iMovie? Your video will be in 16:9, end of story. Want to put that on Instagram? Too bad. Half of it is going to be cut off. Seriously?!?!?!?! How long has Instagram been out? You'd think that Apple would actually put effort into keeping up with widely-adopted technologies, but I guess not in this case.
WONT UPDATE
I have not used iMovie on my current laptop since it was bought, which was in 2013. However, I just went on vacation and I wanted to edit a movie and so I started to make the clips faster which meant I needed to optimize each clip. After I did that for about 10 clips, I got a notification that I had limited storage on my laptop because optimizing each clip wasted storage. This brings me to my need to update the app. If I update it, everytime I need to make a clip faster, I don't need to waste storage to do so. I have been trying to update it for the last hour and nothing is working. I tired logging out of my iTunes account multiple times and I've removed the app from my deck as well but nothing seems to be working. Please help. I want the updated version because it would help me out a lot.
View in Mac App Store
Free

Category:

Video

Updated:

May 25, 2017

Version:

10.1.6

Size:

2.15 GB

Languages:

English, Catalan, Croatian, Czech, Danish, Dutch, Finnish, French, German, Greek, Hungarian, Indonesian, Italian, Japanese, Korean, Malay, Norwegian, Polish, Portuguese, Romanian, Russian, Simplified Chinese, Slovak, Spanish, Swedish, Thai, Traditional Chinese, Turkish, Ukrainian, Vietnamese

Seller:

Apple Inc.
Compatibility: OS X 10.11.2 or later