Index Card for iPhone
By DenVog, LLC
Open iTunes to buy and download apps.
Description
*** $.99 for a limited time ***
Index Card is a corkboard writing app that helps you easily capture, organize, and compile your ideas. Whether you are an author, screenwriter, or academic researcher, Index Card can help you become a more efficient, organized writer. Download Index Card and discover why thousands of iPad owners are already using it.

TESTIMONIALS
• One of my favorite iPad apps, Index Card, was released as an iPhone app today! Hooray! - Dan Baker, Macedonia Films

FEATURES
Get Started Quickly
• Capture your ideas and store notes as they come to you
• Organize the flow of your project using a familiar corkboard interface
• Assign color labels to flag scenes, characters, or status

Create & Edit Your Story
• Write and edit using the onscreen keyboard or an iPad compatible external keyboard
• Index Card automatically saves your work as you make edits
• Changes are reflected every time you export

Made for Touch
• Touch and drag a card rows to reorder
• Tap a card to open it for editing
• Rotate landscape to swipe through your project, one card at a time
• Scroll the card list to browse your entire project

Flexible & Powerful
• Develop multiple separate projects
• Edit card title, synopsis, notes, text, color label and more…
• Track card, word, and character counts
• Enable the Long Text field for extended writing

Share Your Work
• Export as RTF or Plain Text, readable by most word processors
• Share .indexcard files with other Index Card iPad or iPhone users
• Copy projects to Dropbox, or directly to your Mac or PC using iTunes File Sharing
• Email projects without leaving the app
• Sync with Scrivener Mac OS X writing app (card title, synopsis, long text, sort order)
• Present on an external HDMI display using your iPhone 4S or later and the Apple Digital AV Adapter

REVIEWS
• An efficient way to record and organize notes for both personal and professional projects. - AppAdvice
• I used all kinds of apps as study aids during my recent college years, but I wish I had this one. Studying vocab, taking notes, and all kinds of other education-related help would work perfectly on Index Card for iPhone. - 148apps

RESPONSIVE SUPPORT
I read all support mail, and respond to most messages within 24 hours.

• More info at: www.indexcardapp.com
• Follow me on Twitter: twitter.com/DenVog

Thanks for buying my app, and supporting an indie developer!
What's New in Version 3.0
Apple Watch support - Great for presentations and study aid
- View projects & cards
- Display card title, synopsis, notes, label color
- Show / Hide cards with Force Touch
- Create new cards with dictation

FIXES
* Plugged some localization holes
* Table rows should be consistently flat and white
* Export screens show no longer be cut off by NavBar
* Project Name editing screen text field style now matches the rest
* Tables should no longer display lines for empty rows
* Spread gesture will now open stack to display contents in CardFlow
* Addressed some missing localizations

If you enjoy using Index Card, please take a moment to leave a nice review. It really helps.
iPhone Screenshot
Apple Watch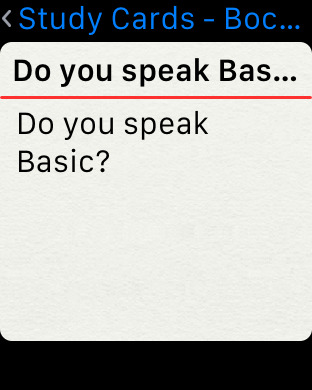 Customer Reviews
Perfect!
As a screenwriter, I always use index cards after plotting my story with a beat sheet. This app is amazing because it not only makes the cards far more manageable than the real thing, but the exporting and sharing features are great, and saving paper is always a good thing. Finally, the best part of using this app is that when I'm done organizing the cards into all the scenes I need, I just export to text and import to Final Draft and the first draft is just about finished! All I have to do is add some extra dialogue and description and I'm done with the first draft! I highly reccomend this app to screenwriters because it saves time and keeps you better organized, and not just screenwriters; any writer or person who needs to take notes or organize thoughts or storylines will benefit from this awesome app! BEST APP EVER!!
Wonderful
I just bought this so I might have to spend more time with it to be honest but I kind of love it already. It does what I want it to do. It gives me a title, body (synopsis) and notes. And there are lots of options to export and save with. Plus, it's fun. A big thing for me.
No Sync with scrivener. Exports/imports only.
Tldr: don't get this app if you need to sync work with scrivener. Instead get something like PlainText (connected to Dropbox) and true sync your project.

I bought this app on iPhone and iPad to sync scrivener projects across all devices but it's very cumbersome. If working with scrivener is what you need, don't get this app!

There are two three major problems:

Problem 1: NO TRUE SYNC

This app does NOT sync! It only does cumbersome migrations via exporting and importing new documents each time (and then erroneously calls this "sync").

The problem is that you have to deal with deleting old files and renaming them over and over again as you sync each time.

It took a long time to figure out how to connect projects (the guides on sync are not very good and if you go to the developer's site for support on this, there are just maybe two dozen questions and answered - none of them on syncing). Once I got it set up I realized that there is no true sync.

The way you "sync" is this: each time you want to sync from one device to another, you have to:
1. Go through a series of taps or clicks to save a new version of the file into Dropbox (your only sync solution).
2. Go to other device(s) and then create a NEW file onto your other device(s).
3. Delete the old files on your other devices.
4. When you make changes on any device, repeat the above process, always creating a new version file and having to manually delete older files.

This is NOT syncing. It is no better than emailing a project from one device to another and then having to delete old projects, every single time you want to sync a change. It is an export/import MIGRATION process, not a sync process!

Problem 2: NEW CARDS WON'T APPEAR ON OTHER DEVICES

The other big problem is that any new file/card created in scrivener won't automatically be added to the export queue. And those that are added from iOS are added in an awkward way. What this means is that if, say, you had 50 cards on scrivener and added 15 more, you have to manually find and add each of those new 15 cards sifting through your stack of now 65 cards and place each into your "sync" collection otherwise this indexcard app will never get them during your exports to indexcard. This is maddening if you are doing any significant work.

Problem 3: RE-ORDERING IS NOT PRESERVED

It is all incredibly cumbersome and while it is useful for one-off migrations, it is totally impractical if you jump from your Mac to your iPhone and to your iPad frequently.
View In iTunes
Offers Apple Watch App for iPhone
$2.99

Category:

Productivity

Updated:

Apr 17, 2015

Version:

3.0

Size:

25.0 MB

Apple Watch:

Yes

Languages:

English, French, German, Italian, Portuguese, Spanish

Seller:

DenVog, LLC
Compatibility: Requires iOS 8.2 or later. Compatible with iPhone, iPad, and iPod touch. This app is optimized for iPhone 5, iPhone 6, and iPhone 6 Plus.
More iPhone Apps by DenVog, LLC