Indiegogo
De Indiegogo
Esta app solo está disponible en App Store para dispositivos iOS.
Descripción
Descubre y financia los productos, los proyectos y las causas que amas en Indiegogo. Ya sea que estés interesado en aparatos de la próxima generación, películas independientes o rescatar gatitos, puedes ahora mantener pestañas en tus campañas de Indiegogo favoritas en todo momento y lugar.

Apoyar una campaña:

- Descubre campañas recomendadas
- Explora y sigue categorías de campañas
- Reclama recompensas de campañas, desde nuevos dispositivos modernos a papeles de película, arte personalizado y más
- Comparte tus campañas favoritas con amigos

Administra tus propias campañas:

- Recibe notificaciones cada vez que recibes una contribución
- Administra comentarios
- Publica actualizaciones de campañas, incluso fotos, sobre la marcha
- Mira las contribuciones de las campañas y envía notas de agradecimiento
- Envía mensajes personalizados a los contactos y amigos de Facebook
- Promociona tu campaña en las redes sociales
Novedades de la versión 1.9.19
Se corrigió un error que causaba que algunas campañas fallaran al cargarse cuando se abrían desde un enlace.
Capturas de pantalla del iPhone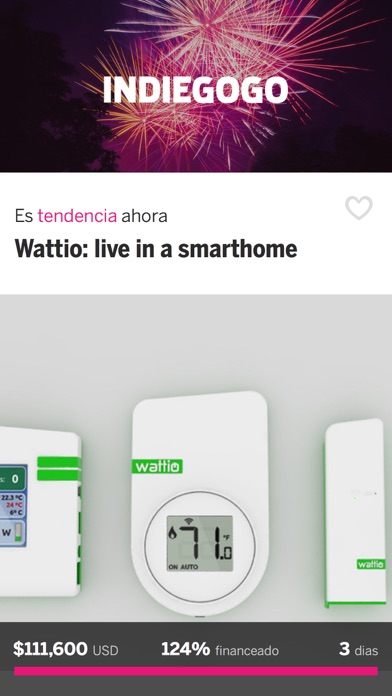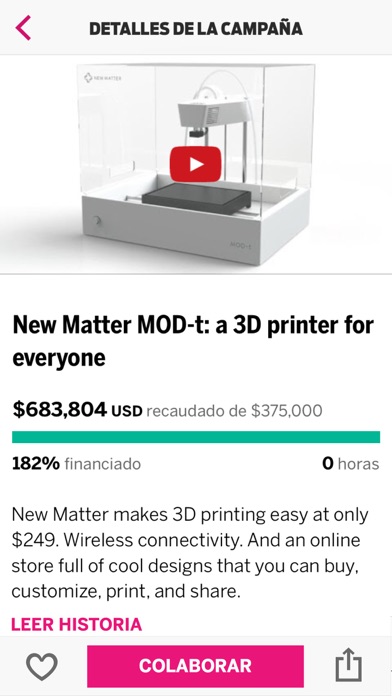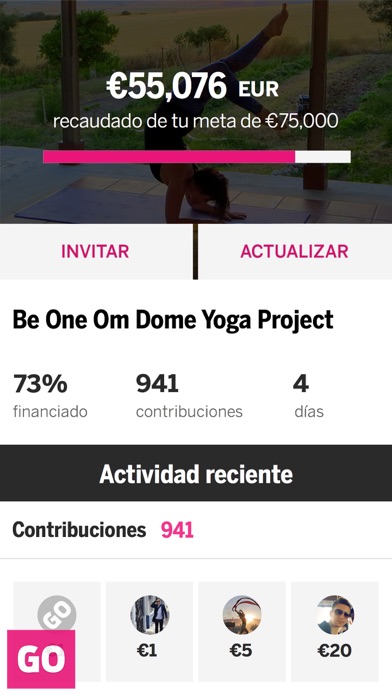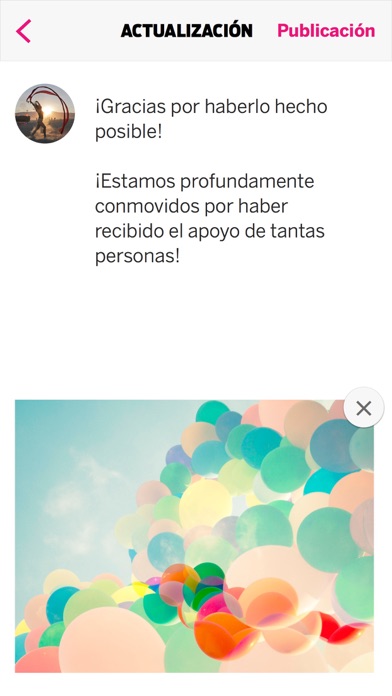 Reseñas de usuarios
Crowdfunding??? More like Scam Funding
Backed a few campaigns including Thin-Case. This is a major scam one right here. Indiegogo has been made aware by more than 50% of the backers that this company has taken the money and run. Company campaign has also been identified as a failed campaign from Kickstarter under a different project name. Further research shows item from campaign to be an existing product in the China market under yet another name.

Yet they still let the campaign keep taking orders. Company was supposed to deliver in June 2017 now September 2017 with zero updates. Indiegogo offers standard template reply every time.

No action on their part because well let's face it they keep making money too as long as they let the campaign stay open... stay away...
Awesome or Scam?
I've backed a few great campaigns through this app, but I've also been scammed through it. IndieGogo offers no support or vetting to stop scammers from taking advantage of people through their platform. Buyer beware.
Poor man's investing
Remember, you are not guaranteed a product on this platform in the way a purchase as you know it is enacted. You are an investor except without any of the equity. The customer support (Aileen) is non-present and basically non-existent.
Ver en iTunes
Gratis

Categoría:

Redes sociales

Actualizado :

19/10/2017

Versión:

1.9.19

Tamaño:

42.1 MB

Idiomas:

Español, Alemán, Francés, Inglés

Vendedor:

Indiegogo, Inc
Compatibilidad: Requiere iOS 9.0 o posterior. Compatible con iPhone, iPad y iPod touch.