iNet Pro - Network Scanner
By BananaGlue GmbH
This app is only available on the App Store for iOS devices.
Description
iNet - explore your network!
Find out about security risks and keep your network under control. Which devices are connected to my network? Are they online? Which services do they provide? Does somebody use my wifi network without my knowledge? These and other questions answers iNet fast and simple.

With iNet you know exactly what's going on! This easy to use App outlines a computer network even to the unexperienced user.

iNet provides you with information about networks your iPhone or iPod touch is connected to. Its very easy and user friendly design even allows the unexperienced user to get a profound and understandable overview of a network and the running services.

In the current release of iNet we implemented the following features:

• Network scan
• Ping
• Bonjour browser
• Portscan
• Device info
• Wake on Lan
• Sleep on Lan (Macintosh only)
• Extensive help section
• Send scan results via email

Scan Network:
iNet shows the devices connected to your local network, e. g. a computer or router, along with their name, IP and vendor. iNet discovers and distinguishes between windows and macintosh computers with different icons. For most Apple Computers the particular computer model can be seen. Find out the name, vendor and IP of the connected devices as well as the number of running Bonjour services on that particular device. A classic portscan on the choosen device can also be performed.

The technology used in iNet scans on a very low level, therefore one can even find machines that don't want to be found, for instance a Mac OS X computer running in stealth mode.

Ping:
Ping is a computer network tool used to test whether a particular host is reachable across an IP network or not. The ping section in iNet enables you to find out if an IP exists (if its ping service is enabled; otherwise you will get no response :-)). For your convenience we added a bookmark function to store often needed addresses.

Bonjour browser:
Bonjour, also known as zero-configuration networking, enables automatic discovery of computers, devices, and services on IP networks. Bonjour uses industry standard IP protocols to allow devices to automatically discover each other without the need to enter IP addresses or configure DNS servers. The Bonjour-Browser in iNet scans the connected local network for Bonjour services, detecting any hardware that ist connected via the Bonjour protocol (for instance computer, router, printer, …) and any software running Bonjour services, e. g. iTunes or Filemaker.

Wake on lan:
The outstanding feature of our implementation is that it is very easy to use and simple to setup. For more information see iNet WOL, our stand-alone tool for WOL.

Portscan:
Applications on devices communicate with the outside world through so called TCP ports. iNet detects wether a port is open or closed. For all detected open ports the service using this port is displayed by its real name (if available).

Device Info:
The device info in iNet shows some information related to your iPhone or iPod touch, e. g. its name or its IP.

Future:
The modularisized structure of iNet allows to add more features and scanning methods in the future. We will implement by time more network monitoring tools, e. g. DNS-Querys, Traceroute, Whois lookup etc.. iNet Pro will be updated on a regular basis as before. In addition we released iNet for Mac in December 2010 - available via the App Store.

If you want to know what's going on in your local network - iNet for iPhone gives you a profound answer.

P.s.: In case you need just the network scan feature of iNet Pro, use the free version iNet - Network Scanner. You can always update to iNet Pro from within iNet to access its full feature set.
What's New in Version 3.2
[Added] iOS 11 compatibility (no access to MAC addresses)
[Added] Special keyboard to support entering Mac addresses manually
[Fixed] A lot of code enhancements
iPhone Screenshots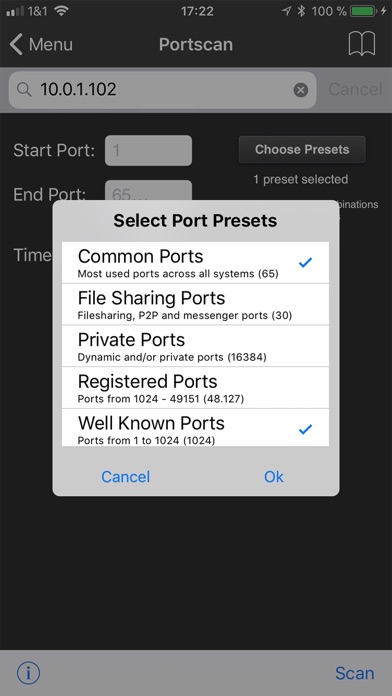 Customer Reviews
No mac addresses
Well Apple went and took a fantastic app and crippled it in IOS 11. I use this app all the time for checking the status on the networks when I go to different facilities. The facilities were map based on Mac addresses. i'm glad I didn't upgrade all my devices to 11.
iOS 11 ruined this great app.
The fact that this doesnt pick up Mac addresses anymore makes it a LOT less useful. Not the developers fault, but still. Sorry devs, i cant recommend this app any more.
Migrated from SubnetInsight
This review is identical to the one I left regarding iNet for iPad, as there is no difference between them except with respect to device compatibility.

—

I've been an avid user of SubnetInsight since getting my first iOS device in 2011. However, given the changes made in iOS 11, it is completely unusable now. The developer has pulled it from the App Store and no replacement has been offered. iNet Pro is a decent substitute, but its developer should check out SubnetInsight on a pre-iOS 11 device and take some cues from it.

Here are my qualms with the app, which is otherwise pretty good and functions as expected.

1) The price is a bit steep. That would not be so bad if iNet Pro was a universal app. As it stands, I ended up purchasing it twice for both my iPad and iPhone, basically raising its cost to $12.99.

2) I realize that the limitations of iOS 11 make certain features hard to implement, and that the ability to remember and customize each device's name was scrapped because of this change. Nevertheless, many people have devices on their networks that are assigned static IP address, and an option to assign a specific name to them according to IP (not MAC address) would be quite useful. This is not extremely troublesome for me, as I run my own DNS servers, which iNet Pro uses to resolve IP addresses. However, it ignores name resolution when a device broadcasts its hostname over Bonjour or NetBios, which is annoying.

3) The ability to see offline devices would be appreciated, as I'd like to know when they were last online. SubnetInsight was capable of remembering wifi networks, as well as the hosts that were connected to them. In addition, it provided geolocation data for each access point. This is a feature I miss. Again, I realize that changes in iOS 11 make implementing this gracefully somewhat difficult, but an "advanced" toggle of sorts could be provided.

4) I wish iNet Pro would simply scan a device for open ports automatically when I tap on one. Or perhaps do so in the background after a network scan is completed.

5) The integration of WOL is nice, and allowed me to delete your other app, iNet WOL. Indeed, the special keyboard made entering addresses much less painful. However, syncing WOL data via iCloud would alleviate the need for me to enter this information on multiple devices.

Overall, I do not regret the purchase and am a happy customer. I even decided to check out the macOS version, which is free from all of the issues mentioned in bullet #2 above. If you're looking for network scanner, I think iNet Pro is the best currently available for iOS 11 devices.
View in iTunes
$5.99

Category:

Utilities

Updated:

Sep 21, 2017

Version:

3.2

Size:

70.6 MB

Languages:

English, German, Simplified Chinese

Seller:

BananaGlue GmbH
Compatibility: Requires iOS 9.1 or later. Compatible with iPhone, iPad, and iPod touch.
More iPhone Apps by BananaGlue GmbH