Infinite Tanks
By Atypical Games
Open the Mac App Store to buy and download apps.
Description
Infinite Tanks features exactly what the name suggests – huge content - never ending lines of modern combat vehicles, huge environments with realistic weather, online multiplayer and countless single player missions and drills. Infinite Tanks also upgrades the tank sim genre by giving players the ability to design and upgrade their own impenetrable vehicles, allowing them to truly step into the driver's seat. The game features an innovative card-driven building system, which allows players to mix, match and trade individual tank parts, including engines, bodies, tracks, turrets, mines, mortars, upgrades and obviously guns, to create an incredibly diverse array of powerful and versatile vehicles. Infinite Tanks is pushing the boundaries with modern graphics and exceptionally deep gameplay. Features A unique card-driven construction system, driven by single-player progression and multiplayer collaboration. Hundreds of million different vehicle combinations, plus aesthetic customization such as paint and accessories. tanks, destroyers, hovercrafts and rocket launchers, each in 3 different classes. 360 drills with quick, intense action. Sweeping, epic single-player campaign. Different environments, from sun scorched deserts to dense urban areas, with expansive space for gameplay and exploration. Custom games, including King of the Hill, Capture the Bases, and Team Deathmatch both online and offline. 60 levels of progression, most varied classes of tanks and an impressive arsenal of weapons and projectiles. Incredible realism: changing weather, sun crossing the sky, realistic physics and damage system. Cross platform multiplayer between iOS, macOS and tvOS Takes advantage of Metal, iCloud, GameCenter, Replay Kit and AirPlay Supports MFi controller Localized in over 10 languages
What's New in Version 1.0.3
Minor bug fixes and improvements.
Screenshots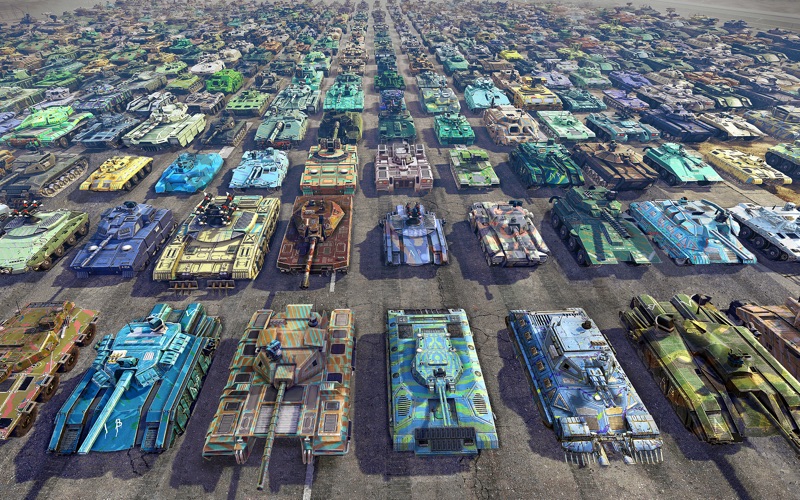 Customer Reviews
Great game at a bargain price
Infinite Tanks builds on the success of Battle Supremacy which I played extensively before IT came out. I now play Infinite Tanks almost every day, many times for several hours. The scenes and action are superb and the game is challenging and rewarding of your efforts. I sometimes compare it to the game of chess, which is different and challenging in its own way every time a person sits down at the chess board. I would pay many times the present cost of this game very gladly. I do recommend that you play it on a Mac with a good sized screen to take full advantage. It is supported on Apple TV with a game controller but I haven't tried that yet. I have joined and play actively with a brigade and this adds much to the game. Our brigade has about a hundred members from all over the world. We use the Discord (free) voice communicator along with IT and this works quite well. I am often playing (and talking with) brigade members from Germany, Australia, Austria, Netherlands, Fiji, Mexico, etc. This adds to the experience. I would caution that when you first install and begin playing, you need to give yourself some time to get familiar with it. There are so many aspects to the game and options that there is a "learning curve" to climb, but this is great in the end because there is always a challenge ahead.
Shows promise, but flawed
Great graphics, animation, visual effects and sound. Unfortunately, at this point the game doesn't live up to it's promise. An aggravating random card system that is used to attain parts for your tanks and a questionable leveling-up process both need revamping. Once you become familiar with the game mechanics the offline games become repetitive and unchallenging. The online game suffers from a lack of players, due in part to the unfair advantages of the brigades, a matchmaking system that which all too often creates mismatches by placing all the brigade members on one team, and more recently hackers. You can expect to spend more time diddling with the construction of your tanks and managing your inventory of parts than actually playing the game. It supports gamepads, and they work fine on the offline games, but don't work well at all on the online games. A major update is needed to rescue this game, but as the developers have expressed no interest in providing any major future updates, I can't recommend this game.
excellent online game play but long multi player wait times [update: mostly fixed]
Expectations were high based on Atypical's quicker but simpler Battle Supremacy game.
Infinite Tanks Pros:
+Excellent graphics and action
+rocket tanks
+skill matters even against more advanced players
+Many excellent players
Cons:
-wait times to get online for multi player is 30 seconds to over a minute [update: often much quicker]
-instant online matchup (Brawl mode) no longer seems to work
-spending more time waiting to get online or finish a task than playing
-need to complete 360 monotonous offline drills to reach Level 60 [update: now increased to level 90 but worth it]
-constantly building and upgrading tanks is slow, gets old
-players migrating back to Battle Supremacy because multi player not working [update: fixed]
-no longer can complete daily tasks because online not connecting [update: fixed]
-can't keep app open in background to work on something else

Comparing Battle Suprmeacy and Infinite Tanks, IT has more potential to be an epic game but BS is the better game. BS loads quicker with no offline tasks once you've completed a few drills. BS has more annoying players who don't want to follow the simple rules of game play, making their team lose.
View in Mac App Store
$4.99

Category:

Games

Updated:

Nov 03, 2016

Version:

1.0.3

Size:

1.96 GB

Languages:

English, French, German, Italian, Japanese, Korean, Portuguese, Russian, Simplified Chinese, Spanish

Seller:

ATYPICAL GAMES LLC
Compatibility: OS X 10.8 or later, 64-bit processor