iNotes
By Hubapps.com LLC
Open the Mac App Store to buy and download apps.
Description
-- NOTE for Mountain Lion (10.8) users: There is a known incompatibility which prevents iNotes from functioning properly with this version. We will be updating soon with a fix. Thank you for your patience.

✔ The Fastest Way to Note

iNotes provides rapid, easy note entry and retrieval from your menubar. Its revolutionary dual-purpose search field lets you search and record notes in the same space, making its use subconscious and automatic.

Together with its "Lock" feature and Address Book integration, iNotes is the perfect app for simple access to contact info, sensitive information such as credit card numbers, or just plain vanilla reminders or key pieces of information you may need on hand later.

Optionally, just copy text in any app and it can be stored in iNotes at your preference.

In addition to its Spotlight-inspired, animated interface, in-place editing, and uncluttered layout, iNotes has all the core features that help protect your information and incorporate it into your workflow:
★ Lock specific entries with a password
★ Optional Clipboard history - keep track of your copy/paste so you never lose things accidentally
★ Optional retrieval of Address Book entries makes iNotes the fastest way to look up contact information
★ Paste the current selected entry into the active window
★ Search for selected text in Google or Spotlight
★ Pin-up mode: drag iNotes off the menubar and keep it above other windows.
★ Sort alphabetically, by entry date, or by modification date
★ Option to autolaunch on login
★ Choose your own color
★ Optional global hotkey to open iNotes

Simply put, iNotes is the fastest way to note. Thank you for your interest and please feel free to contact us at info@hubapps.com with any questions, issues, or feedback. Enjoy!
Screenshots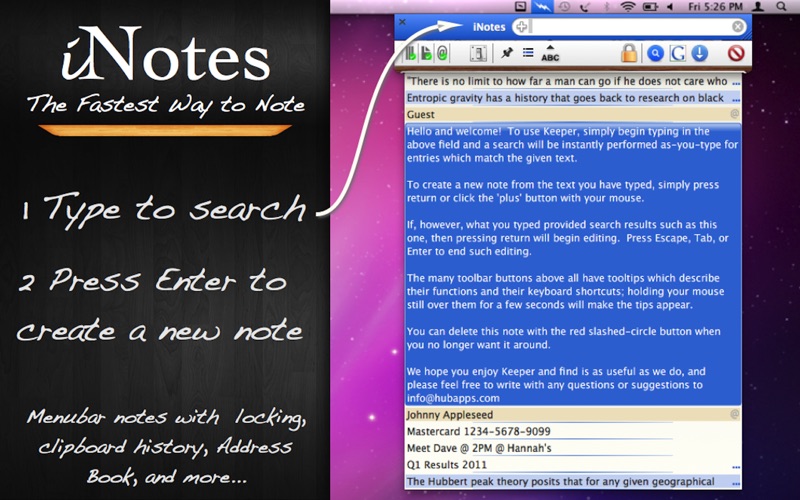 Customer Reviews
Update!!!
I wrote a scathing review due to poor functionality related to the float option and not having a list-view. Developer responded WITHIN MINUTES (BRAVO) of my post at the forum support site and made me aware of the ability to use spacebar or enter * symbol in the menu bar in order to bring up a list of all notes. In addition, after uninstalling and reinstalling the app a couple of times my app now has the floating window option (allowing me to keep open notes floating over everything else I have open (such as Safari). As a result I have upgraded my rating of this useable product from 1 to 4 stars. Couldn't give it the 5th star because It's my opinion that the app is expensive for what it can do and the user interface could be improved (could use a cleaner view of note list and should have some font formatting options for examples). For the price I would expect more features also, such as the abilit to create folders to store notes that will be useful or needed for future projects. Much better app than I realized when I wrote the first review because there is no HELP menu to learn the functions (like the fact you need to enter spacebar or * symbol in the search/entery field to pull up a list. Good product overall and I would recommend it.
Works Great
This app is exactly what it is says it is, and works great. I copy text alot and this keeps all that handy, and it's especially useful when I need to copy information I don't want to create a whole file and folder hierarchy for, like receipt confirmation numbers and small notes. I love that I can push the Pin button and keep the iNotes window floating above everything else, after dragging the window off of the menubar. That way I can be working and still have access to all these notes.

The way I use it I just type a space like in the screenshot, or a "*", for a wildcard search and it shows all my notes. This makes it easy to see everything, but it's not clear in the instructions above. Overall this is exactly the note taker I was looking for. There are full featured text editors but this is perfect for notes, cleanest on the store.
A very handy app
I have always needed a means of quickly jotting down a few thoughts as I'm working at my Mac. Over the years I've tried out several different "note taking" applications and have rejected them all because they try to do too much. I don't need fancy formatting, I don't need colors, I don't need journals or calendars or "to-do" lists. Just an easy way of putting my ideas somewhere that I can easily access.

I recently browsed the MAS and discovered iNotes. One thing that caught my eye was the fact that it's a Menubar Item (MBI) and as such, won't clutter up my Dock or Desktop with extra windows.

I found that on installation, all I had to do was mouse over or click the Menubar icon and begin entering my text. I quickly discovered that, while it doesn't provide a sidebar list of notes, all I had to do to see all my notes was hit the spacebar and my notes would drop down.

It's got a clean uncluttered interface that doesn't get in the way. It's always available in the Menubar. I'm the kind of user who really dislikes keyboard shortcuts to enable things, so mousing over the icon is great for me, though the developer does provide a means of creating your own keyboard shortcut.

I highly recommend this app.
View in Mac App Store
$9.99

Category:

Productivity

Released:

Apr 27, 2011

Version:

2.0

Size:

0.6 MB

Language:

English

Seller:

Hubapps.com LLC
Compatibility: OS X 10.6 or later