Inspire — Paint it. Blend it. Love it.
By snowCanoe
Open iTunes to buy and download apps.
Description
Available exclusively on the App Store, meticulously designed to be beautifully powerful and painstakingly engineered for the 64-bit CPU and multi-core GPU of iPhone — Inspire delivers an incredibly fast and realistic painting, drawing and sketching experience that you can take with you wherever you go and use whenever inspiration strikes.

Our proprietary painting engine Sorcery™, based on OpenGL, takes full advantage of the GPU to render brush strokes with brilliant 64-bit color, laser-sharp sub-pixel precision and insanely fast speed. While the strokes of a wet oil paint brush look beautiful on their own, the breathtaking blending effects of a dry brush will absolutely stun you. Graze the canvas with just a bit of pressure to add a subtle blur to your artwork or use stronger pressure to actually mix existing colors on the canvas together to create new ones.

With no instruction manual or handbook required, whether you are a beginner, expert or somewhere in-between, you will enjoy the simplicity and power of the most intuitive and compelling illustration app for iPhone, Inspire.

Brushes
● 70 high quality brushes to choose from, divided into 7 sets: Oil Paint, Airbrushes, Basic Shapes, Graphite Pencils, Wax Crayons, Markers and Chalk
● 60 more brushes are available in the Inspire Shop, divided into 6 sets: Complex Shapes, Paint Splatter, Spray Paint, Shape Outlines, Charcoal and Patterns
● All brushes can be used as a Wet Brush, Dry Brush (Blending) or Eraser
● Over 20 different settings are available to customize brush strokes with powerful versatility and variation

Painting
● Sorcery™, the fastest 64-bit painting engine on the App Store
● Full-fledged pressure sensitive painting with 3D Touch
● Create a canvas of any size up to 6K (24MP) on iPhone 6s, 4K (12MP) on iPhone 6 and 3K (9MP) on iPhone 5s
● Dual-texture brushes
● 64-bit color
● All device orientations are supported all the time — switch from portrait to landscape painting with ease
● 1000 levels of undo and redo are available
● 3 finger pan gestures can be used to quickly change brush size, opacity and pressure without opening a menu
● The eyedropper tool can be used with a touch and hold gesture to select paint colors from the canvas
● The canvas can be moved around, rotated and zoomed in and out up to 6400%
● Use your Apple Watch as a companion to perform actions, select colors and quickly glance at how long you've spent on a painting

Canvas Playback Video Recording
● Brush strokes are automatically recorded as you paint without any delay
● You can play the video of your artwork being created stroke-by-stroke directly in the gallery
● A Canvas Playback video can be exported to your Photos, Email, iTunes Documents or Dropbox
● Exported videos are high quality HD at up to 1080p resolution

Color Picker
● Choose any paint color you can dream of with the intuitive color picker
● HSB and RGB sliders accompany a large color circle, color square and opacity slider
● Your latest colors are saved to a palette automatically while you paint
● You can also save your favorite colors to a palette with drag and drop

Saving, Importing and Exporting
● Paintings are automatically saved in your gallery and easily exported to your Photos
● Inspire files include your artwork's image, video and all associated metadata, for the ultimate back-up
● Images can be imported from your Photos, iTunes, Dropbox or the camera and positioned, rotated and scaled onto a new canvas
● Paintings can be sent via email from within the app
● Paintings can be uploaded directly to Dropbox, Facebook, Twitter and Flickr
● Paintings can be printed from within the app (AirPrint printer required) or ordered online through CanvasPop

Visit snowCanoe.com to check out more screenshots, videos and artwork.
What's New in Version 4.2
Apple Watch
● You can now use your Apple Watch as an inspiring companion while you paint with Inspire on your iPhone
● Perform actions such as changing the brush mode, undo/redo and going back to the gallery from Apple Watch
● Choose a new paint color from your favorite palette — it's automatically synced and always accessible from Apple Watch
● See all of the properties of the current painting from Apple Watch without having to go back to the gallery
● Clear the canvas or fill it with the latest paint color using Force Touch from any menu
● Check out the glance to quickly see how long you've spent on the current painting and how many strokes you've used so far
● Customize your Apple Watch face with every kind of complication to quickly see the number of strokes and time spent on the current painting

3D Touch
● You can now specify a pressure curve with a new UI in the Options menu that modulates the value of applied pressure with 3D Touch into a different value that gets communicated to the painting engine for rendering brush strokes
● Improved the painting engine's reaction time so that brush strokes adapt more quickly and smoothly to changes of 3D Touch pressure
● Support for third-party pressure sensitive styli has been removed for iPhone 6s

Color Menu
● The black and white buttons at the top-left of the Color menu have been replaced with two new mode buttons that allow you to change the UI to help you choose the exact color that you're looking for — if you liked having the black and white buttons in the menu for convenience, you can always add these colors to the Favorite palette
● The first new mode adds a color square to the menu that allows you to choose the saturation and brightness of a new paint color more precisely
● The second new mode adds RGB sliders to the existing HSB sliders and displays the values of all parameters to help you choose an exact color to work with

Canvas Size Menu
● There is a new button in the Canvas Size menu that allows you to conveniently swap the width and height of a new canvas quickly and easily, without having to rotate your device or bring up the keyboard
● You can now see the maximum dimension in pixels and total size in MP allowed for your device, when creating a new canvas, in the Dimensions description of the Canvas Size menu's context sensitive info

Miscellaneous
● Fully tested and optimized for the new iPhone SE
● Many small cosmetic refinements to the UI
● Several bug fixes
iPhone Screenshot
Apple Watch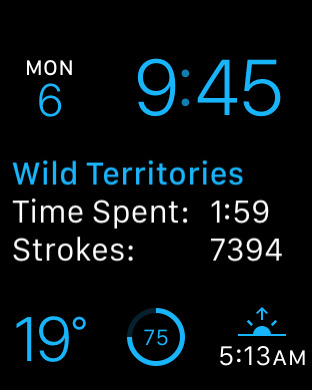 View In iTunes
Offers Apple Watch App for iPhone
$4.99

Category:

Entertainment

Updated:

Jun 29, 2016

Version:

4.2

Size:

237 MB

Apple Watch:

Yes

Language:

English

Seller:

snowCanoe
Compatibility: Requires iOS 9.1 or later. Compatible with iPhone, iPad, and iPod touch.
Top In-App Purchases
Paint Splatter Brush Set$1.99
Charcoal Brush Set$1.99
Spray Paint Brush Set$1.99
Patterns Brush Set$0.99
Complex Shapes Brush Set$0.99
Shape Outlines Brush Set$0.99
More iPhone Apps by snowCanoe