Instagram
De Instagram, Inc.
Esta app solo está disponible en App Store para dispositivos iOS.
Descripción
Instagram es una forma simple de capturar y compartir los mejores momentos del mundo. Sigue a tus amigos y familiares para saber qué están haciendo y descubre cuentas de todo el mundo que comparten cosas que te encantan. Únete a la comunidad de más de 500 millones de personas y expresa tu creatividad compartiendo todos los momentos de tu día, desde los más cotidianos hasta los más extraordinarios.

Con Instagram puedes hacer todo esto:
• Publica fotos y videos que quieras conservar en la cuadrícula de tu perfil. Edítalos con filtros y herramientas creativas, y combina varios clips en un solo video.
• Comparte tantas fotos y videos como quieras en tu historia y haz que cobren vida con herramientas de texto y dibujo. Desaparecerán después de 24 horas y no volverán a mostrarse en la cuadrícula de tu perfil ni en la sección de noticias.
• Transmite en vivo para conectarte con tus amigos y seguidores al instante. Cuando termines, tus historias en vivo desaparecerán.
• Envía a amigos y grupos fotos y videos temporales, mensajes de texto y publicaciones de la sección de noticias con Instagram Direct.
• Mira las historias y los videos en vivo de las personas que sigues en una barra situada en la parte superior de la sección de noticias.
• Descubre historias, fotos y videos que te pueden gustar y sigue nuevas cuentas en la pestaña "Explorar".
• Habilita Handoff para cambiar entre tu Apple Watch y tu iPhone.
Novedades de la versión 15.0
Corrección de errores y mejoras en el rendimiento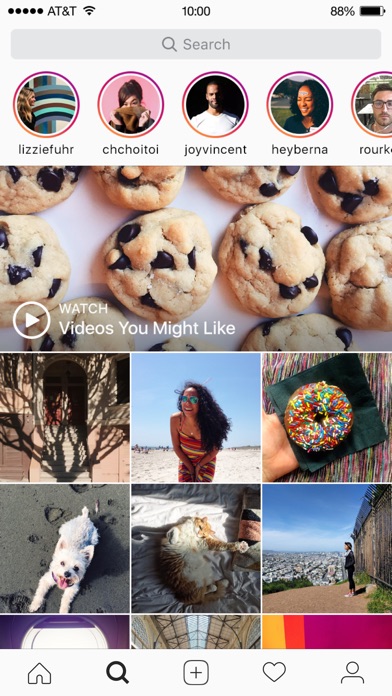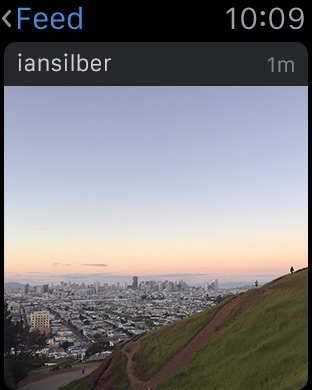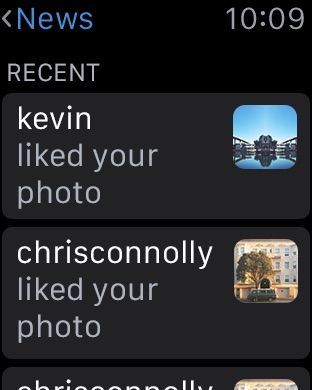 Reseñas de usuarios
Gotten better, but there's still some annoyances.
We all know that Instagram is a great app...or it used to be. Changing the order of how posts show up on a user's profile has not only hurt content creators, it's forced users to physically visit a page or set up notifications for us to like our favorite blogger/photographer/whomever's content. It's frustrating. I am also growing tired of sponsored ads from shady companies (who have been stealing photos and videos from the original owners) about products and services I have no interest in, and it clogs up my feed. Instagram 'Stories' are a problem as well because 1) it's a blatant copy of Snapchat, and 2) it tracks your location (which I have no idea how it came about doing since I have Location Services for Instagram turned OFF). I am not pleased with how this once great app has now been destroyed. Listen to your users and get it together.

Updated: I'm happy to be seeing more content from other Instagrammers I follow instead of the same ones and then a ton of ads. The ad amount has decreased on my end, and now I have the ability to make them disappear if I don't wish to see them. The only thing that is ruining my Instagram experience (besides the other issues I listed in my first review) is the autoplay of videos regarding sound. When I tap a video I want to really watch, either I have to tap the sound off after I finish or have loud audio frighten me as I'm scrolling through posts. Please give me back my option to choose.
Suggestions maybe?
Instagram is great, I have had it for roughly 3 years. I have definitely seen so much improvement within the app and community itself. Quite honestly I don't think that the newest feed date thingy was a good idea. I accidentally like post that were from days ago and I kinda want to see new stuff. I don't like looking like a stalker lol. I don't get as many likes as I used to either, sense people are seeing it DAYS later. My account also doesn't get discovered easily either. I get there is post notifications but Instagram was fine. Can we also see a thing where it shows the activity on our page or who unfollows us? I would love to see me, and other peoples great ideas spark imagination for making this app better. Instagram should involve the community for ideas for the app instead of coping snapchat.
Have a good day-🐢
Could really use some tweaks.
Come on insta, for the love of all things good.....let us add links in posts? And I find it frustrating that I seem to miss a lot of the posts by the people I follow somehow because it seems to have stopped showing everything chronologically and somehow seems to be skipping posts or doing a top posts thing or something.
The message and notifications system could be improved if all comments had their own tab, and all likes had another. It's often easy to lose track of comments, especially when the responses tab updates and everything compresses.

Otherwise, instagram is a solid platform for discovery and I've found so many interesting people and things by searching randomly. Plus, having a visually-driven app is really appealing.
Ver en iTunes
Ofrece la app para Apple Watch para iPhone
Gratis

Categoría:

Fotografía y video

Actualizado :

19/09/2017

Versión:

15.0

Tamaño:

126 MB

Apple Watch:

Sí

Idiomas:

Español, Alemán, Checo, Chino simplificado, Chino tradicional, Coreano, Croata, Danés, Eslovaco, Finés, Francés, Griego, Indonesio, Inglés, Italiano, Japonés, Malayo, Neerlandés, Noruego bokmål, Polaco, Portugués, Rumano, Ruso, Sueco, Tagalo, Tailandés, Turco, Ucraniano, Vietnamita

Vendedor:

Instagram, Inc.
Compatibilidad: Requiere iOS 9.0 o posterior. Compatible con iPhone, iPad y iPod touch.
Más Apps para iPhone de Instagram, Inc.