iPregnancy (Pregnancy App)
By Gregory P. Moore, MD
This app is only available on the App Store for iOS devices.
Description
✩ NEARLY 100,000 USERS CAN'T BE WRONG! ✩
✩ FEATURED IN WHAT'S HOT -- Thanks Apple!
✩ CELEBRATING ONE YEAR IN THE TOP 25 APPS FOR HEALTHCARE & FITNESS!!!

✩✩✩✩✩✩✩✩✩✩✩✩✩✩✩✩✩✩✩✩✩✩✩✩✩✩✩
iPregnancy was listed as Top Pregnancy app for Moms at iphoneness.com!

iPregnancy was awarded
BEST PREGNANCY PLANNER
in Pregnancy Magazine May, 2009!

iPregnancy was recommended as best app
in the May, 2009 edition of
Parent's Magazine!
✩✩✩✩✩✩✩✩✩✩✩✩✩✩✩✩✩✩✩✩✩✩✩✩✩✩✩

Congratulations! You've found it!

iPregnancy is THE PREMIER APPLICATION for keeping track of your pregnancy! Others have tried to duplicate the features found in this program, but this is the only pregnancy app actually written by a practicing Ob/Gyn!

iPregnancy includes time-tested features, as well as some exciting NEW features:

☛ Due date calculator using last period, conception date, ultrasound date, or due date.

☛ See the baby's gestational age in weeks and months, lunar months, and current trimester.

☛ See a progress bar that shows how close you are to the "delivery safety zone".

☛ See time remaining until your due date as well as the time remaining until your next major milestone. Now you can enter a date of delivery or enter a planned delivery date (Induction or C/Section).

☛ NEW Facebook and Twitter Integration.

☛ Six new backgrounds for each gender: Boy, Girl, Unknown.

☛ 3-D ultrasound picture of the baby at each week!

☛ NEW 2-D ultrasound picture of the baby at each week!

☛ NEW Schematic drawings of the baby at each week! These images are done by world-renowned artist, Peg Garrity!

☛ Baby Information including a brief summary of happenings with the baby at the current gestational age as well as information about the average length and weight of the baby.

☛ Mommy Information including what to expect and ideas for how to prepare for the coming baby.

☛ NEW Daddy Information including what to expect and ideas for how to prepare for the coming baby.

☛ Baby Name Picker, which allows you to keep a list of baby name contenders. This picker derives names from the Social Security Administration's top 1000 names for last year.

☛ OB Visit Tracker that allows you to keep track of your Weight, Blood Pressure and Fetal Heart Rate at each visit. Also, you can include a PHOTO for each visit. Enter unlimited notes.

☛ Journal to keep track of notes and photos at any time.

☛ NEW Mood Tracker!

☛ NEW Calendar view allowing easy determination of future gestational age of the baby.

☛ Email details of any of your OB Visit/Journal Entries to friends or family!

☛ Weight Gain analysis, helps you decide the appropriate weight gain for your size and helps you keep your weight gain on track for each visit by telling you how much you should be gaining each week!

☛ Questions for the Doctor section that allows you to keep track of and sort a list of questions to ask the Doctor at your next OB Visit.

☛ MANY new fixes & tweaks existing users will LOVE!

✩ All of this is available for the price of a Starbucks! ✩

And, since you aren't drinking much Starbucks these days, you'll have all kinds of spare change around for helpful programs just like this one!

See Demo at www.iPregnancyApp.com
What's New in Version 3.03
Bug fixes:

Appointment time issue fixed for different time zones.

Fixed date change issue while app is running in background (iOS4).

Fixed Weight Analyzer issue.

Fixed Save Button on Custom Baby Names.

Fixed Custom Baby Names -- Name Look up.

Many other small bug fixes.
iPhone Screenshots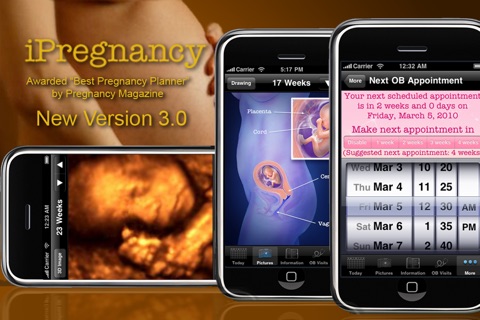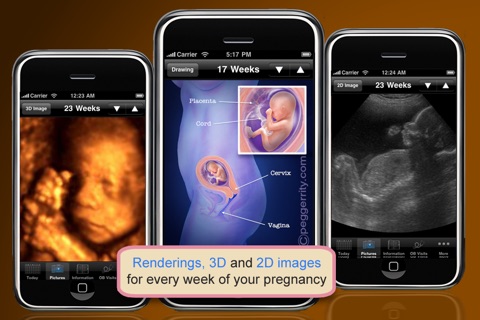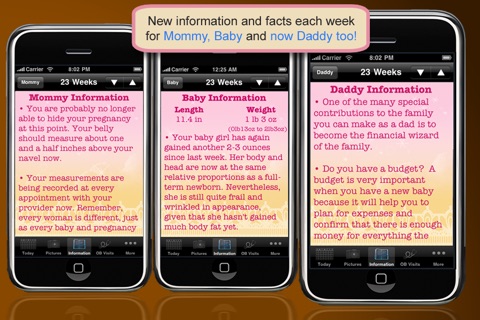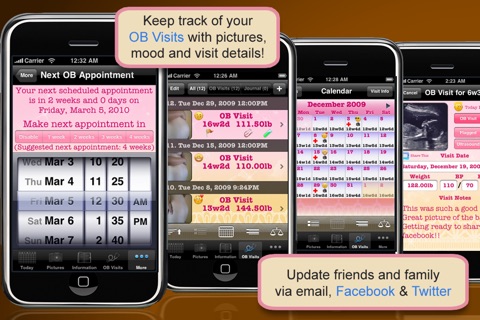 Customer Reviews
Seriously gone downhill
I got this app at the beginning of my last pregnancy and I loved it! Tracked all my appointments, helped me remember questions for the Dr., tracked my weight and photos of my growing belly and even had lists of all of our name ideas. I loved it to the end of my pregnancy. Flash forward 3 years. When I found out I was pregnant again, I immediately opened my app to input my new data and start tracking baby #2. That's when the problems started. The app has obviously not been updated and there are almost too many problems to list! There was no way to add a pregnancy without deleting the app and all it's data(!) so I had to take screen shots of anything I wanted to keep. After that, I found that every time I tried to enter my height/weight for tracking BMI and weight gain, it would just crash. Want pictures of what your baby looks like this week? Sorry, not available from server...and on it goes. This app has gone from something I relied on multiple times a day, to something that just irks me to death. Now that I'm at 25 weeks, I don't feel like transferring all my other data to a new app, but I probably should--just to avoid the high blood pressure from getting so annoyed with this app! Don't waste your time or money.
Drop the gender stereotypes please
As a soon-to-be father, it's nice to look at the drawings and pictures, and to read snippets about the baby's development every week, but the mommy and daddy information is filled with some pretty pejorative stuff. One of the largest offenses is the app's constant focus on female body image. By pointing out to the partners of pregnant women to be careful about mentioning her weight gain to her, you are reinforcing the idea that this natural aspect of pregnancy is somehow abnormal. Can't a woman even be pregnant without having to deal with unhealthy body image expectations? I often comment on how wonderful and amazing it is to see my wife's belly grow. Keeping this observation silent does a horrible disservice to her and society. Also, please stop engaging in the simplistic view that it is my job to get our financial house in order, and that this is the time when I should unload the dishwasher for her. I'll continue to unload the dishwasher and cook our meals and scrub the toilet like I have always done since we have been married. I'm hoping that such a 1950s mentality has changed in the last half a century. Please take the information you are giving seriously and consider the paternalistic socialized norms you are reinforcing when you move from informing parents about biological functions to advising them about proper social behavior.
Won't even work...
I paid for this app and it won't do anything at all! Only shows me a pic of 0weeks days and months I can't click or view anything. 😞
Then I took the app off of my home screen, went back into my apps and downloaded it again from the cloud!!! Now this app has charged me AGAIN!!!! So I have paid 3.99 twice for an app that won't do anything at all!
Now when I touch the app it crashes and sends me straight back to my home page!!!! I want my money back!!!!
View in iTunes
$3.99

Category:

Health & Fitness

Updated:

Aug 17, 2010

Version:

3.03

Size:

13.0 MB

Language:

English

Seller:

Gregory Moore
Compatibility: Requires iOS 3.0 or later. Compatible with iPhone, iPad, and iPod touch.
More iPhone Apps by Gregory P. Moore, MD