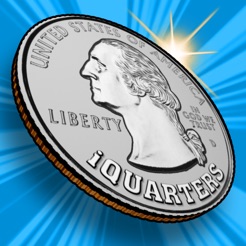 Description
Corner pubs and frat houses rejoice – the game of quarters has come to the iPhone, iPad and iPod Touch! From the makers of Golden Tee® Golf, Incredible Technologies iQuarters shines a new light of challenge and skill on the tavern table game we've all grown to love. So step away from that beer soaked table, my friends – quarters has gone 2.0...

iQuarters combines realistic physics, strategy and surreal trick shots with the timeless art of flicking change. The goal is simple: flick a virtual quarter into a glass to advance through different levels. Control the shot with your index finger or thumb to send that silvery-pixeled Washington flying through the air.

In Classic Mode, players are given 40 quarters to navigate through 12 challenging scenes, sinking three quarters per round to advance. Points are awarded based on difficulty, including fun bonus multipliers for ricochet shots – off the lighter, over the martini glass, nuthin but shot glass…

iQuarters was designed with two play strategies in mind; one for the fun-loving casual gamer and the other for the competition-craving master. So whether you play straight for the glass for easy sinks or aim to maximize points with challenging ricochets, just don't miss the Rube Goldberg-esque trick shots that are hidden along the way, the shenanigans are worth the effort.

Flicking hasn't been this fun since your first day on the highway – that's the iQuarters guarantee! So stop denting those fine tabletops and start flickin' change in this next-generation skill shot challenge! iQuarters is available now for the iPhone, iPad and iPod Touch for the low cost of $1.99 – and we promise, your screen will stay scratch and dent free.

Play Modes: Classic Mode and Practice Mode (1-4 players)
Features: Leaderboards, replays
Requirements: Compatible with iPhone, iPad and iPod Touch. Requires OS 3.0.0 or later

*************REVIEWS**************
The critics agree that iQuarters is a hit! Here's a small sample of some of the positive reviews.

"...Incredible Technologies' iQuarters ($1.99) comes off as a pretty fun iPhone game, whether or not you're a fan of the game, or even if you've ever played it before." "There was clearly a good deal of effort put into iQuarters, and it shows in every aspect of this quality game." --appolicious advisor

"The graphics and physics in iQuarters make it so much fun and realistic. The 12 different scenes keep the game buzzing, and the trick shots add that extra bit of flavor. I think that iQuarters is an excellent example of iPad application development, and it is perfect to play anytime." --iPhone Footprint

"iQuarters could easily be a new source of boasting for competitive friends, but even as a casual time-waster it's a tonne of fun thanks to the relaxed physics that allow you to attempt wild shots." --App Spy

"I have been surprised to how often I've been coming back to iQuarters again and again in an attempt to beat my previous scores and with that kind of addiction they must be doing something right! At just $1.99 for a multi-device app that is both fun and addictive you can't go wrong..." --Touch Reviews


Follow iQuarters across the Internet!

Website: http://www.itmobileentertainment.com

Blog: http://blog.itmobileentertainment.com

Twitter: http://twitter.com/ITmeApps

Facebook: http://www.facebook.com/ITmeApps

YouTube: http://www.youtube.com/ITmeApps
Optimized for performance and faster game play ** Reduced file size for 3G Downloads ** New identifiable game icon and title screen
Ratings and Reviews
Quarters without Getting drunk
I have played Quarters at college parties and had to chug some nasty stuff. Also there was always a potential disaster for initiations or just bad players. Finally a game I loved and was great at with no negative results. The game is awesome and the trick bounce factor teamed with replay of your shots makes this a rightfully much more expensive app due to the graphics, perfect flick dynamics and pure fun. Anyone who has negative associations tied to "Quarters" being a drunken harsh game for party animals; should erase that/those invalid truths to this app and give it a try (male and females). You will love it. I am hoping that you guys will offer expansion pacs and upgrade for more scenarios. I would buy them all.
It's alright
It's ok but not really worth 2 bucks. Fun for a few minutes, don't know if I'll go back to it again after the first time playing. Some time it's difficult to flick the coin far enough to where you want it to go. You should spend your money somewhere else unless you are either really bored or have money to spend from a new gift card.
Very Good
iQuarters isn't a drinking game, you flick quarters into glasses and get more points if you do trick shots off of other objects. This is very fun to play, but I would like to see more levels.
Information
Seller

Incredible Technologies

Size

20.7 MB

Category

Compatibility

Requires iOS 3.0 or later. Compatible with iPhone, iPad, and iPod touch.

Age Rating

Rated 4+

Copyright

© Incredible Technologies Inc. All rights reserved.

Price

$1.99
Supports
Family Sharing

With Family Sharing set up, up to six family members can use this app.