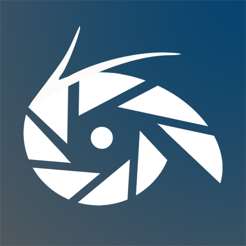 Iris Photo Suite for iPad
4+
Description
****************
Special Sale to Celebrate launch of Laminar!
http://itunes.apple.com/us/app/laminar/id477581818?ls=1&mt=8
****************
Iris provides iPhoneography enthusiasts with a complete set of tools to quickly add life and emotions into their images. It offers complete set of tools needed to edit your images on the go. From filters and textures, to histograms and layers; it has something for everyone!

Iris offers over 72 filters and textures, 9 automatic adjustment modes to add life into your images on click of a button, Complete Histogram controls, shadows/highlights correction, horizon correction, color balance adjustment, complete layers and masking controls.

For sample Images edited with Iris, checkout our group on Flickr:
http://www.flickr.com/groups/irisphotosuite/
http://ventessa.com

Why should you pick Iris?
✔ Live Preview of filters as you make adjustments. See the changes live as you move the sliders!
✔ 70 effects and textures, to instantly add emotions to your images.
✔ Easiest implementation of selective desaturation(Color Splash) effect. Just select a color using a slider and Iris automatically renders the image to give that effect. Also features sophisticated algorithms to replace colors in your images.
✔ Layers!!! Whether its combining multiple images, or doing double exposure, do it all with ease!
✔ Offers the same simplicity and power that you get with you favorite Image Editing Suite on your mac/PC.
✔State of art automatic image correction, with "Magic Touch" add life to images will dull or bad lighting.
✔ Noise Reduction, and ability reduce individual channel noise.
✔ Add text annotations to your images.
✔ Max Supported Output Resolution on iPad 1: 3264*2448 to 2592*1944;
✔ Max Supported Output Resolution on iPad 2: 3648*2736 to 3072*2304

Whats new in the iPad version?
=> A complete new and redesigned UI.
=> Layers have been given a major reavamp, now the blend image can be resized and positioned over the base image.
=> Strength for every filter can be edited.
=> 23 new effects including: New Ultra Realistic Comic Sketch Effect !! (check out the screenshot below), Diffused Glow, Mosaic , Clouds, Vintage Print, Instant Print, Pinhole Camera, Parchment etc.
=> Text annotations.
=> Images are saved with their Exif information preserved.
=> 9 Quick AutoAdjustment functions.
=> Noise Reduction Feature Added. Ability to individually reduce individual channel noise.
=> Editable Opacity in the Mask Feature.
=> Motion Blur Filter Added.
NOTE: Universal Support for the App would also be added in the coming release.
Bug Fixes: Fixed causing crash with Blur.
Fixed the issue with the strength of Fx Filters.
Other Performance & Bug Fixes.
>>Opacity Option Available for Text.
>>Layers, has the option to select the size of destination Image after Blend, as in the iPhone Version.
>>Added Masking options. Ability to define Image Mask, & and invert mask.

Ratings and Reviews
Fine Editor, some quirks
This app has a lot to offer with some cool effects and filters. I also own Laminar Pro on the iPad and iPhone, the successors of Iris Photo Suite, they have some of the same features, but this has some effects and features they do not have.

One thing I like to do is resize photos larger, and this app can accomplish that, but what is weird is that Iris scales down larger images when imported. However if you remember to you can resize back up again before applying effects. So you could import an image 2000 x 1500, resize it to 4000 x 3000, and once saved, other image editors will recognize it as 4000 x 3000. But if you re-import the image again in Iris to apply more edits, it imports it in at a lower res, and if you save, it now saves at the lower res. But if you remember to resize back up again to 4000 x 3000, it will save it again at 4000 x 3000. If it just could import at the true resolution without down scaling it would be more fun.

Further related weirdness, Laminar Pro for the iPad can import large images without downscaling but then only downsize images upon exporting, however the iPhone version of Laminar can import large and both upsize and downsize images. Between the lot of them, you can upsize and apply great effects :)
Wish I could use it in landscape mode
This app seems like it can do many things, however the UI is NOT intuitive. It takes awhile to figure things out with the small, unattractive buttons that do not always have apparent uses. I also do not like that when you make adjustments to the photo, all you see is a very small sample of the photo rather than the photo itself. I do like the way you see how a filter will look on a specific photo all at once, rather than trying each one separately. I hate using apps in portrait mode and would really like the opportunity to turn the app in any direction. Not my favorite all-around photo editing app, but it could be much better with a few simple (but elegant) changes to the UI.
Not working properly
I'm very disappointed with this app's performance! I had to install it and reinstall it numerous times and it still does NOT work properly on my iPad 3. It freezes and glitches on me 99%. Masking tools do not work, unless I apply the full effect( filter) on my entire picture. Sometimes during saving into the camera roll, processing goes on forever and then the app shots down. Very often, as I'm trying to render my photo, the whole screen starts shaking( it only happens with this app). I think the developer needs to revisit this app to fix bugs!!!
Information
Seller

Rakesh Kapoor

Size

18 MB

Category

Compatibility

Requires iOS 4.2 or later. Compatible with iPad.

Age Rating

Rated 4+

Copyright

© Pranav Kapoor

Price

Free
Supports
Family Sharing

With Family Sharing set up, up to six family members can use this app.