Is it dark outside?
De Dirk Malorny
Abre iTunes para comprar y descargar Apps.
Descripción
Based on your current location and time zone, this App determines, if it is dark outside or not.

Additional, the current position, date, time and times of todays sunrise and sunset are shown.

Works with iPhone, iPod touch and iPad.

Information for blind users:
If you have VoiceOver enabled, you just have to tap the middle of the screen after launching the app, to hear "YES" or "NO"
Novedades de la versión 4.0
Is it dark outside?
Now on your Apple Watch!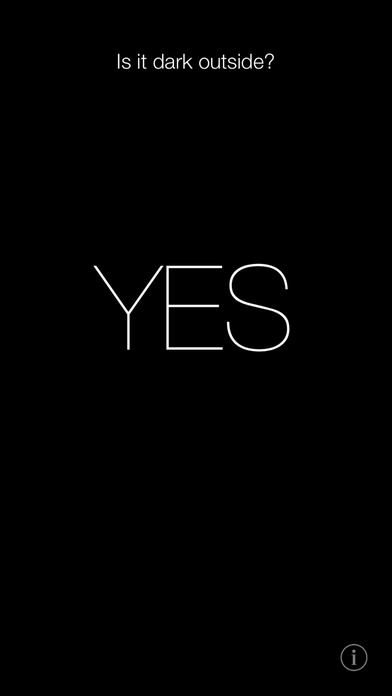 Reseñas de usuarios
A designing marvel
This app in no way disappointed me, as it really couldn't have. It advertises that it will tell you whether or not it is dark and it does that with remarkable accuracy. Ive had the app for a few days now and it has not once been wrong. Ive even had the app open while watching the sun set to see exactly when it changed from no to yes, which it did right on schedule. There are no extra bells and whistles that take away from the app's original founding idea. It's a common idea among engineers and designers: the more complicated something is, the more possible problems there can be. This app is quintessentially as simple as it can possibly be, so really only one thing can imaginably ever go wrong, and since the creators only have to focus on that one thing, it virtually never happens. This app did not make me laugh; I did not download it as a joke. In seriousness, this is undeniably a well built app that works as advertised better than any app I've ever seen.
It's actually not funny.
Ok so we all know this app is terrible, in multiple ways. First of all there's the concept. Marketed toward morons, it provides great utility for the average blind developmentally impaired cave fish. I don't feel bad about downloading it (which I did solely to write this review) because the ads don't even work! That's right folks, instead of an iAd, you get the nice "Welcome to iAd" banner displayed when an inept developer makes a trending app with the knowledge of a single, incorrect Stack Overflow post. Not that I'm complaining, because anyone who gives the developer the idea that his app is worthy is helping tell a colossal lie. But, you say, it's a good joke, and trends aren't dictated by quality. Certainly! But there are also millions of developers who work hard to make quality apps. Thanks to a poor search algorithm and all the five-star reviewers' support, this piece of garbage trends instead of a great, thoughtful app by some actually knowledgable developer who's struggling to make a living. So go ahead, rate it 10/10 (with only 5 stars) and joke about how great it is. Just know that thanks to you, another idiot who followed an internet tutorial is now more successful than someone who actually deserves success.
My life now.
Well to first off start this review I would like to explain how I now have split my life time. It is almost like the conventional system of B.C and B.C.E. And yes I am comparing the birth of Christ to the app. So This is how I have split my life B.I.I.D.O.(before is it dark outside) and A.I.I.D.O.(after is it dark outside). Yes it has really changed my life that much. I know my place in this world. I am no longer a slave to the old human hassle of being unable to determine if it is dark outside. It has all changed. I can now actually know if it is dark, I can define dark... I am dark, except when it's light. So when the average man asks me if I should download this app, I say a simple "yes". As not to confuse this person who's mental capacity is being taken up by determining if it is light or dark, I don't want to startle them. There mind will be free now because of this app and the true meaning of life can be reached.
Ver en iTunes
Esta App esta diseñada para el iPhone y el iPad
Ofrece la app para Apple Watch para iPhone
Gratis

Categoría:

Entretenimiento

Actualizado :

17/06/2015

Versión:

4.0

Tamaño:

1.1 MB

Apple Watch:

Sí

Idioma:

Inglés

Vendedor:

Dirk Malorny
Compatibilidad: Requiere iOS 6.0 o posterior. Compatible con iPhone, iPad y iPod touch.
Top compras dentro de la app
Remove ads$0.99