iScreensaver Personal 4
By Xochi Media Inc.
Open the Mac App Store to buy and download apps.
Description
The only way to mix movies and photos in one screensaver.

Make a personal screen saver for your Mac using your own audio-visual content: movies, photos, and music. Full control over sequencing, timing, and motion effects. Add styled text captions and translucent image overlays. Active screensavers may be paused or muted, and offer full navigation via a heads-up-display (HUD). Integrates with iTunes and iPhoto, and iPhone media.

Features:
* Builds a true Mac OS X Cocoa Screen Saver (.saver) bundle file.
* Handles most media types, including movies, flash, images, and audio files.
* All media files, captions, and image overlays are copied into the screensaver - this gives complete artistic control. The screensaver is only updated if you - the author - decide to change it.
* Built-in HUD allows full keyboard and visual navigation while running the screensaver: pause, rewind, and skip from image to image, which is great for giving demonstrations of photos and movies. The HUD can be disabled if the more traditional "mouse move, click, or keypress to exit" controls are preferred.
* Screensavers can play back on multiple screens.
* Shuffle, loop, repeat, and "first item first" settings allow fine control over the order of assets. Sequence position and shuffle order is remembered across runs of the screensaver.
* Customize image OpenGL effects, including fast rotation and movement in the X,Y, and Z axes. Twirl your way towards Freedom! ...or turn motion off altogether.
* Personal iScreensaver projects (.isc) are fully compatible with the multi-platform iScreensaver Designer.

Limitations:
* iScreensaver Personal creates personal, non-commercial screensavers for computers connected with this Mac App Store account.
* If the .saver is copied to other computers, the screensaver will still function, but images and movies will be watermarked with a small overlay saying "Created with iScreensaver".

Known Issues:
* Building the screensaver to a location other than ~/Library/Screen Savers will sometimes cause Mac OS X to not properly select it when opening the file. If this happens, first close System Preferences (if open). Then, open System Preferences, click the Screen Saver control, scroll down to the "Other" section, and select your Screen Saver by name.
* Non-standard-sized video files or codecs may cause the screen saver to exit. If this happens, the solution is to open the movie in QuickTime and re-export it to a new movie file.
What's New in Version 4.5.0
Bug Fixes.
Screenshots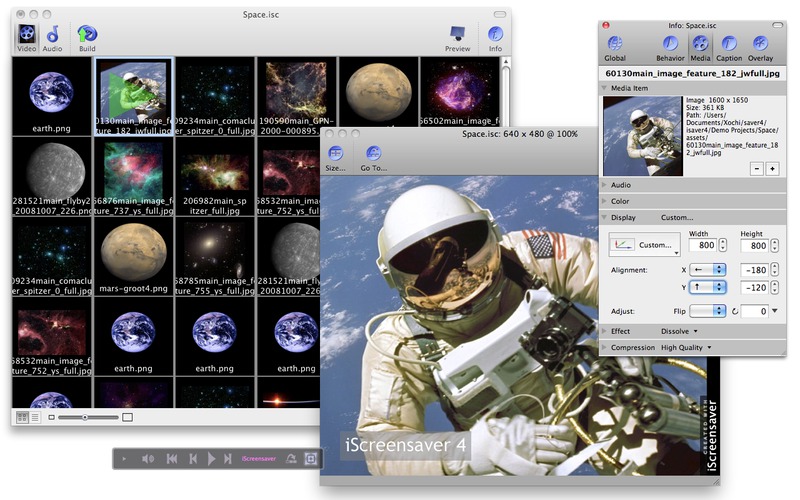 Customer Reviews
lacks the Mac
I just updated to latest version hoping that it had solved the picture quality problem. It has not. I don't know much about the technical aspects of displaying pictures on a computer but my mac screensaver displays my pictures way better than any of my old pc's ever did. I run the same pictures through this screensaver and the picture quality is not the same as when I run the mac screensaver so I don't use it.

All I want is the ability to pause and page back through the pictures that have displayed; mostly for when someone asks about a particular picture. Unbelievable to me that the delivered mac screensaver does NOT allow that. While checking out the screensaver options today in the App Store I read that under the new mtn lion, the screensaver won't even pick up subdirectories. Glad I haven't upgraded. I have thousands of pictures in my screensaver and to me it is an important part of my room decor.

gphotoshow is the best screensaver I've ever used or seen but it does not have a mac version.
Unique and powerful program.
As far as I can tell, there is nothing else like it. I'm using it to create educational screen savers for a medical office. Very versatile and just what I need. The authors are working on a new update with new features and are very helpful if you run into trouble.

I had issues with a crash as result of the prefs automatically loading my iPhoto library. Turning that off solved my problem and they are trouble shooting that issue in the meantime. I give it 4 stars only because its a little dated and should be better when they do their re-write. Some additional global settings would make it just a bit easier for my application as well, but it can create a very nice presentation, with some time and effort.

Give it a try and contact them if you run into any issues. Good people who deserve your support.
Just what I wanted
I have a "boring" five-minute movie of my son at for months old laying on a baby blanket – not yet able to roll over. I thought this would be an amusing screensaver (I was kinda right), and I figured I would use this software again and again if it worked. It does. The first screensaver I made crashed a couple of times, but I re-built the screensaver and it runs well. The software has a lot of options that are not immediately obvious (I found options for everything I saw complaints about in other reviews of this version), and you won't have beautiful full-screen resolution if you start off with low resolution images/movies, but it's a cool little thing. I'll probably make some demos for professional usage later. Neat!
View in Mac App Store
$4.99

Category:

Utilities

Updated:

Jul 19, 2012

Version:

4.5.0

Size:

12.6 MB

Language:

English

Seller:

Xochimedia Inc.
Compatibility: OS X 10.6.6 or later