iScreensaver Personal 4
By Xochi Media Inc.
Open the Mac App Store to buy and download apps.
Description
The only way to mix movies and photos in one screensaver.

Make a personal screen saver for your Mac using your own audio-visual content: movies, photos, and music. Full control over sequencing, timing, and motion effects. Add styled text captions and translucent image overlays. Active screensavers may be paused or muted, and offer full navigation via a heads-up-display (HUD). Integrates with iTunes and iPhoto, and iPhone media.

Features:
* Builds a true Mac OS X Cocoa Screen Saver (.saver) bundle file.
* Handles most media types, including movies, flash, images, and audio files.
* All media files, captions, and image overlays are copied into the screensaver - this gives complete artistic control. The screensaver is only updated if you - the author - decide to change it.
* Built-in HUD allows full keyboard and visual navigation while running the screensaver: pause, rewind, and skip from image to image, which is great for giving demonstrations of photos and movies. The HUD can be disabled if the more traditional "mouse move, click, or keypress to exit" controls are preferred.
* Screensavers can play back on multiple screens.
* Shuffle, loop, repeat, and "first item first" settings allow fine control over the order of assets. Sequence position and shuffle order is remembered across runs of the screensaver.
* Customize image OpenGL effects, including fast rotation and movement in the X,Y, and Z axes. Twirl your way towards Freedom! ...or turn motion off altogether.
* Personal iScreensaver projects (.isc) are fully compatible with the multi-platform iScreensaver Designer.

Limitations:
* iScreensaver Personal creates personal, non-commercial screensavers for computers connected with this Mac App Store account.
* If the .saver is copied to other computers, the screensaver will still function, but images and movies will be watermarked with a small overlay saying "Created with iScreensaver".

Known Issues:
* Building the screensaver to a location other than ~/Library/Screen Savers will sometimes cause Mac OS X to not properly select it when opening the file. If this happens, first close System Preferences (if open). Then, open System Preferences, click the Screen Saver control, scroll down to the "Other" section, and select your Screen Saver by name.
* Non-standard-sized video files or codecs may cause the screen saver to exit. If this happens, the solution is to open the movie in QuickTime and re-export it to a new movie file.
What's New in Version 4.5.0
Bug Fixes.
Screenshots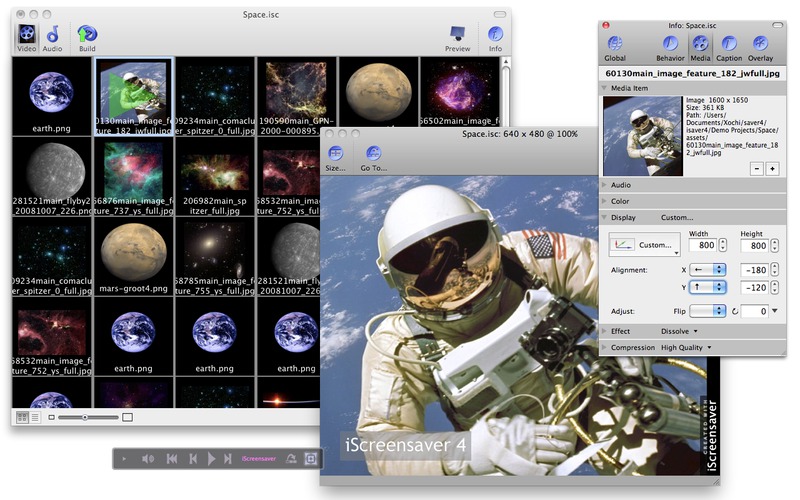 Customer Reviews
lacks the Mac
I just updated to latest version hoping that it had solved the picture quality problem. It has not. I don't know much about the technical aspects of displaying pictures on a computer but my mac screensaver displays my pictures way better than any of my old pc's ever did. I run the same pictures through this screensaver and the picture quality is not the same as when I run the mac screensaver so I don't use it.

All I want is the ability to pause and page back through the pictures that have displayed; mostly for when someone asks about a particular picture. Unbelievable to me that the delivered mac screensaver does NOT allow that. While checking out the screensaver options today in the App Store I read that under the new mtn lion, the screensaver won't even pick up subdirectories. Glad I haven't upgraded. I have thousands of pictures in my screensaver and to me it is an important part of my room decor.

gphotoshow is the best screensaver I've ever used or seen but it does not have a mac version.
does the job quickly
I have hundreds of family videos that are NEVER watched. This tool provides a great way to *quickly* create a big screen saver with dozens of videos that can be viewed randomly. Its simple and does the job quickly. Very much worth the $5
Nice and simple
Just bought this and it was well worth the price. Easy to use and quick to create screensavers.
View in Mac App Store
$4.99

Category:

Utilities

Updated:

Jul 19, 2012

Version:

4.5.0

Size:

12.5 MB

Language:

English

Seller:

Xochimedia Inc.
Compatibility: OS X 10.6.6 or later