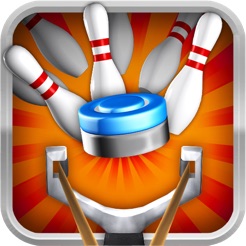 iShuffle Bowling 2
4+
$2.99
Offers In-App Purchases
Description
★★★★★
#1 iPhone Overall Top Free on Italia
#1 iPad Overall Free on Singapore
#1 iPad Overall Free on Russia
#1 iPad Overall Free on Malaysia
#1 iPad Overall Free on Hungary
#1 iPad Overall Free on Romania
#1 iPad Overall Free on Czech Republic
★★★★★
Do you like to play bowling? Are you tired of playing traditional bowling?

iShuffle Bowling 2 will present you a totally bowling world.

Play bowling by mean of shuffle board, you can play single or challenge with your friends!

Fly mode newly added, shoot Pucks with slingshot, and enjoy endless fun!

Challenge different levels, shoot out Pucks technically you can win all!


Features:
* Gorgeous 3D graphics.
* High-resolution graphics for iPhone 4 and iPad.
* True and accurate 3D physical
* Crowd reaction, real-time results reflection.
* Simple controls, but challenging.
* Bowling scores statistics.

Shuffle Play:
* Parallel move Pucks at the bottom of the screen
* Change the shooting angle freely
* Draw up lightly to shoot out the Pucks
* Hit down as many Pucks as possible
* Score automatically accumulate
* When two player mode, it will divide into red and blue Pucks

Fly Mode:
* Pull down the slingshot to shoot, more down, more force
* Changed launch angle to the best shoot direction
* Bounce your finger to shoot out the Pucks
* Hit more bowling pins as much as possible
* Score automatically statistic
* 2 Players mode, it will divide into red and blue Pucks

Fancy Play:
* 3 Pucks available for each stage, you have 3 chances to hit down all bowling pins
* New stage starts when all pins down
* If any fail by 3 Pucks, the stage restarts
* Less Puck, more stars
* Try to get more stars in each stage

Special Props:
* Gold bowling pins: can buy some special props, such as, other pucks or bowling pins
* Bomb: one only, can hit down all bowling pins
* Key: can open treasure box that hide unexpected gifts.

In-App Purchase features
* you can buy gold pins to exchange pucks and bowling balls.

* you can buy bomb to make stages passing more smoothly.
* you can buy keys to open treasure boxs which with unexpectable surprises.
* you can unlock levels,of course you can aslo unlock with stars.
Ratings and Reviews
Bad controls, worse music
Like more then a few people who will try this game I was familiar with iShuffle Bowl from its original IOS incarnation and though visually this is a decent translation, the trackpad controls are horrible. You're supposed to swipe foward on the trackpad (a mouse will not work) to determine the speed and angle of the puck but something is definately wrong here, the puck rarely goes in the direction I swipe and sometimes I have to swipe 2 or 3 times to get the puck to move at all. This makes the game almost impossible to play and not worth the time with the controls this way. Not to lay it on too thick with the complaints, but the music choice is just plain irritating; if you decide to try it you'll see what I mean. I would say that this game is definately a good idea, and works fine visually but needs the controls fixed to be even playable.
Marye Ann
I really enjoy this game. It took a little getting used to at first but after I got the hang of of it I really had fun with it. A very entertaining and fun way to spend a couple hours on a weekend.
way out of control
I managed to figure out the controls but there still not good. The pin goes all over the place, which makes me not scrore well at all.
Information
Seller

Bakumens Inc

Size

13 MB

Category

Age Rating

Rated 4+

Copyright

© Bakumens Inc.

Price

$2.99
Supports
Family Sharing

With Family Sharing set up, up to six family members can use this app.