iStudiez Pro
By iStudiez Team
Open the Mac App Store to buy and download apps.
Description
A student's life is a dizzying mix of activity and just plain craziness! Take charge of your schedule and put iStudiez Pro to work for you! Take advantage of iStudiez Pro easy navigation and never miss another course, lecture and lab, track tasks and deadlines, plan homework, arrange assignments and much more!

- Are you a student surviving high school, college or university epoch?
- Are you a teacher aiming to track down all the courses and classes you lead?
- Are you a parent trying to take care of your kids and to catch up while they are in elementary?

Then iStudiez Pro is for you!

***************************

Once you start using the app you will immediately want nothing else to be the tool to arrange all your schedule and homework once and for good. Read below and find out why iStudiez Pro would be the most efficient app on your device!

KEY FEATURE: CLOUD SYNC!
Mac version syncs with iStudiez Pro on iPhone/iPod Touch and iPad.

With iStudiez Pro you can easily…


...ORGANIZE YOUR SCHEDULE

Unique built-in planner lets you input and easy manage all types of schedules including classic, alternating (A & B weeks), rotating and block schedule.
Not only you can enter most common course details, but also add instructors with all related information such as office hours, affiliation, phone number and email address. As well you are welcome to add holiday periods and even cancel separate classes in case of outstanding events.
In addition, you are supplied with an expanded set of icons designed especially for iStudiez Pro to mark your class types and extracurricular activities. Color labels are available for your convenience to mark each particular course.


...FOLLOW UP WITH YOUR HOMEWORK

Special section is dedicated to keep track of your homework and assignments. Whatever is the way you are used to manage your tasks, you will find it all in iStudiez Pro. Either you want to organize your assignments by date or by course or by priority or sort them into pending and completed, you have all options at your hand.
Sometimes you might have group work, so it is envisaged that you can add a partner to any of your assignments (either choose from contacts or create a new contact right inside the app).


...STAY UPDATED

Once your schedule is added, the summary of current classes and tasks is automatically reflected in Overview.
You'll see list of events and assignments including all details such as event type, location, time left, class instructor, number of tasks pending and what's next on schedule.
Courses reflected in Overview are easily modifiable in each and every detail.


...TRACK YOUR GRADE/GPA

This option is based on assignments (support of weighted/non-weighted assignments), and GPA calculator is available both for current and past semesters. Support of most world used grading scales (letter grades, percents, points).


Follow us in Twitter (@istudiez) or Facebook to stay updated of our news.
What's New in Version 1.3
• Refined and fresh interface now looks organic on OS X Yosemite
• Nicely rearranged Planner:
◦ Separate areas for course assignments and grades
◦ Overall GPA value moved to Planner pane
• Today widget added
• The app now launches much faster to ease your impatience.
Screenshots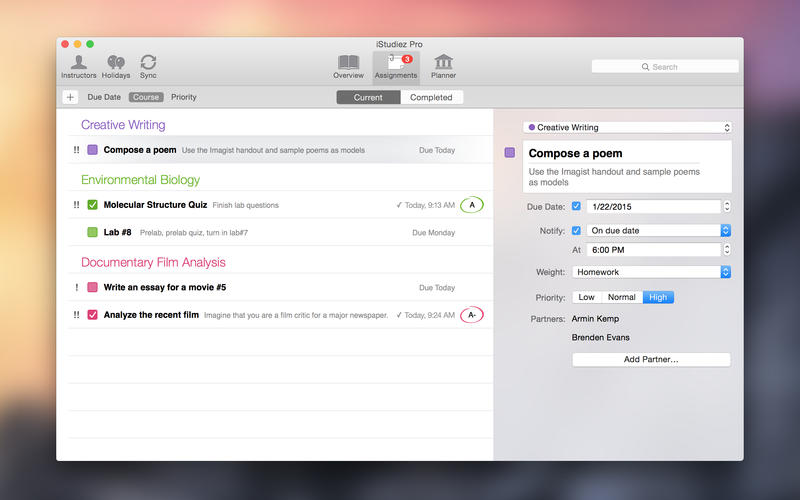 Customer Reviews
Best student app ever!
I have used iStudiez Pro since I started college, which was three years ago. It's been the best choice I've ever made. To have one app to track classes, assignments, exams, and grades definitely helps get your academic life organized. They have a lot of flexibility, including online classes and different grading systems. Sync with iOS devices just works and is up almost 100% of the time (I know it's hard to keep a server running literally ALL the time), which makes the app even better if you have the iOS version too.
With every update, the app keeps getting better. The Yosemite-style interface definitely matches what is expected, with the exact amount of vibrancy in the Overview, Assignments, and Planner panes. Also, the new semester stats page is just amazing! The Today widget is very useful and can easily replace the Calendar one, as iStudiez can also pull events from your iCloud account. This update should have been version 2.0 with the new interface and new features.
Extensive and Well-Designed
This is a truly excellent application for students. It is packed with many helpful features and is relatively intuitive and easy to use. The design is also top-notch and pleasing to the eye. The customizability and integration with OS X of this app make it a true standout and highly recommended for anyone looking for a way to keep track of their assignments, grades, schedule, and more.

On the downside, the app could offer a bit more customization when it comes to the weightings of a given class' grading system. In addition, and this is a very important and simple fix, some of the app is not yet optimized for the Retina Display, which diminishes what is otherwise a beautiful and fluid user interface.

Overall, though, one would be hard-pressed to find a more extensive application of this kind right now (even if there's room for improvement), and if the inconsistent optimization of the interface isn't a concern, this app comes highly recommended.
Great app! Highly recommend.
This is a great app. I've been using it for nearly a year now and love the way it organizes my assignments and tracks my classes. The ways to improve the software would be (in order of importance to me):

(1) Increase the limit of characters in the Assignment Description box because I hit it almost every time, and perhaps add basic formatting (B/I/U).
(2) Allow users to have different schools/semesters/courses that have separate GPAs and grouped views in the Assignments tab.
(3) In Notification Center, allow me to show my Assignments, and/or my Schedule. My school is all online so assignments are more important to see than classes.
(3) Add a way to attach files (or at least allow clickable URLs to documents on your computer or online—like Dropbox or Evernote).
(4) Allow iCloud sync (if they don't want users to attach files because it will fill up their own servers).
(5) Allow users to upload their own icons or provide more icons for purchase. I will pay!
(6) Allow drag and drop scheduling. Not required but would speed up the scheduling process.

Outside of that their calendar syncing, assignment tracking, grade tracking, and holiday schedule shifting are fantastic.
View in Mac App Store
$9.99

Category:

Productivity

Updated:

Feb 03, 2015

Version:

1.3

Size:

65.4 MB

Languages:

English, Arabic, Catalan, Chinese, Czech, Danish, Dutch, Finnish, French, German, Greek, Hebrew, Hungarian, Italian, Japanese, Korean, Latvian, Norwegian, Polish, Portuguese, Romanian, Russian, Slovak, Spanish, Swedish, Turkish, Ukrainian

Seller:

Enfiero Incorporated
Compatibility: OS X 10.7 or later