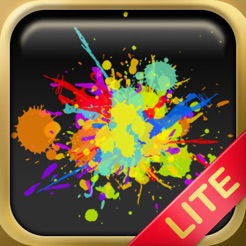 Description
=== This app is not compatible with iOS5.x ===



This is a fun little app to stamp images on your photo.



Throw paint balls to your friend's picture,

put hearts and kiss marks around your beloved,

or put fingerprints or mustache on your boss / teacher.



FEATURES:

- 7 different animated stamps

- 5 frames

- Cool sound effects

- Shake to restore



DISCLAIMER:

- Your stamping is limited to approx 10 times. Shake to start over!

- All animation effects (including the broken glass effects) will be presented beneath the picture frame.

- Switching between stamp selection will erase all previously stamped images. Save your image by pressing POWER & HOME buttons simultaneously.

- Make sure to turn on the volume and disable vibration mode for maximum performance.

- The full version of iSurprise, featuring full-screen LCD cracking animation, is currently unavailable from the AppStore due to Apple's policy. Read our blog for the full details.





FEATURED APPS FROM VANILLA BREEZE:

- i-Gun : The ultimate gun simulation app with realistic sound & animation! Extremely fun & engaging!

- Roach Madness : The best time-passing, stress-killing, buggy-squeegee, yucky-ooey app in the AppStore!

- iSurprise Lite : Throw paint balls, put hearts and kiss marks on your photo!

- Sonic Insect Repeller : Get rid of annoying mosquitoes around you! Works with your music in the background!

- iSpace 3D : Submerge yourself in the galaxy, and explore the space in real 3D environment!



OTHER APPS FROM VANILLA BREEZE:

- Entertainment : i-Gun, Fun Scanner, Mental Age, iDynamite, iNeedle, Afterlife, Fingering Cat - Maneki Neko, iHeartbeat, Mental Age, Scouter

- Utilities : Anti Mosquito Pro - Sonic Insect Repeller, Hypnotized, Ruler Deluxe, Banner Deluxe, No Kids Allowed, iMassager, Flashlight RGB

- Game : Flock Away, Roach Madness, Show Me the Money, Pong x Pong, Chicken Crossing

- Music : Pocket DJ

- Photography : iSurprise Lite

- Finance : Big Button Calculator, Dual Calculator

- Healthcare : Anti-Depress, iMojo, iCaffeine, iSleedAid, iAspirin, iPainkiller

- Education : 101 Fun Cards, SAT Math Prep

- Reference : Crossword Cheat
Ratings and Reviews
Hey look
So stupid u only get a a few think I mean u get a lot of stuff but u have to stop at one point run save your self don't get it trust me I am 9 and I hate it but if u want a good app get volt it is fun I scared the cr. out of her super funny and the good reviews they are the people who made it or people who never got it and thought it looked good so they wrote a good review and if you get the app you will be wrighting this so you know DON'T GET THE APP!!!!!!!
Good
This app is good but the only bad part is the ads but try to ignore and it doesn't matter if it's good or bad you can just try it cause it's free
Lie in desc.
This totally works with iOS 5.1 I have it and it totally works
Information
Seller

Vanilla Breeze Co., Ltd.

Size

4.2 MB

Category

Compatibility

Requires iOS 4.3 or later. Compatible with iPhone, iPad, and iPod touch.

Age Rating

Rated 4+

Copyright

© 2011 Appsnu

Price

Free
Supports
Family Sharing

With Family Sharing set up, up to six family members can use this app.