iTranslate - translator & dictionary
By iTranslate
Editors' Choice
Open the Mac App Store to buy and download apps.
Description
iTranslate, the most popular translator tool on the App Store, now also on your Mac.

iTranslate for Mac puts 90+ languages at your fingertips. It is designed as a status bar app that is always just one click or keystroke away to help you solve any translation problem.

90+ LANGUAGES
With iTranslate you can translate words, phrases, and text in over 90 languages.

VOICE OUTPUT
Ever wanted to know what an Australian English female sounds like? With iTranslate you can select between lots of different dialects, choose a male or female voice, and even control the speech rate.

DICTIONARIES
Most translator apps give you only 1 result per translation. However, if you are translating words and phrases there are often different meanings, depending on the context. iTranslate gives you dictionaries for many languages so you can find the exact solution to your problem.

ROMANIZATION
Romanization lets you turn "你好" into "Nǐ hǎo", transforming non-Latin languages into Latin characters. Available for many languages including Chinese, Japanese, Korean, Greek, Hindi, Russian, and Thai.

TYPE FASTER
iTranslate is optimized for fast text input. Open the App with a customizable keystroke, get suggestions while you're typing and quickly switch between languages.

iTranslate is available for a wide range of platforms and devices. Visit our website to learn more about iTranslate: http://www.itranslate.com

Please note: iTranslate requires an Internet connection.
What's New in Version 1.4.0
- Now with Speaker Output for both language fields
- Performance and reliability improvements

If you like iTranslate, would you mind taking a moment to write a nice review on the App Store? We'd greatly appreciate it. Thanks for using iTranslate!
Screenshots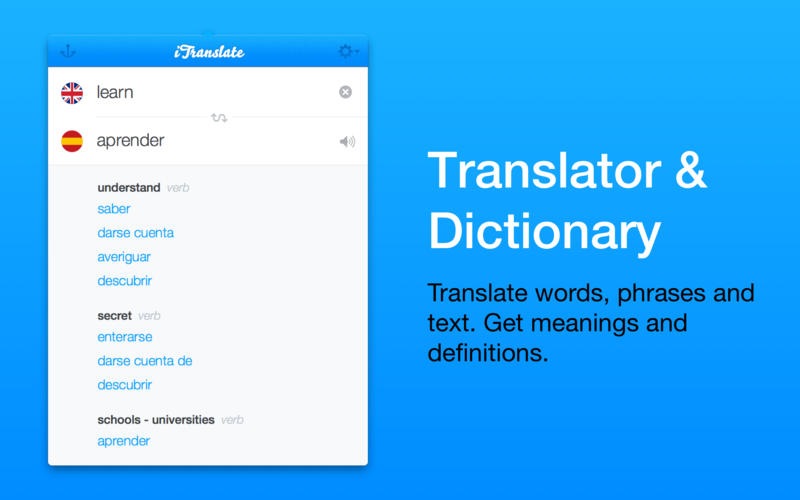 Customer Reviews
I've just about given up with this app
Yet another update and this app is STILL stuck in the menubar. As per my original review (see below), this has been a problem for more than two years and the developers clearly aren't listening/don't care. This app needs to leave the menubar and become a normal app with a normal window in order to be actually functional. Honestly, I've waited long enough…I'm gong to just find an alternative translator.

So I first reviewed this app about two years ago when it came out, and I can't believe I'm still writing about the same glaring issue; it *only* lives in the menubar. This is a big issue for those of us with small screened Macs, as our menubars can get way too crowded. However, it also means that you can only paste so much text in its tiny pop-down window, making it a problem for power users who need to paste a lot of text. Even their iPad app lets you paste more text than this one. Plus, having it not in the dock is less convenient when switching between open windows (if using, say, Mission Control), and clearly confuses some users when they click the iTranslate app icon in Launchpad and seemingly nothing happens when they don't notice a new icon being added to their menubar. This was my own classmate's issue when she told me her translate app wasn't working; she clicked on the icon in the Launchpad, and seemingly nothing happened. She had no idea that another tiny icon was added to the many occupying the menubar. Having it run as a mini Menubar app should be an option, but definitely not the default to avoid this type of obvious confusion and the other issues outlined above.

So yeah, this app absolutely needs to leave the Menubar for a number of reasons. I've written and tweeted to the developers several times these past two years and have gotten nothing in the way of a response, which is a shame, becaue their iOS apps translate very well. In fact, this app does translate well for the languages I use it for (Spanish, French, and Irish) but the awful usability problems outlined above take away so much from its overall utility. So, suffice to say I'm pretty disappointed that after two years of waiting for this basic improvement, all we got was a generic "bug fixes" update with no acknowledgment of this issue. I really hope these devs are listening but I don't have a lot of faith they are...
does what its made for.
From what I have got out of this app its a good free translator I didnt expect anything really spectacular given the fact that this app is literally just there to translate your sentances or words you insert into the application. Don't expect anything that you would get out of a similar product that you have to pay for, this is a free app and since of the fact its free my standards arent that high when it comes to free apps and especially ones that only serve one function. In this case its so you can translate.

How ever I do find it annoying how its still at the top of the menu bar. I think it should be at the bottom of the menu bar it. I would also like to simply be able to move the interface of the application to different areas of my desktop. Instead all it has is this option to keep it stuck in this one specific location whitch makes no sense to me. but once I do find a better translater that is not expensive I do plan on ditching this one because like others have said the developers have had much time to improve apon this application.

So at the end of the day all that if you dont care that the application can not be moved around and will be stuck on the top of your screen then get it and it should work perfectly fine for you.
Awful dictionary (perhaps only for Russian)
Dear developers, have you ever checked your dictionaries? Russian language support is very poor, many words are being translated incorrectly. For example, french word 'travailler' doesn't mean 'work' as a noun — it's a verb; 'dire' doesn't mean '[they] say' in Russian — it's just '[to] say'. English word 'work' can be noun and verb as the context may require, but it's impossible to choose a certain word class to get a translation of interest (in Russian work-noun and work-verb are different words). And so on, and so on… Good idea, bad implementation. Even for a free app. Trashed.
View in Mac App Store
Free

Category:

Productivity

Updated:

Aug 08, 2016

Version:

1.4.0

Size:

11.6 MB

Languages:

English, Arabic, Danish, Dutch, French, German, Greek, Italian, Japanese, Korean, Norwegian Bokmål, Polish, Portuguese, Russian, Simplified Chinese, Spanish, Swedish, Thai, Traditional Chinese, Turkish

Seller:

iTranslate GmbH
Compatibility: OS X 10.10 or later, 64-bit processor