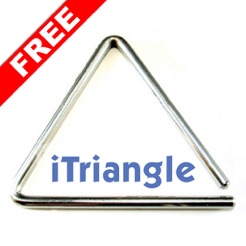 iTriangle Free - The Virtual Triangle Instrument
4+
Free
Offers In-App Purchases
Description
NEW and IMPROVED with iTriangle 2.0! Simply put, iTriangle 2.0 is the most sophisticated virtual triangle instrument available for the iPhone, iPod touch and now iPad!

That's right, iTriangle now supports Apple's magical iPad device as well, featuring a new high-resolution triangle interface! Plus it's a universal binary, so if you own both an iPhone and an iPad, a single iTriangle purchase gives you access to both! Plus it's optimized for the iPhone 4's retina display!

The app's simple interface hides a depth of interaction. You can tap the triangle, you can shake the triangle, but there's more than that!

Depending on what part of the triangle you tap, the chime varies - just like a real triangle!

Want to bring the family home for dinner? Take your finger and quickly circle it around the triangle, and it sounds just like hitting the inside of a real triangle!

Prefer green (or blue, or red, or other primary colors) to a plain white background? Do a two-finger swipe across the background and it changes - plus the app remembers your last color in future uses!

Wonder how many times you've dinged this crazy instrument? Check out the info screen and it will tell you!

iTriangle - a simple interface for a realistic app!

*** This is the FREE ad-supported version of iTriangle! You get the new iPhone/iPad universal binary (including optimizations for iPhone 4!), you get the new ding counter, but it's ad supported. Plus we now have an in-app upgrade available to remove the ads and add full rotation for those who help support the app! ***

---

Ever dream of being part of a band? Wish you lived the rock lifestyle? Looking for hordes of adoring fans? Find that you can't sing or play an instrument but are good at hitting things?

Then iTriangle is for you!

The triangle is perhaps the most overlooked of all percussion instruments, and it's easy to learn! But real-world triangles are big, made of metal, and difficult to take with you everywhere you go. With iTriangle, you can have your very own triangle ready for any musical situation that arises!

iTriangle is great for:

* Playing along with your family of pop superstars
* Calling the kids home for dinner
* Annoying your coworkers
* Showing the world you are the rock god you've always known you can be.

iTriangle! Ding!

*** This is the free ad-supported version of iTriangle ***
Triangle is new and improved with 2.0! Rewritten from the ground up, iTriangle brings you the most exciting experience you can get dinging a virtual metal object on your iPhone (and now iPad!)

New features include:

* Universal binary support, including full-screen optimized iPad compatibility!

* Tired of white? Change the background color by two-finger swiping!

* Just like a real triangle has slightly different sounds based on which side you strike, iTriangle now has a unique chime per side!

* Slide that finger around - iTriangle now chimes each side as you slide your finger from one side of the triangle to another!

* Shake shake shake! Shake that iTriangle to chime all of the sides in sequence!

* The new ding counter tells you how many times you have struck the iTriangle - go for a world record!

* Graphics optimized for iPhone, iPad, and the iPhone 4 with its amazing retina display!

Plus, starting with iTriangle 2.0, you can do an in-app upgrade to iTriangle Plus, which gives you the following:

* Orientation awareness - rotate that triangle to your heart's content!

* Removes ads from application

* A nice warm fuzzy feeling knowing you've helped an iOS developer make fun new apps for you!

New in version 2.03:

* Misc bug fixes
Ratings and Reviews
I think it's pretty clear...
That this app is a triangle. No other features are required. I was surprised it even had changeable backgrounds. I don't get why everyone says "I got this app with high hopes and was disappointed to find that it was only a triangle." honestly? The name is iTriangle. The description explains that it is a triangle. And it's free! How could you say that it's a waste? What, of your time? It takes fifteen seconds to load because it's A TRIANGLE.

Well, enough if my ranting. This app is exactly what I expected, and more. The sound quality and realism is great, and there is no delay. Better yet, free! *****
It's what it says: A Triangle
It honestly sounds bad, basically you just touch the screen and a ding happens, so, it does everything it says, but I mean there is enough technology today to make the Triangle knockback, or do something, and have it so that how how hit it changes the kind of ding, but its a triangle. That's it.
Really cool.
You can jam out to music on the triangle. It seems odd, and sometimes you don't get the beat right, but it is really fun. Get this app!!!!!
Information
Seller

Nolasoft

Size

3.4 MB

Category

Compatibility

Requires iOS 3.0 or later. Compatible with iPhone, iPad, and iPod touch.

Age Rating

Rated 4+

Copyright

© 2010 Nolasoft Development

Price

Free

In-App Purchases

iTriangle Plus Upgrade

$0.99
Supports
Family Sharing

With Family Sharing set up, up to six family members can use this app.