iVBasic Free
By CWP Software
This app is only available on the App Store for iOS devices.
Description
iVBasic Free (Ad supported version of iVB-Beginner)

Ever want to easily create your own iPad Program? Now you can with iVBasic!

You can create and run your very own program, right on your iPad!
iVBasic allows you to create your own user interface, and write the code for it!

We also provide you with an iVBasic Language Reference, so you'll be up and running in no time! (Make sure to check out the "Tips & Tricks" section)

Beginner's Controls are limited to:
Button
Label
Switch
TextField
TextView

For more features, check out iVBasic or iVBasic+DB!

***NOTE***
iVBasic is a limited subset and dialect of the BASIC programming language.
Like most forms of BASIC, iVBasic is not a strongly typed language, and is not case sensitive. Variables can contain any data type.
iPad Screenshots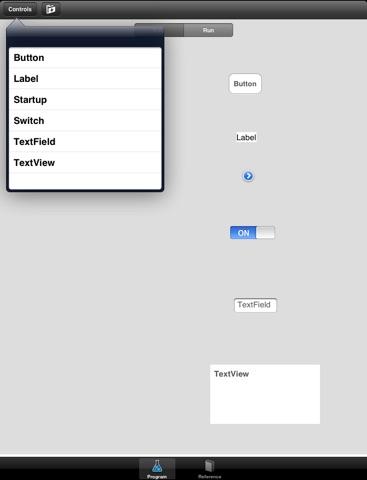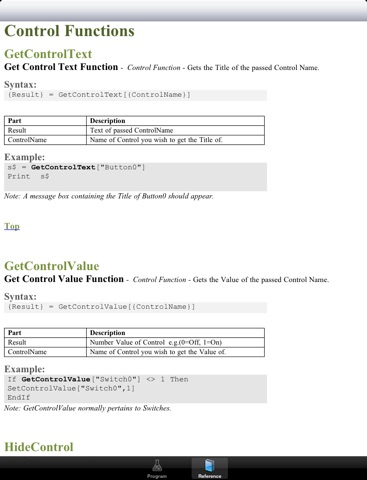 Customer Reviews
It's okay
•it doesn't work like the REAL VB (coding is weird)
•switch doesn't work
•you can't change the size of the controls
•can't do 'If' 'Then' statements

But it is still pretty good to get your brain thinking to do some actual Visual Basic programming.
Great but...
Well, the app is great. But here are some down points/suggestions:

-The switch control doesn't work
-You can't export to an app

That's all! Great otherwise! 4 star!
Great start
I've upgraded to the pro version. Much better and complete. Five stars for it too:

ivBasic is a development environment for building applications. You can build just about anything you can imagine. It has hooks for SQL and a huge tool chest of other controls.

With the new camera controls you can write custom image capture tools.

With the music commands a customized music player is possible.

With SQL interface creating data forms is a snap.

With the voice commands building a talking app is a breeze.

The application has access to your address book so you can import data into your app without having to retype it each time.

The Camera interface opens up so many opportunities for collecting images.

With some effort you can turn your iPad into a data collection device.

I hope to see apple lift some of the constraints that stop developers from making enterprise ready tools. Even with those constraints in this application provides superior features.

Applications I see possible:

In the field Animal Patient Management - Ability to capture photos and record data about specific animals.

Diary Applications - Support writing large amounts of text and including people tags (with address book feature), photos and even playing background music while your filling in your diary.

Games - You may not build a doom clone or an application that has high-action at this time, but you can certainly build games that require thought and decision making. the use of MP3 files, images and buttons you could even create a dungeon crawler.

GPS Tool - build an app that allows you specify a start point, specify an end point and link to an address book content. the next time you select that contact, create the route (Not sure if this one can be done yet).

Tennis Score tracking - actual any data collection about any sport could easily be built into this app. It would even randomly or intelligently build brackets.

Surveys - Easily build surveys with yes/no questions, sliders for number ranges and text entry for more detailed responses.

I'm sure you can do much more than I can imagine!

Old review:
This app has much potential.

I can't wait for the next release!
View in iTunes
Free

Category:

Entertainment

Released:

Jan 04, 2012

Version:

1.0

Size:

1.2 MB

Language:

English

Seller:

Central Telecommunications, Inc.
Compatibility: Requires iOS 3.2.1 or later. Compatible with iPad.
More iPad Apps by CWP Software