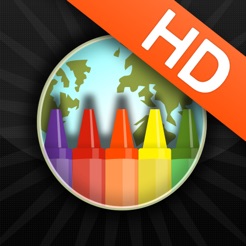 iWallFlower HD - World Art Project - Participate!
12+
Description
iWallFlower is an 'emotional networking' drawing App which lets you 'auto-magically' share doodles and drawings with everyone in the world.



View, Search, Vote for your favorite, Send to friends at www.iWallFlower.com, you'll smile for sure. Amazing artists.



Also check out:

http://www.youtube.com/user/icloseby

**************************************



iWallFlower is both fun and addictive to anyone who enjoys the universal language of art. Turning on iWallFlower will automatically start scrolling fascinating and creative drawings from other iPod touch and iPhone users from arround the world. You watch the drawings being created while a 3-D world globe rotates and pin-points the location of where each new drawing is coming from.

You don't need to draw anything to enjoy iWallFlower, but it is easy to join the fun and add your own drawings to the iWallFlower world. See and compare your creations with other iWallFlower artists from all over the world! Or just view drawings within configured distance around you.



Become an iWallFlower artist with one tap on the big 'Crayon' icon. If you have ever made a drawing on a steamy bathroom mirror, you know enough to use iWallFlower. With iWallFlower you select colors and 'brush' sizes, and you can make ultra-simple doodles in a few seconds, or draw as detailed as you like with fine brush sizes and many colors. Then, when your creation is complete, tap on the submit icon, and your drawing is instantly added to the scrolling display. The moment your drawing is submitted, people from around the world see what you have done, and if your doodle or drawing is liked, you get votes, and with more votes, the more your drawings are displayed..



By watching the constant scrolling of drawings, you start to see the emotions of the people who are sharing this amazing, networked world. iWallFlower will make you smile.



iWallFlower icons and instructions are graphical and iWallFlower is truly a global application!



View, Search, Vote for drawings at www.iWallFlower.com



2.1 Features:

* iWallFlower.com account creation in App

* iWallFlower.com PDF and EMail Links generation of drawings

* Easier UI for Voting anywhere and Navigation

* Background music for drawing

* Ability to reply to a drawing

* New drawing view filters

* Help System Landscape viewing

* See who voted on your drawings

* See all the drawings you have submitted


iPad Support!

Bug Fixes

Indicator for drawing progress

Much improved iWallFlower Universe view






Customer Reviews
Is anyone maintaining this app?
I once gave this 5 *****, however is anyone holding down the fort? I've submitted hundreds of drawings in years past. But not lately. The editors choice has had the same boring pictures looping for the past 5-6 years. I know, cause a bunch are mine. Finally found other drawing apps, but those have become so complicated too. Just want something simple to work with Is that too much to ask for?
Gayla
I'm so disappoint!!! I loved it on my iPhone couldn't be happier, then once I got my iPad I couldn't wait to use it!!! You don't have nearly the control with it as I did on my phone! I even bought a really nice stylest and it didnt help at all!! Really sad!!!
kinda cool
lotsa tremendous doodles by people, i might even try one myself some day
Information
Seller

iCloseBy LLC

Size

5.3 MB

Category

Compatibility

Requires iOS 3.1.2 or later. Compatible with iPhone, iPad, and iPod touch.

Languages

English, Dutch, French, German, Japanese, Korean, Russian, Simplified Chinese, Spanish, Traditional Chinese

Age Rating

Rated 12+ for the following:

Infrequent/Mild Cartoon or Fantasy Violence

Infrequent/Mild Horror/Fear Themes

Infrequent/Mild Profanity or Crude Humor

Infrequent/Mild Mature/Suggestive Themes

Infrequent/Mild Sexual Content and Nudity

Infrequent/Mild Alcohol, Tobacco, or Drug Use or References

Copyright

© 2009-2010 iCloseBy.com LLC

Price

Free
Supports
Family Sharing

With Family Sharing set up, up to six family members can use this app.