iWavit Tunes
By ThinkOptics, Inc.
This app is only available on the App Store for iOS devices.
Description
This app requires the iWavit "Made for iPhone" hardware in order for it to work. See www.iwavit.com for more details.

This "iWavit Tunes" app turns the iPhone (or iPad or iPod touch) into an RF Remote for controlling iTunes on a Mac or PC. There are two simple screens for easy control of iTunes, and there is an additional screen that extends your control to other aspects of the Mac/PC through the patented DirectPointing 3D Mouse and the wireless microphone built into the iWavit. Finally, there is a screen with a few buttons that allows you to control your TV or sound system using the Universal IR learning remote features of the iWavit. This app unites in a SINGLE "virtual remote" most of the features you will need to lean back and enjoy the best that iTunes has to offer. However, the best feature may just be the set-up. You simply plug the iWavit USB dongle into the computer you wish to control. That's it. No computer software installation. No need for WiFi networks. No adjustment of network settings. And the RF range is over 100 meters (300 ft)!

 
SCREEN 1:
These are buttons for controlling iTunes music and movie playback. For example, you can pause/play the media, rewind and fast-forward, and you can skip to the next/previous song or album. 

SCREEN 2:
On this screen you can navigate up-down-left-right in iTunes to select songs, and for those who like the beautiful "visualize" screen effects, there is a single button to launch your iTunes into this nice full screen
mode.

SCREEN 3:
This screen is a remote control for controlling you PC and Mac in more general terms. With the iWavit you can intuitively control any Computer by simply pointing the iPhone at the screen - Where you point is where the cursor goes!  The tracking is ABSOLUTE, with no drift over time and no need for repeatedly re-centering the cursor like you need to for gyro-based air mice. You can use the iWavit DirectPointing up to 8 meters away to move the cursor on the screen. You can also scroll up/down, and browse back/forward on a website. We also added these extra functions:

AirZoom:
To use this button, you point at the screen, hold down this button, and pull the remote towards you. This will zoom in on the webpage, picture, or document you are on. Pushing the remote away from you will zoom the page out.

Volume-with-twist (AirDial):
To use this button, you point the remote control at the screen and then hold down this button and roll the remote in the air like an Air Dial. Clockwise increases the volume.

Microphone:
This button is the microphone button. Hold it down and you will be able to talk directly to your PC. The iWavit acts like a Plug & Play wireless microphone. You can also use it for Karaoke or as a Public Announcement (PA) system if your PC supports it. You can of course also use this to talk to friends via Voice-over-IP calls such as Skype on your PC, or you can use it in Vista or Windows 7 to issue voice commands to the PC using the voice-recognition abilities in these operating systems.

SCREEN 4:
This screen allows you to control your IR devices. For example, you may want to turn the TV on/off, adjust the Source Input, and adjust the volume on your amplifier. After the buttons have been programmed once, you subsequently press buttons to have the iPhone emit IR light out the front of the iWavit Attachment, just like a regular IR remote control. Moreover, the USB Dongle and IR lightbar can also act as a wireless IR extender. If you tap the lower right icon on the front screen, you can select to have the IR emitted from the IR lightbar instead of from the front of the iPhone. In this way, you can be over 300ft away and still control any IR devices that are in the same room as the IR Lightbar.
 
iWavit Tunes is part of a family of iWavit apps that turn the iPhone into virtual remote controls. Now all your remotes can be in one easy-to-find location - your iPhone.
What's New in Version 1.3
- Bug fix: Switching between iWavit apps on the multitasking iOS4.0+ could occasionally lock up iWavit and require that it be physically unplugged and replugged before it would work again.
iPhone Screenshots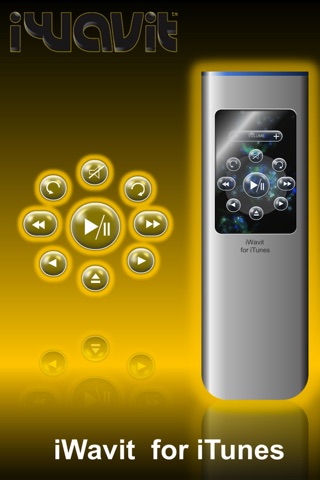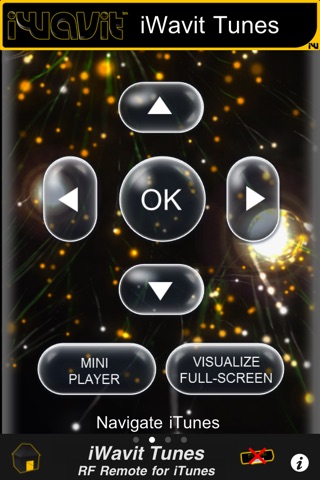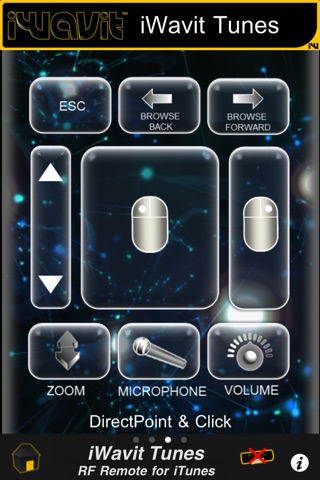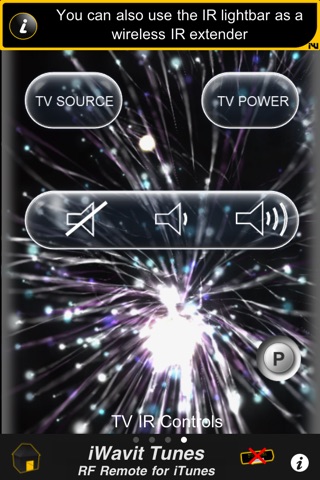 Customer Reviews
Ehh
It was ok but needs TLC
View in iTunes
Free

Category:

Utilities

Updated:

Jan 05, 2011

Version:

1.3

Size:

4.4 MB

Language:

English

Seller:

Thinkoptics, Inc.
Compatibility: Requires iOS 4.0 or later. Compatible with iPhone, iPad, and iPod touch.
More iPhone Apps by ThinkOptics, Inc.