IXL - Math and English
By IXL Learning
Open iTunes to buy and download apps.
Description
Make learning a multi-sensory delight with IXL - Math and English! Over 4,000 skills in math and English language arts mean you will be able to find the content your children are learning in school. Interactive question types, vibrant graphics, and enchanting audio create an engaging learning environment that connects with students both mentally and physically. Help your students excel by taking IXL on the go today!

Math
Over 3,200 standards-aligned skills provide comprehensive coverage of K-12 math. Hundreds of colorful awards celebrate important milestones and motivate students. From skip-counting with pictures to graphing quadratic functions, IXL's interactive practice formats bring the joy of learning to students' fingertips.

English Language Arts
Enter a new era of grammar instruction with IXL's English language arts program for grades 2-10. Students are challenged to use fiction and non-fiction texts to work through problems like understanding textual context, identifying errors, and correcting grammatical mistakes. IXL's ELA program prepares kids to become confident communicators in school and life.

Highlights of IXL - Math and English
- Comprehensive standards-aligned curriculum
- Wide variety of question types to engage students
- Unlimited access to all grade levels
- Insightful reporting on all practice
- Over 12 billion unique problems answered on IXL

TESTIMONIALS

"Thanks to IXL, our students' performance has increased dramatically.  Because they practice the skills daily, and because the site provides feedback, students are able to correct their mistakes and master the concepts easily."
Waleska Batista, teacher, Cherry Hill, New Jersey, U.S.A.

"My favourite feature of IXL is that if you get a question wrong IXL will tell you how to solve it and what you did wrong. Another thing I really enjoy is that IXL provides awards and progress reports showing how you do over time. I think these two things are very effective because they make the student feel like they are actually studying and not wasting time."
Student, Calgary, Alberta, Canada

"This program takes the frustration out of math because it allows the student to practice at his/her own pace and stay focused. It's okay if you mark one wrong because another one will be waiting. This is a great tool to have."
Parent of a 4th grader, California, U.S.A.

"We like the rewards and certificates; our children work very hard to receive these! The reports are also brilliant in keeping us informed of the levels our children have reached and where they need extra help."
Parent, Coolah, NSW, Australia

"My students are improving by the day, and some even stay in for recess to work on IXL!"
Helm Jackson, 5th grade teacher, Redmond, Washington, U.S.A.
What's New in Version 2.4
Settings: Easily modify your profile, account info, and app settings all in one place!

Sign in support: Forget your sign in info? Get help through the app.
iPad Screenshots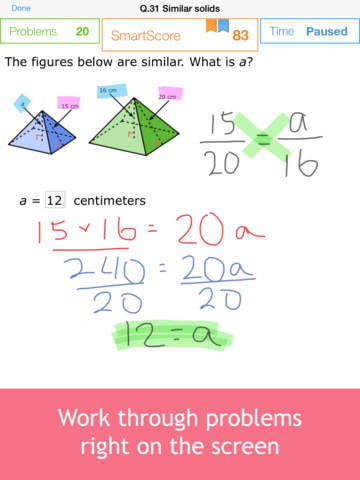 Customer Reviews
This app helps me out tremendously. Just watch out for the glitch
This app helps me out tremendously. It gives you a better understanding on how to work better with math and language arts as well. I'm not very good at math so for instance if I'm doing a problem with math and if I get the answer wrong it will show me what I did that wrong and correct me and make me have a better understanding of what to do next time. Same goes with language arts on here as well!
But the only problem that I have at this app is the glitch that it has. Sometimes it will just shut down and reopen constantly won't stop for quite a few minutes. That's the only thing that really bugs me about this app but rather than that I would suggest that you get this app! Lots of fun and I enjoy this app very much.
Great but need a bug fixes and not to the teacher
This app help me do a lot a of great work. This app keep on stuck and my internet is full and it work on other app except this. I kept logging in and when I type for example: 56 chairs. It said," Sorry, the correct answer is 56, Your answer 56. I was very proud and my teacher was proud of me doing a lot of ixl. PLEASE, FIX THIS BUG FIXES SO I CAN RATE FOR YOU A 5 HIGH STAR RATE. I can't wait for the next update. Thank you for at least try to update the ixl in my ipad. Rate percentage 75-85%. The only thing that is alsoq the problem is please my brother is angry last nights bout the smart score is it use to be 99. And vhen he got wrong, he become 83. Better fix it and I will rate a good thing about ixl. When I press the bottom answer, it kept help me do the wrong answer. Allen is noi. Alice is pink. You stop cheating. You can't even see the mkstakes right? How about this. Is 3+3 =6? Yes but they sometimes said it is wrong. You think that 3+3=0?😾😾😾😾😾😾😤😾😤😾Dumb teacher theteacher ismean. Well of course. You mean.
Dear adults....
In a nutshell, this app stinks. I dont recommend downloading, or paying for this app. It is very disappointing in many ways. I will name just a few.
1. 3rd party keyboreds: When you use a 3rd party keyboareds, IXL has a keybored that pops up on the top right of the screen. (For Ipads)
2. The smart score system: The score system isnt really smart, because of geting a problem wrong. You are on 99. you get the awnser wrong, and now you have 89 as a score. very smart.
3. Typing: I know i let you know about keyboards and stuff, but this is different. I have a Bluetooth keybored, and yet the keyboreds still stink. So there was a box where i would type, but i needed to tap on it first. I knew the awnser, so i tapped, yet i wasnt able to type my awnser. The responsevnes just stinks. I have a Apple Ipad mini 2, aka retina display, so i dont think the ipad has anything to do with it. I always have to close and open the app to get it to work, which throughs me off topic.

Over all, i DO NOT reccomend this application at all. Thank you for reading. (One last thing, i am coder. I make/build websites, and i can tell the ammount of effort that went into developing this app was minimally given. Again, thank you for reading.)
View In iTunes
Free

Category:

Education

Updated:

Aug 26, 2015

Version:

2.4

Size:

15.5 MB

Language:

English

Seller:

IXL LEARNING
Compatibility: Requires iOS 7.0 or later. Compatible with iPad.