IXL - Math and English
By IXL Learning
Open iTunes to buy and download apps.
Description
Make learning a multi-sensory delight with IXL - Math and English! Over 4,000 skills in math and English language arts mean you will be able to find the content your children are learning in school. Interactive question types, vibrant graphics, and enchanting audio create an engaging learning environment that connects with students both mentally and physically. Help your students excel by taking IXL on the go today!

Math
Over 3,200 standards-aligned skills provide comprehensive coverage of K-12 math. Hundreds of colorful awards celebrate important milestones and motivate students. From skip-counting with pictures to graphing quadratic functions, IXL's interactive practice formats bring the joy of learning to students' fingertips.

English Language Arts
Enter a new era of grammar instruction with IXL's English language arts program for grades 2-10. Students are challenged to use fiction and non-fiction texts to work through problems like understanding textual context, identifying errors, and correcting grammatical mistakes. IXL's ELA program prepares kids to become confident communicators in school and life.

Highlights of IXL - Math and English
- Comprehensive standards-aligned curriculum
- Wide variety of question types to engage students
- Unlimited access to all grade levels
- Insightful reporting on all practice
- Over 12 billion unique problems answered on IXL

TESTIMONIALS

"Thanks to IXL, our students' performance has increased dramatically.  Because they practice the skills daily, and because the site provides feedback, students are able to correct their mistakes and master the concepts easily."
Waleska Batista, teacher, Cherry Hill, New Jersey, U.S.A.

"My favourite feature of IXL is that if you get a question wrong IXL will tell you how to solve it and what you did wrong. Another thing I really enjoy is that IXL provides awards and progress reports showing how you do over time. I think these two things are very effective because they make the student feel like they are actually studying and not wasting time."
Student, Calgary, Alberta, Canada

"This program takes the frustration out of math because it allows the student to practice at his/her own pace and stay focused. It's okay if you mark one wrong because another one will be waiting. This is a great tool to have."
Parent of a 4th grader, California, U.S.A.

"We like the rewards and certificates; our children work very hard to receive these! The reports are also brilliant in keeping us informed of the levels our children have reached and where they need extra help."
Parent, Coolah, NSW, Australia

"My students are improving by the day, and some even stay in for recess to work on IXL!"
Helm Jackson, 5th grade teacher, Redmond, Washington, U.S.A.
What's New in Version 2.3
-Content notifications: Get notified when there are new subjects, grades, and/or skills available in the app! (Did you know we added grades 9&10 of English language arts?)

-Bug fixes
iPad Screenshots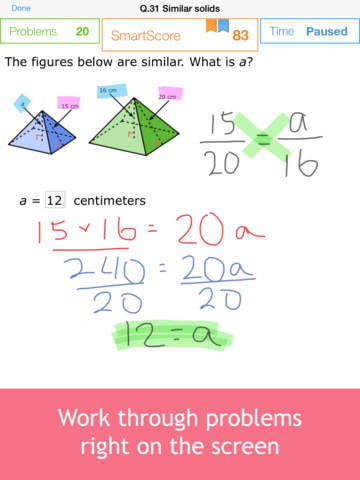 Customer Reviews
MUST READ! IXL is a horrible app and a horrible website. Child's opinion.
IXL is a horrible app and a horrible website! When you get to the challenge zone for every correct answer you get, you gain 1 point, but for every wrong answer you get, even if you're not in the challenge zone, they will take off like 9 points! On the website, same *LITTLE* problem, including a NEW set! The second you get off Safari or Google or whatever, ( I use the website on my IPad Mini) you have to log in again! IXL is also the slowest app and website I've ever seen! Not to mention IXL's horrible math skills, and the need for horribly specific answers! From 1 review I saw, somebody was doing "Convert this into a decimal" so they converted the fraction shown into a decimal, and when they submitted the answer it said it was WRONG and the answer was a PERCENT! This is just 1 piece of proof out of MANY that IXL is a horrible app and a horrible website! I'm not at all surprised by how many 1 Star ratings there are. What DOES surprise me is that there are even MORE 5 Star ratings! If I could, I'd rate IXL at 0 Stars! The rest of my class agrees!
/:(
Best math app out there
I started both of my kids on this at about 4 years old and we do about 15 minutes a day four days a week. That's it! Both of my kids are now way ahead of their peers in school which is a huge confidence booster.

The app progresses very slow, each module building on the one prior. Do my kids love it? No, they hate it!! They are kids and would rather be playing outside or watching Netflix. But it's only 15 minutes.

Other than math this app has taught my kids to read ("more", "fewer", "which", etc), given them confidence, resilience, perseverance, focus, and the list goes on and on.
Great but need a bug fixes
This app help me do a lot a of great work. This app keep on stuck and my internet is full and it work on other app except this. I kept logging in and when I type for example: 56 chairs. It said," Sorry, the correct answer is 56, Your answer 56. I was very proud and my teacher was proud of me doing a lot of ixl. PLEASE, FIX THIS BUG FIXES SO I CAN RATE FOR YOU A 5 HIGH STAR RATE. I can't wait for the next update. Thank you for at least try to update the ixl in my ipad. Rate percentage 75-85%. The only thing that is also the problem is please my brother is angry last nights bout the smart score is it use to be 99. And vhen he got wrong, he become 83. Better fix it and I will rate a good thing about ixl. When I press the bottom answer, it kept help me do the wrong answer.
View In iTunes
Free

Category:

Education

Updated:

Jul 09, 2015

Version:

2.3

Size:

14.2 MB

Language:

English

Seller:

IXL LEARNING
Compatibility: Requires iOS 7.0 or later. Compatible with iPad.