iYacht
By iQuickie Games, Inc
This app is only available on the App Store for iOS devices.
Description
Introducing iYacht with Bonus Tracking!
"My most played game", "A terrific clone of you-know-what"...


FEATURES:

BONUS TRACKING – A user favorite, Bonus Tracking keeps you informed of what affect your scoring selections have towards earning the 35 point bonus associated with the Aces through Sixes scoring categories. Once you've experienced playing with iYachts innovative Bonus Tracking, you won't ever want to play without it again!

DICE SHAKING CONTROL – Another user favorite, this innovative feature allows you to control how long the dice shake, giving YOU the control to personally influence the outcome of the roll. Shake them a lot or shake them a little, constantly effecting the output of the random number generator. Most other games control this for you such that, no matter who rolls the dice, the outcome will be the same.

QUICK GAME PLAY – No scrolling necessary, you can always see your entire score sheet. No waiting on the dice, you control how long they shake. Bonus Tracking, frees you from having to do the math. If you have a couple minutes to kill, you have time for a quick game of iYacht!

AUTO-SORT GAME DICE OPTION – Game Dice are automatically sorted, making them easier to quickly evaluate - another innovative feature that you won't ever want to play without once you've experienced it!

SMART SCORESHEET – The Smart Scoresheet constantly updates each of the scoring categories with the points that can be earned for the current dice, allowing you to quickly evaluate your scoring options. It's also helpful to people who are learning the dice game and don't know the point values of all the scoring categories!

CONFIGURABLE INTERFACE - Like to play one-handed? Left-handed? Like pink? Configure the interfaces look & feel to fit you!

GAME SAVE - Unfinished game is automatically saved to continue later.

PLAYER LIST - Conveniently select players from your editable player list.

MULTIPLAYER – Pass & Play with up to 4 other friends!

STATUS BAR INTEGRATION - Quickly see what time it is when you're just "killing time"!

ACTIVELY MAINTAINED - 3 major & 9 minor updates since initial release 2/26/09.

Yahtzee® is a registered trademark of Hasbro, Inc.
What's New in Version 1.3.5
iQuickie Ticker - Uses the Left/Right Total row to also display current game information, historical information, etc.

Option to turn iQuickie Ticker On/Off.
iPhone Screenshots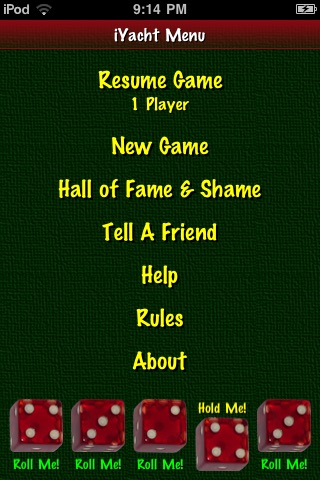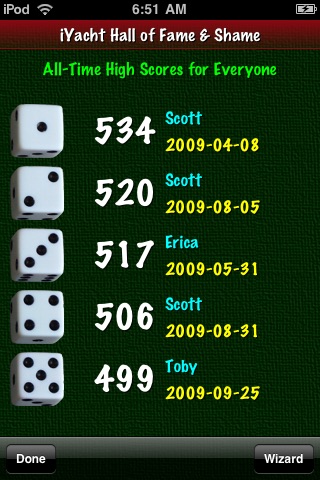 Customer Reviews
Please don't let corporate squabbling defeat the best game app on the web
Simply the best dice fame on the internet. I play this game several times every day. Now, it looks like corporate bigotry is going to take it out of my daily routine. I'm not angry at Hasbro, I' just sad! C'mon Hasbro. You should be proud that your game has reached icon status. Like Kleenex means tissue or Coke means cola, Yahtzee has become NOT a generic, but an iconic term. But your dice cup is the has gone the way of the Phillips cassette tape and Kodak film. I played your CDrom-based game for years, but now I want to play on my palm-device. Your enterprise or income is NOT threatened by this game--this is just corporate legal puffery blown to outlandish legal proportions. This developer didn't STEAL your game--he simply took your game out of the hall closet and into a zillion pockets. I don't think you could have done a better job of doing that. Don't kick him, reward him and welcome him into fold. I urge you to at least cut a reasonable deal with this developer. You and your children and grandchildren--the Zillions of Yahtzee fans will ALL be better for it. Thank you.
klubman
This is the best Yacht-zee game I have ever played. I have tried many yacthzee apps but this one is the best hands down! It's easy to understand, offers many player options, sticks to the rules, keeps good stats and on and on. If you like the original dice-board game, you'll love this version and you'll play it often. I used to be beta tester for this app a few years ago. So now I have problems with profiling and every time I sync with my Mac the App goes dark and I have to reload it. S. V. can contact me at my new email. Thanks.
Sad that there is no iOS 11 support
I have been using the App Store since the beginning and this is the only review I have ever left. This is the only worthwhile poker dice game. I might even be willing to pay for it again. Since I have been unable to place this since upgrading, I have been trying some of the other offerings, and every one of them is terrible. If this is ever updated I will be grateful, but not holding my breath.
View in iTunes
$0.99

Category:

Games

Updated:

May 19, 2011

Version:

1.3.5

Size:

4.0 MB

Language:

English

Seller:

iQuickie Games, Inc
Compatibility: Requires iOS 3.0 or later. Compatible with iPhone, iPad, and iPod touch.