JEFIT Workout - Free personal exercise trainer & Gym Log
By Jefit Inc.
Open iTunes to buy and download apps.
Description
Get back in the gym and improve your life with JEFIT, a personal trainer in your pocket!

JEFIT is the ultimate FREE fitness, bodybuilding and workout trainer for all individuals looking for that extra step and motivation to get back into the gym and achieve their fitness goals

With over 1300+ unique exercises with descriptions and animations, ability to create personal workout routines and daily fitness plans, tracking body statistics, view workout progress, adding friends and interacting with the community for motivation; you won't feel intimidated again!

** USER REVIEWS :
- "Best bodybuilding and workout trainer ever! Can't believe this tool is free!"
- "Best bodybuilding and fitness log I have found so far! Especially for FREE! Well worth the download"
- "JEFIT is the BEST Workout and Fitness logger EVER! The combination of downloadable daily workout routines and tracking your progress online is great! Also its FREE"
- "JEFIT is the best FREE workout and fitness planner on the market, never go to the gym without this tool"

** MAJOR FEATURES :
- 1300+ weight training exercises in the largest exercise database
- Workout routine database with community created daily workout routines and fitness plans
- Two - Way Sync
- Easily track your workouts, create fitness routines, stay motivated and build muscle
- View your body and lifting progress keep you motivated for further training and weight lifting
- Fully customizable routines and exercises to create daily workout programs

** WORKOUT ROUTINE PLANNER :
- Create your own daily custom fitness plans personalized to your goals to help you get in shape and improve your health
- Download community created weight training routines for both men and women
- Routines specific for your goals, i.e getting six pack abs, building a lean body, lose weight, increase strength

** DETAILED EXERCISE DATABASE :
- Search weight lifting and muscle building exercises to create your own daily fitness routines
- 1300+ exercises for all major weight lifting equipment including barbell, dumbbells, kettlebells, strength and cardio machines and more
- Detailed exercise instructions and animations
- Track cardio, yoga, fitness and strength training exercises
- Create your own custom exercises and view progress your favorite exercises

** USER-FRIENDLY INTERFACE :
- Quick and simple tracking of your weight/reps and sets for exercises
- Save your best lifting record for each exercise

** WORKOUT WITH FRIENDS :
- Connect with and add friends to help stay motivated
- Compete, challenge, share your progress and compare stats with the community
- Log into your profile page to update your friends on how you are doing with your training progress
- Share your workouts via email, Facebook, Google+ and Twitter
- View progress and profile pictures as well as Youtube videos shared from the community

** TWO - WAY SYNC
- Sync your workout data and save your lifting and body stat progress
- Download from community created strength routines and daily fitness plans


* To utilize the sync feature, a JEFIT Account is required to back up your data and keep track of your workouts on the website. You can create a FREE Account at www.jefit.com

JEFIT is brought to you by Jefit Inc, the top workout, fitness and bodybuilding trainer. See why millions of bodybuilders, fitness enthusiasts, and exercisers have chosen JEFIT to stay on track with their fitness goals and improve their workouts

It is a personal trainer in your pocket!
What's New in Version 8.0
Brand new JEFIT 8.0 version
1. New v8.0 Design.
2. User shared routines.
3. Share workout summary.
4. Many more new features...
iPhone Screenshot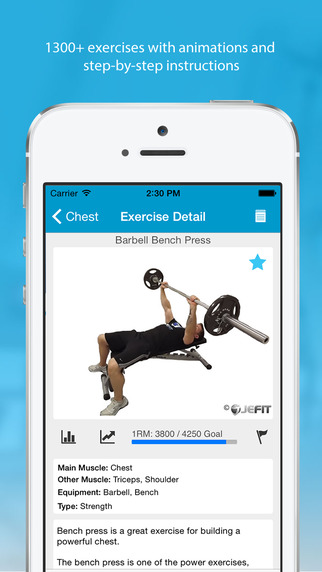 Customer Reviews
Feature Rich
This app is loaded with rich features to help you keep track of your training progress. I'm definitely impressed with the free version of this app and imagine the paid version must be even better.

My two suggestions to improve the app (and not sure if these are already features in the paid version): 1. Disable sleep mode. It would be nice to not have the phone go to sleep in the middle of a set. 2. When setting up exercises and listing the number of reps per exercise, please give the option to input a range, like 10-12. Right now a comma is the only option so the app sees that as 10 reps the first set and 12 reps the second. That might be true too, but sometimes knowing there is a range goal versus an actual number goal is helpful too. Otherwise very sturdy and useful app that has allowed me to ditch the pen and scraps of paper and notebooks for good.😊
World best on iOS
I used to have a Samsung Galaxy. This app kept crashing or freezing up on me last year. Once I went back to iPhone the app has improved, it's more intuitive and I haven't had any tech issues.
In general, the alphas great workouts already in it, but I create my own or use the ones my buddy has put together. The ability to do such a thing, share it and, even better, change things on the go makes it an outstanding app.
The community on their site is great. Some trolls here and there, but they're probably the same ones that sweat the benches at your local gym and don't wipe them off, while they also drop and slam weights. Aside from those dummies, the community and the collaboration and motivation shared is awesome.
Great app but...
This such a great app, I went to the gym before without knowing what type of weight exercises to do but after I downloaded this it help me actually know what type of workouts to do in certain regions to gain that muscle. For that I thank you and the users who submitted these workout.

There is only one thing that MAKES ME REALLY MAD when I use this app, every single time I get to the final workout or skip some workout to get finish the last workout before the others my iPhone 6 (this also happen on iPhone 4) it crashes right after it bring it brings up the End Summary & stuff. This makes me relaunch the whole app all over again and making my way to my workout. Please fix this because it is very annoying. Other than that this app is great.
4/5
View In iTunes
Free

Category:

Health & Fitness

Updated:

Dec 04, 2014

Version:

8.0

Size:

15.7 MB

Language:

English

Seller:

Jefit Inc.
Compatibility: Requires iOS 7.0 or later. Compatible with iPhone, iPad, and iPod touch.
Top In-App Purchases
Elite Yearly Subscription$39.99
More iPhone Apps by Jefit Inc.