Jets'n'Guns Gold
By Rake in Grass
Open the Mac App Store to buy and download apps.
Description
A lunatic villain and his army of space pirates kidnapped an ingenious scientist and forced him to build an ultimate weapon. Their effort might end up with destruction of the whole universe! Be the one who will stop their treacherous plan!

Set off for a crazy space adventure that will take you across the galaxy. Fight huge battleships, giant cyborgs and hideous mutants on jungle planets, sky cities, lava plains or submarine bases! Build your vessel into an unstoppable warship with the most destructive weapons ever created!

GAME FEATURES:
* Award winning side scrolling shooter game, titled 'BEST GUILTY PLEASURE' in Macworld's 2006 Game Hall of Fame.
* Save the Universe in 43 (!) levels full of thrilling action and demolition.
* New environments and enemies in every level.
* Highly destructible surroundings.
* More than 270 enemies including 16 boss monsters.
* With 70 different weapons and 20 special devices you have hundreds possibilities to customize your ship.
* 12 different vessels to fly, even some captured boss ships.
* Graphics and particle effects enhancing the destruction.
* More than one hour of breathtaking original soundtrack.

Follow us on Twitter or Facebook. Please visit www.rakeingrass.com.
What's New in Version 1.223
- Fixed crash after some levels are completed
Screenshots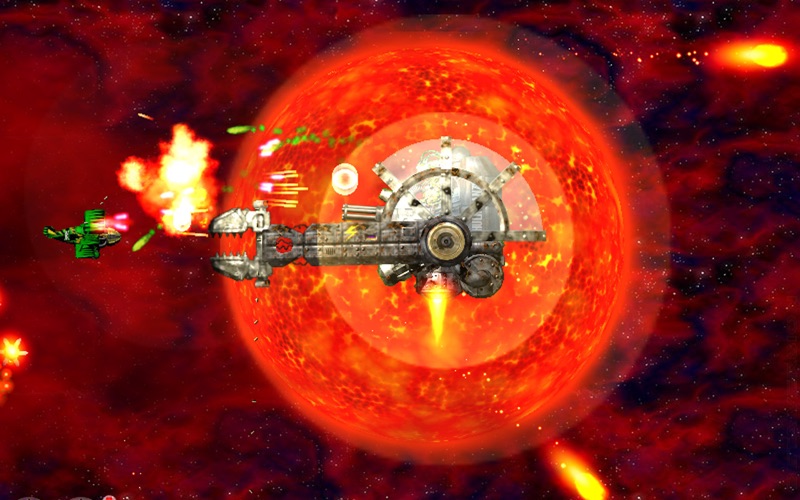 Customer Reviews
Great music, cool game, but one nagging issue
I like this game a lot. I'm not quite sure $20 is the right price, but if it goes on sale, get it!

Pro:
- Jets! It's true
- Guns! Also true
- Explosions! Corollary to Jets + Guns
- Awesome, awesome soundtrack. You will know it the second the title appears.
- Lots to do: Ship upgrades, collectible things, secondary goals, mini games, flavor text…
- Challenging!

Con:
- 800x600 resolution looks a bit dated.
- The damage and heat gauges are impossible to read!

I want to elaborate a bit. You know how in most games, when you get hurt, you have some intuitive idea of how much it hurt? In this game you have no idea, unless you specifically look down to the corner and read the gauge. And since there is always something to dodge, you rarely get the chance to look. As a result, you think you're doing fine, but then suddenly you're dead! The heat gauge works the same way. Suddenly your guns stop working because you're overheating, but you didn't know you were overheating because you couldn't take your eyes off the action.

This is not part of the challenge, it's just crappy. Some games solve this problem by running a bar all the way up the side of the screen, so you can read it with peripheral vision, and you just *know* your health. When you get hit, you notice the bar going down even though your eyes are still on the action.

I want to love this game but this is a huge obstacle. Damage and heat gauges really need to be redone.
Entertaining. Bug is fixed.
They fixed the zombie bug, so you're good to go.

Entertaining distraction. Exactly what you expect. Difficulty level is good so you won't breeze right through it. Customizing the ship is a great part of the game -- you can completely redo your set up each level and tailor it to specific enemies.
ITS BS
The game has no save options, you have to play it perfectly. Its like an old NES game, you have one path, you have to fly it perfectly or its over for you. Its not a learning and skill game, its just memorize the one right path and fly it perfectly, just gets real boring after a while.

not to mention the lack of saving options is dumb.
View in Mac App Store
$6.99

Category:

Games

Updated:

Feb 01, 2011

Version:

1.223

Size:

96.5 MB

Language:

English

Seller:

Pavel Tovarys
Compatibility: OS X 10.6.6 or later