Jigsaw Puzzle Collection HD
By Veraxen Media Ltd
This app is only available on the App Store for iOS devices.
Description
Play favorite jigsaw puzzle game with over 6000 beautiful pictures, solve Daily Free Puzzle and make amazing puzzles from your own photos! Choose high-definition pictures from nearly 200 packs in different categories and customize puzzles by size, piece shape, rotation and background color. Find the app on your iPad!

FEATURES:
- Daily Free Puzzles – enjoy new puzzle every day!
- About 200 packs in the store! Find special bonuses and get more FREE packs with amazing pictures and advantageous offers! Enjoy our regular sales!
- More than 10 categories: Nature, Life, Food, Holidays, Animals, Abstract, Water, Child's Play, Art, Landmarks, People, Countries, Mixes and special Interactive category!
- New kind of entertainment packs – Interactive packs with featured music and interesting facts! Listen and explore!
- Improved levels of difficulty – added 360 and 440 pieces! Change the size and shape of the pieces, chose the color of the background and rotate puzzle pieces.
- More options for creating your own jigsaw puzzles. Use your Facebook photos and instantly create personalized puzzles!
- Play and listen to the music from your playlist or from our playlist!
- Be in the know with the latest Jigsaw Puzzle Collection HD news! Check out News feature!
- You can simultaneously solve multiple puzzles.
- Save all of the solved puzzles and all the puzzles that you are still working on.
- Numerous puzzle achievements to unlock!
- The game is integrated with Game Center!

Jigsaw Puzzle Collection HD is just what you need to relax after hard day. Solve jigsaw puzzles whenever you'd like without all the mess, and puzzle pieces can't get lost! Free up table space; you need an area no larger than your iPad!

NOTE!
Jigsaw Puzzle Collection HD contains in-app purchases, which you may acquire through your iTunes account. You can disable in-app purchases by adjusting your device settings.

------------------------------------------------------------------
Like us on Facebook or follow our news on Twitter:
facebook.com/pages/Jigsaw-Collection-HD/509431679124157
twitter.com/MKJigsaw
What's New in Version 1.2.6
Relax doing colorful jigsaw puzzles! A huge amount of free jigsaw puzzles for all tastes: sceneries of nature, famous landmarks, animals, flowers and more. Every day – a new surprising Free Puzzle.

- perfomance improvements
- bug fixes
iPad Screenshots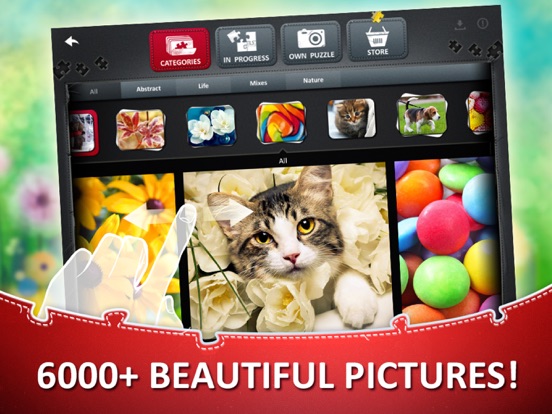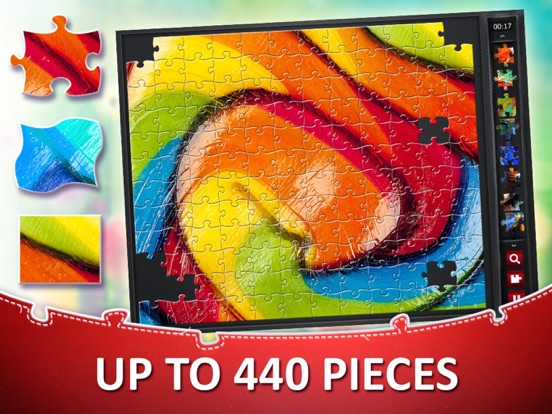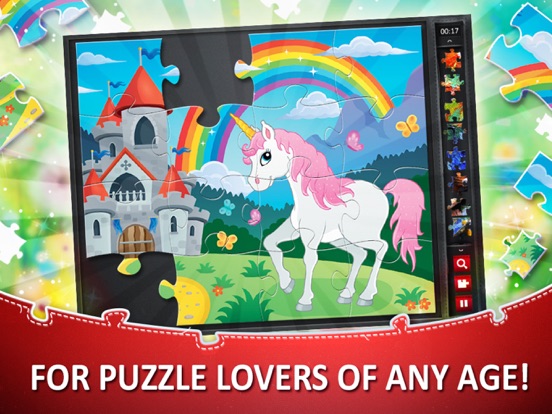 Customer Reviews
Mrs. Sassy
I cannot say too much about how I love this app. I am a real jigsaw fan & I work most every app I can get (with a few exceptions) but this is far & away the BEST! The packs are generally a little more costly than others but they are worth it. And the freebies you give are fun every time. Thanks for your hard work & KEEP IT UP! I will add to this--although I am almost afraid to say it--that I do NOT have the slightest inkling what these folks who gripe about freezing, closing, losing, whatever they mean, are talking about. I have fewer probs with you than any other app I have purchased. Maybe they need to check their methods of playing &/or check their hardware! (I said it; you have never made any such suggestions, but I bet you'd like to.) Again let me say I love this app, the packs to purchase, the freebies, the whole shebang. Keep it up!
This was my first review & nothing has changed except that you've made it better! I love this app & I will tell anyone who enjoys good puzzling: this is "where it's AT".
Here I go again! Still enjoying your whole app. I will add that you're unusually fair with your treatment of restoring any purchases & giving second chances. I would like to know how to "hide" not delete finished pacs & duplicates. Otherwise I am still one of your most satisfied puzzlers. Thanks again for many happy hours for an almost bedridden old lady.
Beware malicious adware with use of this app!!!
My wife and I downloaded this app and, although the ads were annoying at first, the rest of the app was good enough to make up for it. An ad comes up, you wait a few seconds for a tiny, minuscule "x" to pop in the corner, you hit the "x" and the ad goes away and you go back to the puzzle. Now, at least once or twice an hour we get malicious adware on this app trying to convince us that there are multiple viruses on our iPad Pro due to visiting "adult websites" and we need to go immediately to their website and pay them to remove it. We've never been to any "adult websites" and, as it turns out, there are no viruses on our iPad either. A little online research showed that there are several disreputable apps out there that allow this sort of malicious adware to be used within their apps. Unfortunately, this otherwise nice puzzle app is one of the ones that allow this sort of malicious material to appear in their app. If it were just another ad, the "x" would appear and you could get rid of it like the rest of the ads. This malicious adware doesn't do that. It locks the app completely, forcing you to kill the app and start all over again. I would definitely avoid this app like the plague until these types of ads are no longer allowed within the app.
Link devices
Hooked on this app. Wish it synced across all my devices. I have 2 iPads and an iPhone. I love to do puzzles, but not the same one more than once. Seems like if I'm signing in on one account the app should know what puzzles have been completed. Am I doing something wrong?
One other suggestion. If there could be a way to collect a group of tiles and put them in a "tray" to organize them, that would be very helpful. Then allow that tray to float over the puzzle much like the completed puzzle picture does.
Oh and while we're at it. With my eyes getting older, I like how you can zoom in on the puzzle, but it doesn't do much good if the loose tiles can't be zoomed in on as well. More important to be able to zoom in on the loose tiles than the ones who already have their place.
Thanks for listening
View in iTunes
Free

Category:

Games

Updated:

Oct 13, 2017

Version:

1.2.6

Size:

91.6 MB

Languages:

English, Russian

Seller:

Veraxen Media Ltd
Compatibility: Requires iOS 8.0 or later. Compatible with iPad.
Top In-App Purchases
Upgrade to Premium$3.99
Colors$2.99
Flowers$2.99
Abstraction Magic$1.99
Seasons$3.99
Dogs$1.99
Summer$4.99
Nature$2.99
Nighttime$2.99
Flowery Towns$2.99